Nuggets-Warriors Game 2: Steph Curry turns out the lights
Stephen Curry and the Warriors shot the lights out in Game 2 to take a 1-1 series split back to Oracle.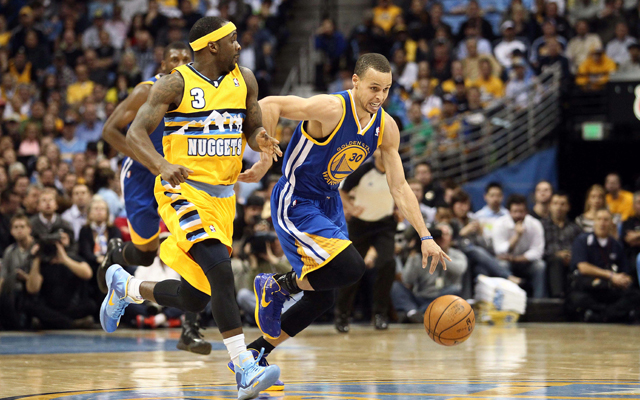 DENVER -- Tomorrow, the staff at the Pepsi Center will be making a trip to the hardware store. Their objective? Find some more lightbulbs.
The Warriors shot every single one in the building out Tuesday night.
A playoff series is about adjustments, matchups, intensity, experience, and execution. But all of that went out the window in Game 2 as a woeful Nuggets' pick and roll defense met what Mark Jackson described postgame as the "greatest shooting backcourt of all time."
Of all time.
Steph Curry and Klay Thompson popped off for a combined 21 of 34 from the field, 9 of 16 from three. Harrison Barnes shot 9 for 14. The Warriors' effective field-goal percentage, crediting 3-pointers, was 73.4 percent, an absolutely ridiculous number.
And while Andre Iguodala, Ty Lawson and George Karl all pointed to the Nuggets' pick and roll defense (Denver's bigs routinely sank back or were caught behind the angle, Curry rolled off the screen and launched), there was a point that went beyond any adjustments the Nuggets could have made.
The Warriors just put on a clinic. They hit from everywhere, they hit consistently, and everyone got in on the act. You see this in great shooting performances. The offense hits a tough shot, the defense gets discouraged, which leads to a lack of execution, which opens the defense and allows the offense to hit another shot.
"We have guys who can make shots," Mark Jackson said, as if his team had just gone through shootaround.
That's what it seemed like at times, both watching the Warriors' confidence and the Nuggets' defensive failures.
"It's a make-or-miss league," Jackson said, and that cliche was never more true than Tuesday. The Warriors made everything and now the Nuggets are missing homecourt advantage.
Jackson noted that you can "get a sense" when Curry gets rolling.
"Every play we ran, it seemed we were getting good looks by moving the ball," Curry said.
For Curry, it was his playoffs coming-out party. After a rough Game 1, he announced his presence with authority in Game 2, and the result was leaving Denver's defense in ashes. Curry came into the season a question mark, with injury issues and an exciting skill set.
Now he leaves Denver with a 1-1 split, a signature playoff game, and a young team that suddenly believes in all the things its coach has been preaching.
Make-or-miss league?
The Warriors fit in nicely Tuesday night, only without the "miss" part.
Paul may be getting a late start in Houston, but he promises to unlock some key role playe...

Lonzo doesn't want to throw away money for a tech, which isn't a great look for the rookie

Davis left the Pelicans' game against the Nuggets in the third quarter
Popovich was upset about an out of bounds call

Wall went 3-for-12 from the field, and had just eight points in the Wizards' loss

Noah was reinstated from his 20-game suspension on Monday, but is yet to play for the Knic...