Nuggets-Warriors Game 3: Stephen Curry has arrived
Stephen Curry leads his team to a Game 4 victory because he's a superstar.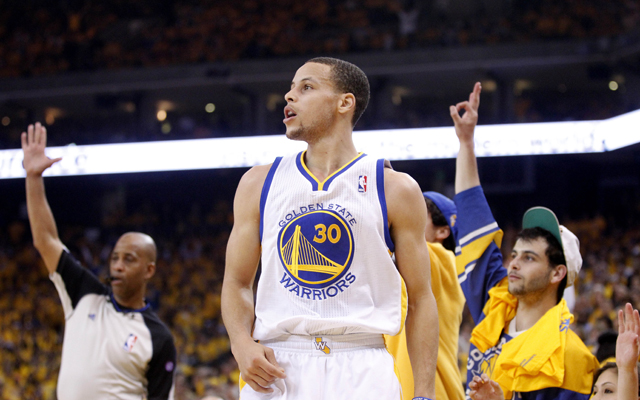 Stephen Curry is a superstar. That much is undeniable at this point. The Denver Nuggets don't have one, and their critics, of which there are many, believe that is why they will not be successful in the playoffs. For six months, the Nuggets worked through the worst schedule in the league, playing half their road games before Thanksgiving (think about that), then dealt with the loss of Ty Lawson for a month to end the season, then dealt with the loss of Danilo Gallinari for the season with an ACL tear.
They got through all of that, won 57 games, and secured the No.3 seed in the playoffs. But the Basketball Gods were not through with them. They delivered to Denver this. The Golden State Warriors, good-not-great for much of the year, suddenly with a healthy Andrew Bogut (what black magic is that?) and a team that cannot miss.
Let's be clear. The Warriors' sets are incredibly good and they set terrific screens to free their shooters. But they are also on fire. They cannot miss. For two games now, the Warriors simply refuse to miss any sort of shot, it feels like. After shooting 65 percent in Game 2, the Warriors shot 53 percent in Game 3.
Draymond Green made a three, and a full-speed reverse layup. Draymond Green. Harrison Barnes hit thee consecutive threes and a pull-up contested jumper down the stretch. Jarrett Jack was 10 of 14 from the floor. They are blistering, and Denver's offense, no matter how much they preach good ball movement, attacking the rim, and creating space, cannot keep up.
Because the Warriors shoot better. They knock down shots from all over the floor, they have shooters in every position and at every position, and collectively believe that they will not miss. At one point, the Nuggets did not contest a rebound off a corner three, because they clearly assumed it was going in.
But most of all, the Warriors won because they have Stephen Curry. And he set the tone for the Warriors. The Nuggets would loop through the screen, pick him up, contest the shot. Curry would re-set, side-step, and take a contested three. A contested, side-step three is a horrible shot. It's never good. It should not fall consistently.
But Curry is a superstar. And this is his time. The playoffs were made for players like Curry to arrive, step up and make their name, declare their superstardom, and for players like Jack, Barnes, and yes, apparently, even Draymond Green to worm their way into fans' lore with plays like this.
Curry actually missed several big shots late, opening the door. But Ty Lawson missed a shot and then dribbled out of bounds when he didn't get a call that superstars always get. Curry also made huge plays passing and was an emotional sparkplug for the team. Jarrett Jack was huge, but Curry was the difference maker, and everyone knew it. 
Will it last all the way to the title?
Of course not.
But that's not what this is about. It's about one amazing series between two really good teams, one that's built on a team concept and ball movement and the things people say they like, and what people actually love. Shooters who shoot, and a superstar to carry them home.
Game 4 is Sunday in the Roaracle that is Oracle.
We've got all the scores, highlights and news for Friday night

George Hill, who is unhappy in Sacramento, could be a solution to Cleveland's backcourt si...

Shaquille O'Neal and Sir Charles cruise to an easy victory over some hot peppers
If Charlotte indeed moves its star guard, there's going to be more people impacted than just...

Trading Kemba Walker (and dumping salary in the process) may be harder than expected for C...

Our advanced computer model simulated Friday's Jazz-Knicks game 10,000 times