Offseason Report: Portland Trail Blazers
After a smashing success season, can Portland build off its first-round upset of Houston? How much of it was luck? How much was fate? And where do they go from here?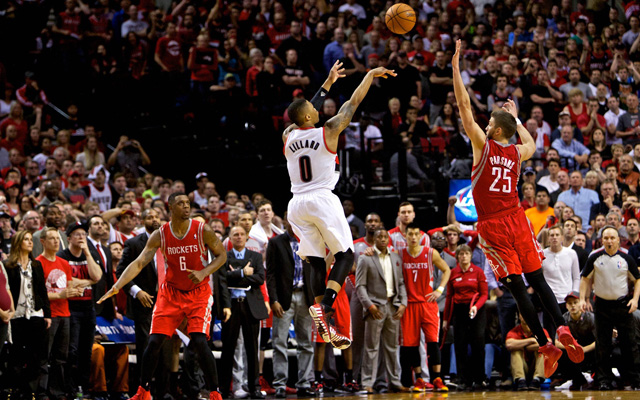 More Offseason Analysis: Coaching changes, news | Free Agency | Draft
CBSSports.com's Eye On Basketball is taking a team-by-team look at the 2014 NBA offseason. We continue with last season's Cinderella, the Portland Trail Blazers. Check out the rest of the offseason reports here.
How they finished 2014: The Blazers had one heck of a season. Everything came together for them as a more wide-open offense gave way to a higher level of efficiency. That helped the Blazers race out to the best record in the Western Conference in the first two months of the season.
Every analytical model and standard analysis of the Blazers' hot start predicted a fall back to Earth, and that occurred. The question was going to be how much. For the first two months of the season, the Blazers had a ridiculous record in close games.
Between the start of the season and Jan. 31, the Blazers were 11-3 in games within five points in the final two minutes. From Feb. 1 on, Portland was just 4-6 in such games.
But the question was going to be how much of a slide it would take. For a while in late March and early April, it seemed Portland might be on the verge of being overtaken by the Warriors for the fifth spot, and possibly by either Memphis, Dallas, or both. But that was when Portland really showed that it was more than just a hot start. The Blazers finished strong, got LaMarcus Aldridge healthy and finished out the season locking up the fifth seed. They had lost home court in the first round, but still managed to finish respectably. A first-round loss to the Rockets would still equal a really good, promising year for a team that hasn't had a whole lot of luck through the years.
Yeah, about that.
The Blazers clocked the Rockets in the first two games in Houston, setting up a dramatic Game 6 in Houston.
And then, you know, this:
Couple of things to wrap up:
The Blazers were 36-17 before the All-Star break, 18-11 afterward. That's still a good mark, but it does show you the fall-off was substantial, and was more than just Aldridge's injury.
Defense was a major concern for Portland, which finished 16th in points allowed per possession. It ran into a Houston team that had no idea how to close games, but even then, its defense wasn't great and when it faced San Antonio ... boy did it get ugly.
Speaking of that Houston series, do you know what the point differential in that series was? Rockets, plus-two. That's right. Houston finished with a positive point differential and lost in six games. That tells you a) these games were really close and b) Portland just closed a hell of a lot better.
But that's not to say that what the Blazers did wasn't impressive. Quite the opposite. Winning in the playoffs isn't decided in blowouts like the regular season (unless you're last season's Spurs, because they were killer robots). It's how you handle close games. And Portland was great at them, even if in large part those games tend to be pretty random. Portland was better at the little things, period.
Portland was wiped out by the Spurs, but still finished with a great season. The future is bright for Portland, finally.
Offseason needs: The Blazers needed defense and experience. Those were the two elements really missing. Robin Lopez proved to be a starting-caliber center last season, but Portland still struggled to protect the rim. It also needed better wings as the Blazers struggled against strong, versatile small forwards and stretch fours.
With so many young players (Will Barton, C.J. McCollum) and Mo Williams too often going off the reservation, they needed a calming influence in the backcourt, too.
The draft: Portland didn't have any picks, having moved both in trades. The Blazers were unable to find a deal to move into either round. Their first-rounder went to Charlotte (which moved it to Miami, which wound up taking Shabazz Napier) in the Gerald Wallace trade. Remember that one, way back in the day? Good times. Charlotte took P.J. Hairston with Miami's pick.
So that's easy enough to cover.
Free agency and trades: The Blazers largely had the core team they wanted, but they did add some veteran talent.
First is Steve Blake. He had a productive season with the Lakers in between injuries, even as the team was dreadful. Blake is getting up there in age, but is a more controlled backup point guard than Mo Williams, and a better pure shooter.
Blake is a tremendous corner shooter, and can only help what is already an incredible perimeter attack from Portland. Can he help defensively? Blake isn't big or strong, but he's a willing, smart defender and he can help in key situations.
If you don't believe the athletes Portland has on the bench are ready yet (and they haven't seemed like it and seem more like two-guards anyway), this is a pretty smart addition.
And then there's Chris Kaman.
The Blazers wanted a shot blocker, and got him for two years at around $4.9 million per year. That's probably an overpay. Joel Freeland and Meyers Leonard were awful last season (for long stretches anyway; there were some bright spots), but Kaman was equally bad. Everyone was bad on the Lakers, but it still seem like an overpay.
Overall grade and accomplishments -- B-minus: And that's what makes the Blazers' offseason so hard to grade. They didn't sign Aldridge to an extension ... but that's because it makes no financial sense for Aldridge to do so. They targeted their needs, finding veteran depth, didn't land terrific, out-of-the-park additions, but then, if you have limited funds for that kind of player, who are you going to find? They didn't draft anyone, but their problem already was that they were too young.
So they get a B-minus, which is basically, "a little better than fine." They did target what they needed, it's just not clear if they took a big step forward. That step is supposed to be covered by Damian Lillard's progression and by the rest of the roster improving. The question now will be whether last season was a high point in what Portland can reasonably expect out of this team, or a sign of the great things to come.
SportsLine simulated Wednesday's Nuggets-Clippers game 10,000 times

Galin Dragiev has his finger on the pulse of the Lakers and just locked in a play for Wedn...

No more McNuggets allowed in the Barnes household
Leonard has played in only nine games this season for San Antonio

Pierce is set to have his jersey retired on Feb. 11, but there's been a lot of controversy...

Thunder will try to beat Lakers for 11th straight time at home