Ohio state representative wants LeBron James license plate
Cavaliers forward set to adorn the rear ends of thousands of vehicles in the Buckeye state.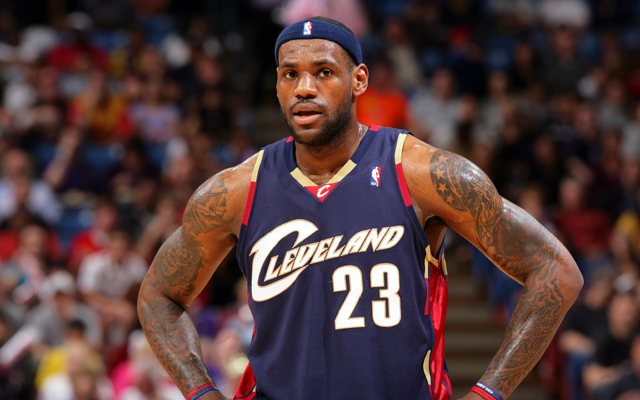 Offseason: Free Agency | Latest from Ken Berger | Rumors
The AP reports on an Ohio state representative who's pushing legislation to create a LeBron James license plate. 
State Rep. Bill Patmon is planning to introduce legislation to permit the sale of a commemorative "LeBron James Witness 2.0" plate honoring the Akron native's decision return to the Cleveland Cavaliers.

"When LeBron came home, it was a big deal for us," said the Democrat from Cleveland. "It might not be for the rest of the world, but it's a big deal for Cleveland."

James, a four-time NBA most valuable player, was drafted by the Cavaliers in 2003 but left town for Miami after seven seasons. Last month, he announced he would re-sign with Cleveland.

His representatives declined to comment Friday on the license plate proposal.
via Ohio lawmaker proposes LeBron license plate.
Four years ago, Cavs fans burned jerseys and now they could put his face on their rear ... ends. 
It does show how big a cultural event this is to Ohio. It's not merely a free-agent siging with the basketball team. It's a cultural icon returning to his home state and bringing with him the validation of their fandom and of a way of life. That's what comes with James' essay in Sports Illustrated. 
Would you put an athlete on your license plate?
HT: Deadspin via BlackSportsOnline.com
Thomas took to Twitter to let the Celtics know he doesn't want to ruin Pierce's night

It's rare to see a legit punch in an NBA fight, but this was definitely one of them

We've got all the scores, highlights and news from an NBA Tuesday
The former Slam Dunk Contest champion will take his talents to Tri-State

Do NBA players have look-a-likes from famous paintings? We found out on the new Arts & Culture...

Larry Hartstein is on quite a run in picks involving the Suns and the Trail Blazers