OKC ball boy eyed for Twitter death threats directed at Beverley
A Thunder ball boy allegedly tweeted death threats directed at Houston's Patrick Beverley in the wake of the play that took Oklahoma City's Russell Westbrook of their first-round playoff series.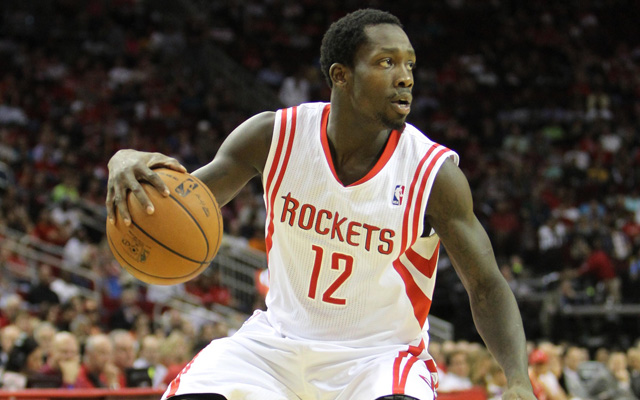 Kids are stupid. You start to learn this sometime in your late 20s. Before then, you know it's true, but you don't really understand it. But what a Thunder ball boy might have done is considerably worse than stupid for anyone of any age.
Patrick Beverley is being blamed for the injury to Russell Westbrook that tore meniscus in the All-Star point guard's right knee and prompted surgery, keeping him out of the rest of the playoffs. We broke down the play by Beverley here. 
From the Houston Chronicle:
The vitriol about the play in which Thunder star Russell Westbrook was hurt has escalated to death threats directed at Rockets guard Patrick Beverley, including one from someone that describes himself as a Thunder ball boy.

Mitchell Brown sent a tweet that threatened, "Patrick Beverly (sic), I'm coming to kill you." He sent another using Beverley's Twitter handle; "@pavbev21 I'm coming to kill you."

Capt. Dexter Nelson, a spokesman for the Oklahoma City Police Department, said officers in conjunction with the Houston Police Department and the NBA are looking into what he described as "Internet threats."

Thunder spokesperson Matt Tumbleson said, "We do not condone his comments. He works game nights on a voluntary basis. We will handle this matter internally."

Shortly after Thunder officials were told of the tweets, Brown deleted them with an apology:

"Yesterday I posted something completely inappropriate and I need to apologize. I was out of line and it will not happen again."

He later removed that tweet and instead said his account was hacked.

"@patbev21 yesterday someone tweeted on my account making a death threat towards you and it wasn't me. I apologize."
via Ultimate Rockets » Beverley receiving Twitter death threats, even as Durant, Brooks defend his play.
The fact that the Thunder commented on the matter seems to confirm the tweet's existence. The odds a 17-year-old kid had his Twitter hacked seems unlikely, but it's possible. 
If Brown did do it, it's a remarkably dumb thing to do, but it's also standard fare for what happens on Twitter. Steve Blake of the Lakers saw similar threats last year when he missed a key shot against the Thunder. 
Is Brown is a legitimate threat to Beverley or anyone else? These days, you can never be sure. Seemes fairly unlikely, though. He's a fan who's 17 and might have done what 17-year-olds do -- say something incredibly stupid. Threats aren't warranted over events in sports, on Twitter or elsewhere. But this is our society, and it shows both the dark side of Twitter and sports fandom at the same time. 
Brown has deleted his Twitter account, which is probably for the best. 
The Thunder will face the Rockets in Game 3 on Saturday night.  Royce Young broke down how Westbrook's absence influences the series. 
 HT: Hoopshype
The ex-Warriors assistant GM shares his philosophy on scouting and why Golden State had so...

The Suns have been doomed for awhile now it just finally came to a head this season

Andre Drummond is making his free throws now, and Pistons coach Stan Van Gundy says this is...
Carmelo Anthony touched the ball less than Raymond Felton.

Right before Wiggins hit his shot, Carmelo Anthony hit a 3 to put the Thunder in front

The Suns firing Earl Watson three games into season is second-quickest firing in NBA histo...