OKC didn't make a statement against the Spurs, but did send a reminder
With just seven games to go and 54 wins in the books, the Thunder should really be past proving anything. But they really aren't.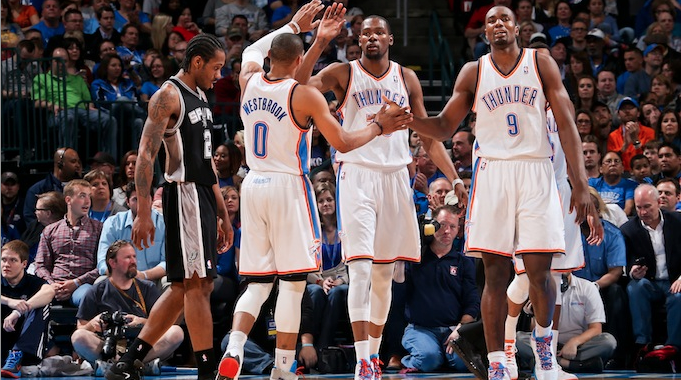 OKLAHOMA CITY -- With only seven games to go and now 55 wins in the books, the Thunder should really be past proving anything.
This is a team that played in the NBA Finals last season, went to the Western finals the year before and is headed for at least a top two regular season finish this season.
They're good. We should understand that by now.
But doubt has lingered over them all season like a beard-shaped shadow. Coming in to Thursday's game, the Thunder were 1-2 against San Antonio, and only 3-9 against the Heat, Spurs, Grizzlies and Nuggets. Oklahoma City has a sparkling margin of victory and a pile of wins, but without anything in about two months over an elite team, there were low grumbles about what they really are.
And with a 100-88 victory against the Spurs, a game that placed the top seed in the West into their hands, it's not so much that the Thunder made a statement as it was sending a reminder. And, maybe most important, to themselves.
"Yeah, I think so," Nick Collison said when asked if this victory boosts the team's confidence. "Late in the year, you want to be playing well and any time you can get a win over a playoff team, it's big for your confidence. It's not going to win us any game in the future, but all those things help."
Said Kevin Durant: "We never lost confidence, that's one thing. We lost a few buzzer-beaters to some of these teams. I know we lost to Denver, we lost to San Antonio at their place, but we never lose confidence, man. It's the regular season. We just want to continue to get better, and I think that's what we're doing."
The Thunder are even with the Spurs both in the season series and now the loss column. With the tiebreaker in favor of OKC, homecourt advantage in the West is now theirs to lose. And with the way the Thunder have performed at home against San Antonio as of late, it seems to be important.
On Thursday, it was a 12-point victory. Earlier in the season, a 17-point one. Last postseason in the Western Finals, three consecutive victories in OKC, including Game 3 that was a blowout and completely changed the dynamic of the series. Chesapeake Energy Arena has been a house of horrors for the Spurs, which says that if it comes down to OKC and San Antonio again, that little edge of homecourt might be a difference-maker.
"We're a team that's been through it," Durant said. "We went to the Finals. We've been to the Western Conference finals the last two years. We know the importance of it in the playoffs. This isn't like it's our first go around. We know we want to play as many games as we can here in Oklahoma City."
The Spurs were playing the second night of a back-to-back, and Tony Parker sat the entire fourth quarter because of leg soreness. But while the Thunder piled up a 20-point lead at one point, the Spurs had it to three with 4:41 left. The Thunder closed on an 11-2 run, defending brilliantly in the halfcourt and were boosted by a dagger 3 from Durant. It might've been better that the Spurs pressed the Thunder late, too. It forced OKC to feel some pressure to finish, something they haven't had to do a lot at home.
And they closed extremely well.
"I liked our poise, the way we stayed composed, withstood the runs they were making and made plays," Durant said.
The big question from Thursday though is, did we really learn anything we didn't already know? It seems like if the result were flipped, the Thunder would be hearing it quite loudly right now. That sparkling margin of victory and the heap of wins might seem like fool's gold when lined up against their failures versus the top teams. Instead, OKC dominated on their home floor and reminded everyone that they still might be the favorite to win the Western Conference, again.
Gregg Popovich probably said it best before the game when asked if this Thunder team was better or about the same this season.
"I'm not going to evaluate and say if they're as good or better or worse or anything like that. They're a championship-caliber team, and they're capable of winning a championship. That's what's important."
And they reminded us of exactly that Thursday night.
With 2K18 out everybody wants to know who has the 10 highest ratings in the game. Here's the...

Durant noted in an interview that all of the criticism in the immediate aftermath hit him...

Want the swagger of LaVar Ball? "NBA 2K18" lets you copy his absurd run from his WWE appea...
Durant apologized for a few tweets in which he criticized OKC and his former coach Billy D...

Lue does not expect the Cavs' big trade to affect the team's starting frontcourt ... at least...

Dwight Howard wants to be a farmer in his future and retire with his donkeys