OKC's Kevin Durant suffers right foot fracture, could miss 6-8 weeks
MVP faces surgery following diagnosis of Jones fracture.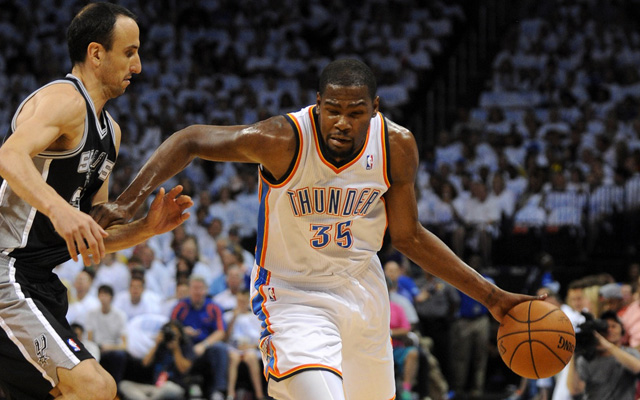 The Oklahoma City Thunder announced Sunday that Kevin Durant has suffered what is called a Jones fracture in his right foot. The injury usually requires surgery and the reigning MVP forward could miss 6-8 weeks of time with the injury. Thunder GM Sam Presti released the following statement: 
"After practice yesterday, Kevin made us aware of discomfort in his right foot," GM Sam Presti said in a statement released to media. "We proceeded to perform the necessary imagining studies to determine the cause of his discomfort. At this stage, Kevin has been diagnosed with a Jones fracture. Traditional treatment of this injury requires a surgical procedure and recent NBA cases have resulted in a return to play in 6-8 weeks. We are in the process of collaboratively evaluating the most appropriate next steps with Kevin, his representatives, and Thunder medical personnel. Until a course of action is determined, we are unable to provide a timeline specific to Kevin's case."
A Jones fracture typically occurs 3/4 of an inch from the base of the fifth metatarsal, or pinkie toe. The biggest issue with this injury, and the reason Presti doesn't state that Durant himself is expected to return in that time frame is because healing of the injury can be complicated by a lack of blood flow, which can prevent a re-joining of the fracture, or cause a re-fracture.
From InjuryReport.com: 
The studies reveal that all "tuberosity avulsion fractures" (Zone 1, according to Lawrence and Botte) heal well using functional treatment. Even multifragmentary, displaced and intraarticular fractures in Zone 1 give comparable good results. Treatment with a short leg cast leads to a significant delay in return to preinjury level when compared to functional treatment. "Jones' fractures" (Zone 2) also demonstrate good to excellent results and complete bone healing when treated functionally. In contrast, "diaphyseal stress fractures" (Zone 3) at the distal limit of the fourth-fifth intermetatarsal articulation and just distally feature a significantly higher rate of treatment failure when treated non-operatively in a non-weight bearing short leg cast. Early intramedullary screw fixation leads to a significantly shorter time to bone healing and return to sport.
via Acute fractures to the proximal fifth metatarsal bone: Development of classification and treatment recommendations based on the current evidence - Injury.
So Durant's expected to miss 6-8 weeks, but that entirely depends on how the injury heals, which is why the Thunder are pursuing surgery as quickly as they are. 
Durant averaged 32 points, 7.4 rebounds, and 5.5 assists last season in winning MVP for the Thunder. Durant has missed a total of 32 games in his seven seasons in the NBA. 
The injury deals a massive blow to OKC's hopes of capturing the No. 1 seed and homecourt advantage throughout the Western Conference playoffs this season, and could even jeopardize home court in the first round, depending on how strongly other contenders like Dallas, Portland, and the Clippers do in addition to reigning champion San Antonio. 
The Thunder were already in a difficult place when it came to their two-guard rotation, with either Andre Roberson or Reggie Jackson expected to start next to Russell Westbrook. Now they face having to find a replacement at small forward. That will likely mean Jackson moves into the starting lineup, with Roberson sliding to the small forward position. Perry Jones III could also see increased minutes. 
Meanwhile, Russell Westbrook will now assume the pressure of having to keep the Thunder afloat during Durant's absence. And given that the Thunder surged last season with Westbrook recovering from multiple knee injuries, he faces a bar set that high as well. 
We'll have more on the impact of this major injury to one of the two best players in the world today on CBSSports.com. 
Davis left the Pelicans' game against the Nuggets in the third quarter

Popovich was upset about an out of bounds call

Wall went 3-for-12 from the field, and had just eight points in the Wizards' loss
Noah was reinstated from his 20-game suspension on Monday, but is yet to play for the Knic...

In his first season with the Cavs, Rose has not played since Nov. 7

Keep it right here for all your Friday NBA scores, updates and highlights