Oklahoma City passes a big crunchtime test against Chicago
It was a big test for the Thunder on the road against a good team. Could they execute in crunchtime? Turns out it's pretty easy to when Kevin Durant has it going.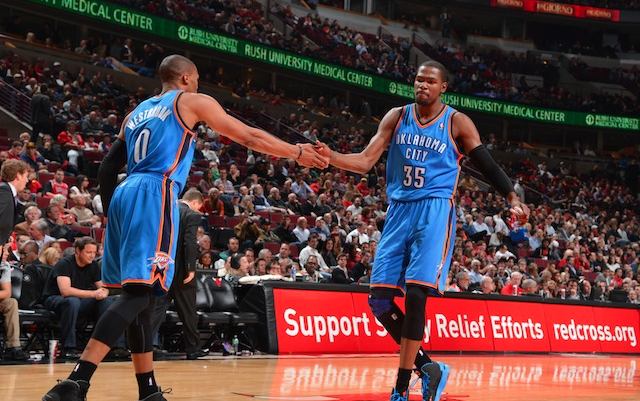 The Thunder overcame any closing issues by relying on their two All-Stars Thursday.
(Getty Images)
It's been a reasonable concern surrounding the Thunder since the James Harden trade. In a tight game against a good team, can you really rely on Russell Westbrook to get you good looks?
Harden took a big responsibility in Oklahoma City's crunchtime offense last season, especially in situations where Westbrook was on one of his wild tangents. In the Thunder's first real test, Westbrook failed as OKC collapsed late in San Antonio in the season opener.
Thursday night in Chicago, the Thunder had another chance at it. With 6:48 left, OKC was up one as Westbrook and Durant checked back in the game to close it out.
This time, there was a no-nonsense approach to OKC's closing act -- get the ball to No. 35. Durant scored 10 of his 24 in the fourth, all 10 coming in the final 6:30. It served as a not-so-subtle reminder that this anxiety is mostly silly because the Thunder have Kevin Durant and Kevin Durant is very, very good. Especially late in games.
There's no doubt though that it's a new process for the Thunder. For instance, the ball remained almost entirely in Westbrook or Durant's hands in the fourth. Harden's replacement, Kevin Martin, didn't attempt a single shot in the fourth quarter. He had two moderately good looks and passed on both, instead swinging the ball back out to Westbrook.
But just because it's different doesn't mean it's not successful. Last season, the Thunder were primarily an isolation heavy, one-on-one type of offense. It was almost as if Westbrook, Harden and Durant took turns running various sets and if there was an assist to be had, it came via the drive-and-kick variety. The Thunder ranked dead last in assists per game in 2011-12 as a team, averaging an anemic 19.9 a game. This season? The Thunder are averaging 22.2 and ranked tied for 13th in the league.
They've now had three straight games with 20-plus assists, something they could go weeks without registering just one of last season.
The question is, is it a winning formula? The results have been a bit mixed thus far this season with OKC sitting 3-2, but the win over Chicago Thursday is certainly an encouraging sign for the Thunder. Russell Westbrook recorded 12 assists to only two turnovers. While Durant's final output wasn't very Durant-like, his fourth quarter takeover was per the usual.
The Thunder are starting to look more Thunder-ish, except they're not. They still have Durant and Westbrook running the show late, but now with more of a burden on their back. And when they have it working, that's a great thing. Who wouldn't want to put the ball in the hands of two guys like Westbrook and Durant late in games? Except we've all seen the nights where it doesn't exactly click and the Thunder are in need of that third bailout option.
But as long as the Thunder continue their evolution with Durant and Westbrook assuming that closing role more assertively, OKC can overcome most the concerns based almost purely on the fact that its players are just that good.
Jordan Bell had himself a night against Portland

The younger Ball brothers are heading to BC Prienai, but that could spell trouble

Not many games, but still plenty of action and intrigue Monday in the Association
SportsLine's advanced computer model simulated Tuesday night's Lakers-Knicks game 10,000 t...

The Reno Aces are concerned about the new WNBA franchise stealing their thunder

Hinkie parted ways with the 76ers in 2016 after drastically changing the direction of the...