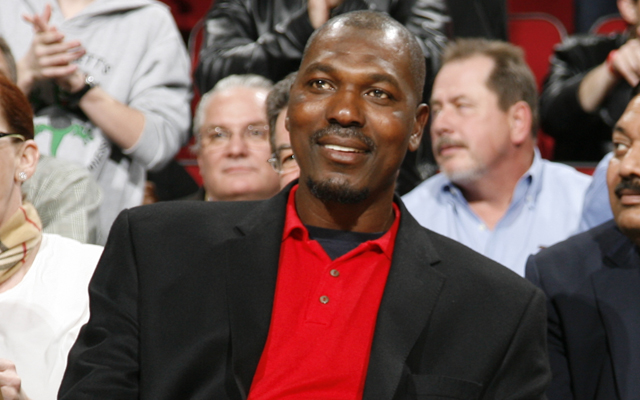 Hakeem Olajuwon could be recruiting Dwight Howard to stay in Houston.
(Getty Images)
Two-time NBA champion. 
Two-time NBA Finals MVP. 
Former MVP. 
12-time NBA All-Star. 
Pitch man.
This is the new resume for Hakeem Olajuwon, who has been tasked by the Rockets with convincing Dwight Howard to re-sign with Houston should a potential trade of Howard to the Rockets go through. From Fox Sports Florida: 
In a phone interview with FOX Sports Florida from Amman, Jordan, where he lives half the year, Olajuwon said the request came from up high in the Rockets organization. He said it was relayed last week from Rockets athletic trainer Keith Jones to his personal assistant in Texas, who contacted Olajuwon in Jordan. 

"The Rockets asked me to reach out, and I'll talk to him if the deal goes through," Olajuwon said of Howard, who can become a free agent next summer and could arrive in Houston with no guarantee he will stay past 2012-13. "I'd like the talk to be more like real, and I'll let him make his decisions after that." 
via Hakeem to help with Rockets Howard dream.
Howard has spent multiple sessions in offseason summers working with Olajuwon on post moves and footwork, and while Howard has always been non-comittal on how much they actually helped, has shown some different thing in his repertoire after working with Olajuwon, like the short-range face-up jumper he showed off last year in-between coach killing and back surgery. 
Howard clearly has a tremendous amount of respect for Olajuwon, as well he should, with The Dream unquestionably among the top-five centers of all time. Having him lobby him could steer him away from his threats to enter free agency if not traded to the Nets. Clearly, if Howard were traded somewhere other than Brooklyn, then he would be unable to join them in free agency due to cap restrictions. So the likelihood of him re-signing wherever he lands based purely on the money is pretty high. 
But Howard has already balked at situations where he's been compared to another all-time great center in Shaquille O'Neal. Will he have the same reaction in Houston in the shadow of the Dream? 
First thing's first, the Rockets have to actually pull the deal off, something they've maneuvered into position for with transactions like using the amnesty clause on Luis Scola, but there's still a long way to go. 
Nice to have Hakeem there as backup, though.