Omer Asik's teammates supportive but confused by trade request
Rockets center Omer Asik wants out of Houston, but trade demand may be defeating his own interests.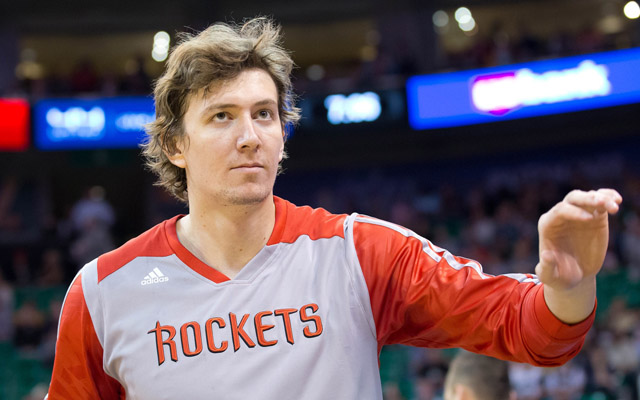 After Omer Asik requested a trade yet again from the Houston Rockets this week, reportedly, his teammates have expressed a mixture of empathy for his situation and a confusion over what exactly it is he's unhappy about. 
"Totally, I understand where he is coming from -- his frustration, sharing the floor," [Dwight] Howard said. "I understand it's tough for him. The only thing I can do is be his friend off the floor and help him anyway I can. I understand its a tough situation for him, but we are all family and we have to learn to fight through frustrations."

"It would be a frustrating thing," [Chandler] Parsons said. "He had a great year last year and to bring in someone over him has to be a little frustrating. It is part of the business and you have to be a professional about it and come to work every day. He is on the Rockets so he has to act like that and come to play and come to win.

"Yeah, he has been fine with me. I stay out of it. Obviously he is frustrated right now, but as his teammate I just try to be encouraging and making sure his head is in the right place because we are going to need him throughout the season. Greg Smith goes down, Marcus Camby has surgery so he is going to play at lot of minutes so I don't know what he is so upset about. He has to come out here, perform and be a professional about it."
via Ultimate Rockets -- Rockets players respond to Asik frustrations.
Here's the basic deal, from how it looks on the outside. Asik's not unhappy about minutes, and it's probably not even about playing next to Howard. He signed with the Rockets to be their starting center, the franchise guy. Whether he should care about that or not is immaterial, that's the thought process it seems. He was immediately unhappy when Howard signed with the Rockets. He was a reserve in Chicago, and despite closing several games over even Joakim Noah, he wanted a bigger role. 
Asik and Howard together have been outscored by 35 points in 93 minutes. They're scoring only 87 points per 100 possessions, which is horrible. So that combination isn't working. 
The issue for Houston's front office at this point is less about wanting to make this thing work, as it is about Asik's value. He's got a contract that's movable but not like butter, and he's not a gifted offensive center. Teams will have interest in him, but GM Daryl Morey has almost no leverage right now. That's not a position from which he makes a deal. The more Asik lets it be known that he wants out, the more difficult it will be for him to find a new situation. 
The Warriors used a huge third quarter to come back from a 23-point deficit to get the win

Three takeaways from Golden State's 24-point rally past the Sixers

Okafor has played only 25 minutes this season
Capela's shoe slipped off, and was sitting near the free throw line

The Magic will instead play in the Las Vegas Summer League

Ball walked away from an altercation between the Lakers and Suns on Friday night