On and off the court, there's no other player like Joakim Noah
Bulls center Joakim Noah is doing things that haven't been done since Russell, Chamberlain, Abdul-Jabbar and Shakespeare. Wait ... Shakespeare?
More NBA: Power Rankings | Expert Picks | Latest news, notes
DEERFIELD, Ill. -- If you're going to spend time around Joakim Noah, you better bring your A-game. You better bring your positive energy and leave the negative vibes somewhere else.
"You good? You good?"
It's Noah's signature introduction when he greets someone -- whether it's a teammate, an opponent, an interviewer, a filmmaker or a guy in braids selling coconuts on the side of the road in Hawaii, one of his favorite offseason spots on the globe to visit.
It's only partly true that Noah wants to know how you're doing when he asks that. (As for how he's doing, his response is always, simply, "Chillin.") He craves a deeper understanding -- wants to know how you're living, and whether you're in an uplifting mood and at peace with your surroundings. He doesn't want to be around someone who isn't.
It doesn't matter to Noah whether you're an NBA All-Star, a future Hall of Famer, a street vendor, a beach bum, an art dealer or a witch doctor. It doesn't matter to him what color your skin is; he's biracial, though that's a term he wouldn't use. ("I don't like to categorize people," he said.) He plays basketball exactly that way.
"He's different; he grew up different," teammate Carlos Boozer said. "He's a very free spirit and it works for him."
It's working for him better than ever now. Once a gangly, awkward tempest who famously commented during his pre-draft workout with the Bulls that he grew up a Knicks fan and "hated Michael Jordan," Noah has come to symbolize all that is good about one of the NBA's most selfless, resilient teams. Somehow, his swirling-dervish style has acquired refinement and precision. Incongruously, his privileged, prep-school, multi-continent upbringing has blended with a street-ball edge and bench-warmer work ethic to form the most unique combination of basketball skills and personality in the sport.
"He's a weirdo," teammate Taj Gibson said, making no effort to be funny -- just telling the truth.
"A different breed, man," Boozer said.
Even in the Bulls' halcyon days with a healthy Derrick Rose, Noah was the anchor of Tom Thibodeau's connected, deeply committed defense. Now, with Rose gone for most of a second straight season and with Luol Deng traded in January, Noah has become the fulcrum of Chicago's offense, too.
His awkward, sideways-rotating, two-handed jump shot -- the "tornado," teammates call it -- goes in more often than it should; Noah's sweet spot is 16-24 feet from the left wing, where he's shooting 44 percent (29-for-66). He's leading the Bulls in rebounds per game (11.1) and blocks (1.5), but also in assists (5.2). Since Feb. 6, he's averaging 7.3 assists per game, as a 6-foot-11 center. His six games with 10 or more assists -- all since Feb. 6 -- are the most by an NBA center since Vlade Divac in 2003-04.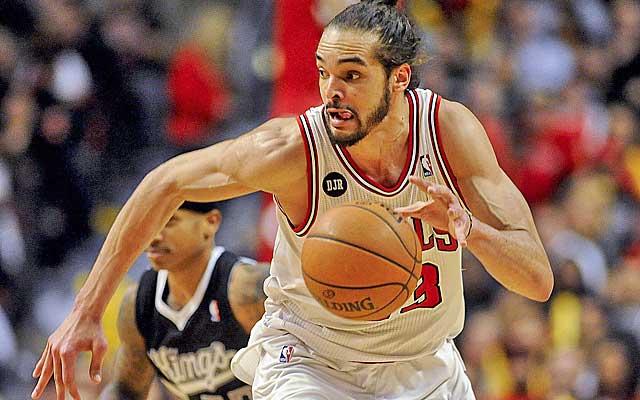 It had been more than 35 years since an NBA center recorded 14 assists in a game, as Noah did on March 2 against the Knicks -- after which Carmelo Anthony said, "He was the quarterback out there." With seven games to play and the Bulls somehow in the hunt for the No. 3 seed in the East without Rose and Deng, Noah is on pace to become the fifth center in league history to average more than 12 points, 11 rebounds and five assists in a season -- the others being Wilt Chamberlain (four times), Kareem Abdul-Jabbar (three), Bill Russell (twice) and Bill Walton (twice).
"Before Noah's career is over, I always thought that he'd win an NBA championship," said his college coach, Florida's Billy Donovan. "He's just a great competitor, teammate, warrior. He's about all the right things."
He is assisting on an astonishing 26 percent of his teammates' baskets while on the floor -- this for an offensively challenged team that is dead last in the league in points per game (93.2) and 28th in points per 100 possessions (99.2). If you go by the strict definition of "most valuable," it's pretty hard not to at least include Noah in the conversation for MVP after Kevin Durant and LeBron James.
"If you look at him statistically, there may not be a full appreciation for what he brings," said his current coach, Tom Thibodeau, the ultimate gym rat and basketball robot -- a sort of yin to Noah's yang. "Statistics are good, but it's the body of work that he brings to the team."
And so much more.
The son of 1980s tennis star Yannick Noah and Swedish model-turned-sculptor/art therapist Cecilia Rodhe, Noah was born in New York City, raised in Paris and always had the best of the best -- good schools, a strong support system. He's fluent in French, art, literature and various nooks and crannies of culture. He quotes Bob Marley on Twitter. He refers to basketball's many unsavory characters as "Iagos," a nod to Shakespeare. Ratchet hip-hop -- a sub-genre of rap that is raunchy and intentionally obnoxious -- is his latest muse.
A typical day? When he isn't immersed in basketball, it's a question of where on the globe Noah will be cavorting. He loves to travel, a result of his transcontinental upbringing. During the summer months, while drilling his footwork and working on his wacky jumper here at the Berto Center, Noah will tell Thibodeau that he's off to Hawaii for three weeks -- then show up right back here three days later to say, "Oh, I decided not to go." He visits Cameroon, where his grandfather -- former soccer player Zacharie Noah -- still lives. He feels at home in the easy, breezy bohemian enclave of Venice Beach, Calif., where he can kick back and breathe in the salty air, ocean views and contrasting opinions.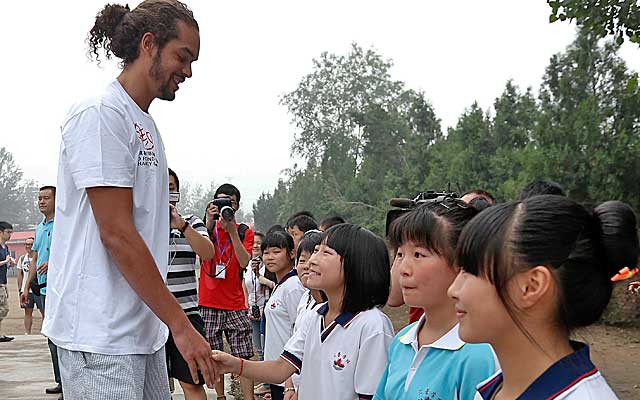 "It's really important to have balance, spend some time in nature, go to a few parties, enjoy my friends and really chill out," Noah said. "Once August hits, I start getting my mindset back on the season, back on the grind."
His interests carry the refinement of his European upbringing, yet he also has an edge -- a certain restlessness that sometimes upsets the Kumbaya. It's a combustible quality forged by his return to New York as a teenager, learning the game and the streets from Queens youth programmer Tyrone Green, a mentor with whom Noah lived at times. He still calls him "Mr. Green."
"I think both [places] shaped who I am, just being able to travel," Noah said. "I think NYC definitely helped me out a lot. I always give respect to and pay homage to New York, because I don't feel like I would be the player that I am today if it wasn't for New York City. It gives you a certain edge, a certain toughness just growing up in the city."
The rugged exterior conceals a mixture of empathy and curiosity. While he's exploring the Pacific coastline or some Hawaiian hamlet, nothing that could even remotely be construed as art eludes him; he'll often stop randomly and take pictures of things others wouldn't even notice.
"Art is interesting because there can be so many different perspectives in a piece of art," Noah said. "The way I see it may be completely different than the way somebody else sees it. It's interesting to hear what somebody sees in a piece of art compared to somebody else. It could be completely different and that's interesting to me."
Not unlike his game. To the untrained eye, Noah on the basketball floor -- with his scruffy, uneven beard, delicate features and stringy hair always in a bun -- looks completely out of place. What might look like a series of unplanned, herky-jerky movements actually is an intricate tribal dance of footwork and pump-fakes that Noah spent a good 45 minutes drilling one day last week after practice at Berto. According to the NBA's SportVu technology, Noah runs 2.4 miles per game, the same as James and Anthony, but faster: 4.1 mph compared to 3.8 for LeBron and 3.7 for Melo. I, for one, want a stopwatch on him.
After all that movement comes the tornado -- that ugly, unorthodox shot that Noah pushes so inelegantly toward the rim with his thumbs.
"If you can get past how it looks," Thibodeau said, "actually, the ending is pretty good."
Who taught him to shoot like that? "Nobody," Noah said. "Everybody's trying to change it, more than anything."
But you can't change an original, and that goes for his good qualities and for the sometimes runaway emotions that are so difficult for him to harness.
Noah's dark side came out when, as a rookie in 2008, he was suspended for verbally berating assistant coach Ron Adams at a shootaround. In 2009, Noah famously chastised James from the bench during a game between the Bulls and Cavaliers. Their feud continued during the 2013 playoffs, when Noah reached in after the whistle and James took exception. They earned double-technicals, fueling their mutual respect and irritation.
"Off the court, he's able to be who he is -- a free spirit, relaxed," Boozer said. "On the court, he can turn into a different person."
One of his former teammates, Brad Miller, is glad to see that Noah is more under control these days.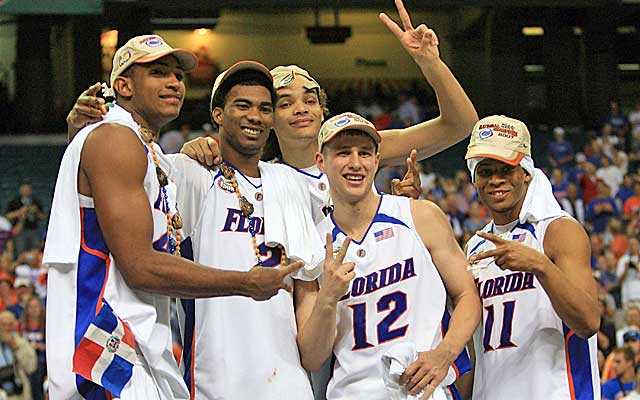 "He was a wild kid and had a lot of swag when he got to the Bulls," said Miller, who played with Noah from 2009-10. "He's come a long ways, that's for sure. He works hard at the craft of basketball, and that's what you respect."
Miller, who retired in 2012, recalled by phone from a Florida vacation this week how he heard all the "Jo stories" after joining the Bulls in a February 2009 trade with Sacramento. The same guy who danced on tables at parties would assail his team's work ethic and leadership in postgame interviews. When presented with a brunch buffet, Noah would pile his plate high with a mixture of breakfast and lunch foods, stir it all together like a science project and eat it -- nothing going to waste.
None of the Jo stories, however, was odder than one that Miller witnessed himself. At one point when Noah was dealing with foot issues, Miller visited him at his house and was, shall we say, a bit taken aback by what he saw.
"He was wearing those roosters on his feet and had this witch doctor lady with him," Miller said. "He was sitting in a seat and had his feet in this tub of goo with a battery hooked up to it, and she was giving him all these blessings and stuff and had the incense burning. I was like, 'What are you doing?' And he said, 'Just trying to get my feet better.' My wife is a West Coast girl, so she gets it, but I'm not going to be sticking my feet in a vat of goo hooked up to a battery."
Nor will Noah be joining Miller, an avid outdoorsman from Indiana who dips tobacco, on a hunting or fishing trip any time soon.
"I don't know if he's ready for all that," Miller said. "I'll give him a couple more years to calm down a little more. Maybe I'll start him out on a crossbow; something easy."
The expression of Noah's quirky resourcefulness and versatility has made its way from his free-wheeling soul and artistic mind to the strictly defined domain of the basketball court, where he swirls and swoops in defiance to all the rules that should apply. Point guards handle and dish the ball, and front-court players post up and convert -- except that Noah's game and imagination can't be constrained by such boundaries.
"Being from New York, everybody's a point guard," Noah said. "Even when you play in the park, you've got to know how to handle the ball. If you can't handle the ball, you can't really play."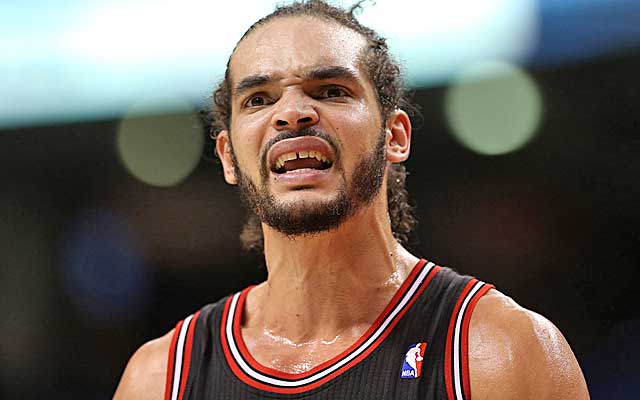 Noah's expanded role in the Bulls' offense -- he touches the ball 80 times a game, more than Tony Parker, Russell Westbrook and James, according to SportVu -- has evolved partly out of necessity. The Bulls are slogging through a second almost complete season without their primary ball handler and scorer, Rose, and Noah has stepped into the vacuum fearlessly.
"There's a finesse part of his game that's guard-like, where he can dribble and pass and make quick decisions off the dribble," Thibodeau said. "To me, that's what's really helped us probably the most."
Thibodeau has come to accept Noah's quirks and, at times, misplaced passion, because he's left nothing to interpret about the purity of his intentions. So before the season, the gravelly voiced coach had resolved to run more offense through Noah at the elbow with Rose spending some time off the ball. That plan was accelerated -- and the Bulls' championship hopes crushed -- when Rose went down just 10 games into his comeback from a torn left ACL with a torn meniscus in his other knee.
"Everything that we're going through is just going to make us enjoy our championship ring that much more when we get it," Noah said. "And there's no doubt in my mind that we'll get it."
In his first six seasons, Noah, 29, had recorded two double-digit assist games and three triple-doubles; he has six and three, respectively, this season. But the evolution of his game actually began years ago, when, as Noah tells it, Miller took him aside on the practice court here in the Chicago suburbs and did some dishing of his own -- with blunt truths.
"I remember like it was yesterday, just being on this court right here and him pulling me to the side and telling me that I would never be a post player and the things that I needed to work on, like learning angles and learning how to play at the elbow," Noah said.
Recalling that moment on the phone, Miller said, "He learned that he can be a good playmaker by doing the simple things out there and not thinking too hard. I knew he wasn't worth a [expletive] down in the post, so he had to come up with something else."
With his diverse game and background, there have remained a few constants with Noah -- an open-mindedness about who he befriends and a sincere empathy for those less fortunate. The NBA, with characters from all over the world, is a melting pot -- a place where Miller, a rifle-toting outdoorsman, can become friends with a long-haired, French-speaking, anti-violence non-conformist and a street-tough eccentric who used to be named Ron Artest, but now calls himself Metta World Peace. As long as you put in the work and care about winning, Noah -- a two-time NCAA champion at Florida -- is down with you.
"He just wants to win more than anything else," Donovan said, "and he's always been like that."
He's always been passionate about it, too -- sometimes, to a fault. Those who know him well were stunned when Noah, heckled profanely by an intoxicated fan during the 2011 Eastern Conference finals, was caught on camera calling the patron an anti-gay slur. He was fined $50,000 by the league that subsequently welcomed Jason Collins, the first openly gay player in the four major North American sports. Noah, the peace-and-love guy, apologized profusely, saying it was out of character.
"People who know me know I'm an open-minded guy," Noah said. "I'm not here to hurt anybody's feelings."
It was a mistake, worse than the public missteps he'd made before but born of the same inner passion that has wrought both good and bad results for most of his athletic life.
"My father was a competitor, a fiery player, and I'm that way, too," Noah said. "The way I am on the court is completely different from who I am off the court."
His father, the 1983 French Open champion, witnessed that potentially destructive competitive streak when Noah was just a boy. The young Noah was a sore loser who'd go on tirades if he lost a basketball game. Yannick would respond simply by taking the balls away, but inside, he knew that competitive angst might someday be of use.
"I remember the day that I beat him one-on-one in basketball, and I knew that he would never be able to beat me again," Noah said. He was 14; his intuition proved to be correct.
But compassion is delivered in deeds, not words, and Noah dishes it out generously, like pocket passes from the elbow. He's an active participant in his Noah's Arc Foundation, which seeks to empower inner-city kids through sports and arts. For the past two years, he's attended the Peace Basketball Tournament to stem gang violence on Chicago's South Side; last year, the event closely followed a gang-related mass shooting that left 13 people injured in the city.
"There's this authenticity to him," said Adam Shopkorn, an art curator and documentary filmmaker who approached Noah a while back with a project that was right in his wheelhouse.
Having heard of Noah's giving nature and his longtime friendship with one of the tragic figures of modern basketball culture, Shopkorn asked Noah if he wanted to be involved in a movie about Lenny Cooke. Noah was a childhood friend and AAU teammate of Cooke, who in 2001 was viewed as equal, if not the superior, to blossoming high school stars James, Anthony and Amar'e Stoudemire.
Stoudemire was picked ninth in the 2002 draft while Cooke -- a victim of poor advice, hubris and the loss of his high school eligibility as a senior -- never heard his name called and never played a minute in the NBA. James and Anthony came into the league in 2003 and have become perennial All-Stars. Noah, who idolized Cooke as a 5-9 benchwarmer early in their AAU days, was picked ninth in the 2007 draft.
"I just wanted to make sure it was done right," said Noah, who took almost two years to agree to have his name associated with the film as an executive producer. "It's a hard story. Unfortunately, it happens more often than people think. There's a lot of talent out there that's been wasted."
Not Noah's. When it comes to the long-haired hippie with the goofy jump shot and wandering interests, nothing -- not talent, not energy, not a day in the outdoors or a mishmash of food piled high on his plate -- goes to waste.
College basketball insider Gary Parrish contributed to this story.
This stat line is in no way an indication that Ball has turned any kind of corner

All of Simmons' 3-point attempts have come from well beyond half court

The No. 1 overall pick has not played since Oct. 23 due to a shoulder injury
In this week's Power Rankings, the Celtics finally claim the top spot while the Cavs begin...

We've got you covered for all the scores and highlights from Sunday's NBA games

The Cavs superstar compared Kaepernick to Martin Luther King Jr. and Muhammad Ali