On the shoulders of Durant, Thunder win an all-important Game 1
Desperately needing it, and playing like it, the Thunder found a way to win Game 1 over the Grizzlies.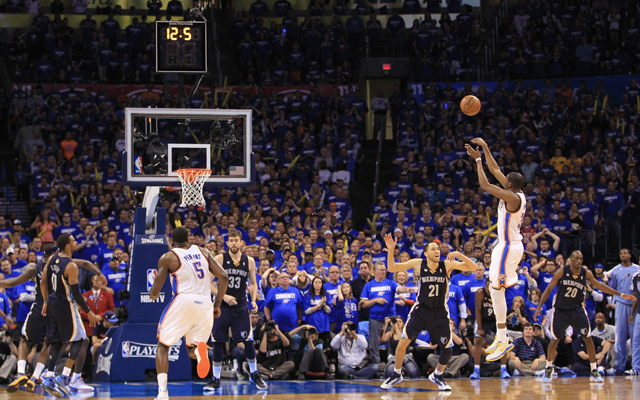 OKLAHOMA CITY -- It was pretty much exactly as they drew it up.
No, seriously. Kevin Durant's go-ahead jumper with 11.1 seconds left to give the Thunder Game 1 over the Grizzlies on Sunday went essentially according to plan. 
Thunder coach Scott Brooks laid it out simply: get a steal, get the ball to Durant, and get a win. 
"During that timeout, I said if we get a stop, and it's in Kevin's hands, or a long rebound in the right guy's hands, push," Brooks said. "We don't want the defense to get set. If we don't get a stop, call timeout. Or, if we get a stop and it's not in the right guy's hands, we're going to call timeout."
More on Grizzlies-Thunder
Column

Related links
More NBA coverage
With the Grizzlies up one with under 20 seconds left, Mike Conley beat Derek Fisher around a screen and appeared to have a clean path to the rim to put Memphis up three. Fisher, in complete desperation, reached around from behind, poking the ball out of Conley's hands and directly into Durant's. 
"As soon as I saw Kevin get possession of the ball, I instantly knew we were going to just take off and run with it," Fisher said. "It was exactly the way the coaches said -- if it happens this way, this is what we're going to do."
And once Durant had the ball in his possession, almost everyone knew what was coming. In a postseason without Russell Westbrook, Durant has been forced to assert himself as the Thunder's leader, both in huddles and on the floor. There was no other option than for Durant to live or die with that shot. It's a responsibility he lives for, understanding the weight of failure that comes with a miss.
"I knew that was a bucket. I ain't trying to be arrogant, seriously. I just knew that shot was going in," Kendrick Perkins said. "I knew he was going to touch 'em up. KD lives for those type of moments. He's just got a gift."
Durant proved Perkins right. When the ball left his hands, a beautifully lofted 18-foot pull-up, it was good all the way. Pure, and straight through. 
"That was the only shot I think I could find, and by the grace of God, it went in," Durant said.
Durant's only 24, but he's lived through a 15-year veteran's worth of postseason experience. He's made big shots; he's missed big shots. He's felt the joy of winning a game for his team; he's felt the agony of feeling like he lost it. But like Brooks drew it up -- if the ball is in Kevin's hands, he said -- the Thunder were willing to sink or swim with one stroke from Durant. 
"I think that's where it starts, the lack of fear of failing in those situations," Fisher said of Durant. "Then also being strong enough mentally to accept what comes with not making the shots. That's what makes the special ones special."
Durant's shot rescued the Thunder from what would have been an extremely deflating Game 1 loss. Without Westbrook, everything feels extremely fragile with this Thunder team. Deficits feel larger, losing feels more significant. And falling in a Game 1 at home against a team most everyone isn't giving them a chance to beat, that would've been a massive blow to their personal confidence. 
It's unknown how good the Thunder still are as they blindly try to find their way through the postseason without Westbrook. They won Game 1, but it's still extremely iffy that they'll beat the Grizzlies. But winning Game 1 was paramount. These players are only human. They're realistic. When Westbrook went down, a source close to the team told me the players genuinely felt like their championship shot had vanished. They were convinced they could beat Miami four times. But with no Westbrook, what were they really playing for anymore? Hard to blame them for feeling that way. Even with Durant and a pretty deep roster, the path to the Western Finals looked far longer and winding than it ever has, beating Miami the most impossible thing ever. 
A Game 1 loss here, and those feelings might've been reinforced. Instead, they built off a very successful closeout game in Houston, proving to everyone, including themselves, there is still a very good team in place. It starts with Durant, who is the constant, but Kevin Martin is reminding everyone he's still an elite scorer (25 points in Game 1 on 8 of 14 shooting), Reggie Jackson is blooming and the Thunder's defense is making a return after a brief sabbatical. 
The Thunder still have a good team. It's only one point in a game to four, and the Grizzlies may eventually wear the Westbrook-less Thunder down. But in a game they had to have, the Thunder's hero rose to the occasion. And until they're dead once and for all, that's something the Thunder can count on.
In some ways, it felt like the Grizzlies let one slip away. They led by 12 late in the third and were ahead all but four minutes and 25 seconds of Game 1. They had the upper hand, for sure; they just didn't have Kevin Durant. 
"They earned it," Memphis coach Lionel Hollins said. "They earned it. 
Question is if the Thunder can earn it three more times. I'm thinking they're starting to believe they can.
Cavs star chose to be very secretive when talking to Lakers rookie after Thursday's game

New York announced Porzingis would not return shortly after star forward left game

Teletovic missed the final three months of 2014-15 season with Nets recovering from same i...
Keep it right here for all of the news, notes, scores and highlights from around the leagu...

The NBA's City edition Nike jerseys are bold and very different

The Wolves may be smoke and mirrors, but the Pacers have the look of a team that can hang in...