On Tom Thibodeau, the Bulls' playoff exit, and scoring balance
Tom Thibodeau is lauded as a tremendous defensive coach, but his offensive struggles contributed to the Bulls ' first-round exit.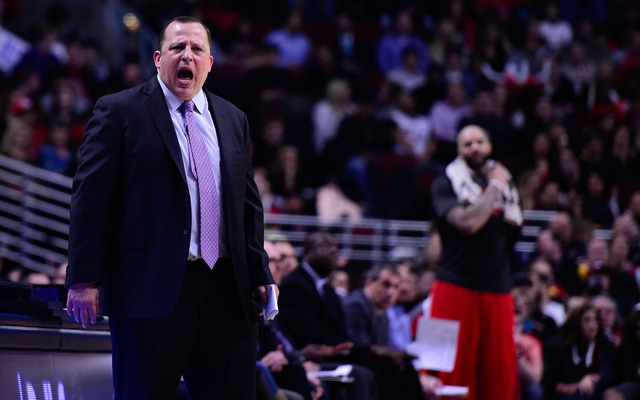 More postseason coverage: Playoff schedule, results | Latest news, notes
The 2014 Chicago Bulls are done and gone. Chicago was eliminated quietly, almost mercifully Tuesday night as the Washington Wizards dispatched them in five games to win their first-round playoff series. 
The response to this outcome is largely one of a shrug. The Bulls were without Derrick Rose, lost for the season for the second year in a row (third if you count 2012) thanks to a knee injury. They traded Luol Deng before the deadline, so they were without their two best players at the start of the season. What's there to gnash teeth about in a lost season? 
And in truth, that's not a bad way to look at it. The Bulls were never going to win the title once Rose went down, and their odds of winning it when Rose was healthy weren't exactly tremendous. Looking back at this team and seeing how woefully outgunned they were for a playoff series, you have no choice but to ask, why did so many people think the Bulls would win that series?
The answer is that we talked ourselves into it because it fits the narrative. 
Now, that word gets tossed around quite a bit, probably too much, but with this Bulls team it's true. I wound up picking the Bulls in seven, unable to talk myself out of it. I put the Wizards 15th in Threat Matrix, when a 3-6 matchup with Toronto seemed more likely. Whoops. But I also had written earlier this season that the Bull were without an extra gear. So what got me? Stuff like this: 
The Bulls remember. They remember your slights and your doubts, your disturbing lack of faith. They seem dedicated to a singular mission -- to defy expectations, crush conventional wisdom and obliterate everything we think we know about the NBA.

They are going to keep winning through sheer force of will, their lineup depleted but their identity intact. The Bulls were built for this, having assembled a roster based as much on character as ability, and with a coach, Tom Thibodeau, who demands precision regardless of who is on the court.

This weekend, the Bulls will march into the playoffs as a top-four seed, with a win total approaching 50. They will be the proverbial team no one wants to face.
via How the Bulls Overcame the Loss of D-Rose, Became the Team No One Wants to Face | Bleacher Report.
(Please note, the author of that, Howard Beck, is a tremendous writer and did a great job with that story. It's just indicative of what we all fell for, the idea that trying really hard means you're good.)
This was basically the summation of what everyone fell for. That the Bulls were basically going to try their way into the second round, maybe the Eastern Conference Finals, and then, who knows? The idea was that they would find a way to win, because of their grit, their toughness, their defensive energy and execution. 
And let's be clear, their defense was an unholy terror this season. The Bulls finished with the second best defensive efficiency in the league (points per 100 possessions) at 97.8. They shut down every team they faced, battered them, bruised them, and took them out. They had a remarkable regular season, battling back from adversity to win the fourth seed and ensure they didn't have a lottery pick. 
Then the playoffs came. 
And while the Wizards deserve every bit of credit for their young players growing up on the job and their veterans stepping up when called upon, it's also time we face a truth that few people want to admit. Some of this, not all of it, but some of it, has to do with Thibodeau's coaching. 
Because Thibodeau has had so much regular season success, twice without his best player, he has earned a reputation as one of the best coaches in the league, which he is. He gets more out of his players emotionally and effort wise than any coach in the league, including Gregg Popovich. He's a fearless and cunning tactician, able to figure out ways to typically limit any weapon the opponent brings. He understands clock management, foul constraint and how to simply stick your man. 
Thibodeau didn't have talent to fall back on, he had to muster up an approach with the leftovers of a rebuilding project's infancy stage. He was outgunned and sometimes that's all that matters. 
But it's also time we acknowledge the lack of balance in his approach. Thibodeau is to offense what Mike D'Antoni is to defense, and vice versa.
D'Antoni revolutionized offense with the Seven Seconds or Less Suns and brought the most out of players like Boris Diaw, Tim Thomas, Steve Nash before he was Steve Nash, and Kurt Thomas. But defensively there were always questions, even when his team finished 16th in the league in defensive efficiency. We saw the same problem this season with the Lakers. LA could light it up despite relying on Kendall Marshall, Nick Young, and Xavier Henry for large stints. They just couldn't stop anyone. Players have often commented after playing on D'Antoni's teams that they simply didn't practice offense. 
Likewise, there has been talk for years that Thibodeau mostly empowered Derrick Rose to freelance offensively and that he primarily teaches general concepts on that end, vs. the attention to detail he devotes to defense. But I'm not in huddles or practices, I can't speak to how much time Thibodeau spends on it. So we're left to consider the results, which haven't been good. 
Chicago had the third worst offensive efficiency in the league this season at 99.7. Only the Magic and the Sixers were worse. In effective field goal percentage, which factors the effect of three-pointers, the Bulls were dead last. They were literally the worst shooting team in the league. 
They skated on past this in the regular season, again, on defense and narrative. But it bit them big time vs. the Wizards. The Wizards' offensive efficiency in the series was only 104.8, that's seventh among teams in the playoffs ... and the Wizards won their series in five games. Washington had too many weapons for Chicago but what we really mean when we say that is that they had weapons. Or weapon. Anything resembling threat, really. 
This is where Thibodeau's other real issue comes into play. Thibs is notorious for playing players long minutes. He ran Deng into the ground, and did the same with Jimmy Butler (Butler averaged the second most minutes per game of any player in the regular season and the fifth most of any playe in the playoffs). That's part of what helped him rack up regular season wins. If Gregg Popovich is willing to sacrifice wins to get players rest, Thibodeau is willing to sacrfifice players to get wins. 
You can break down the Bulls' offensive woes by simply saying "Rose was hurt." And that's a valid response. But the Hawks, Pacers, and Raptors all have better offensive performances in the playoffs and it's hard to argue they have superior offensive talent. One of the amazing things about Thibodeau is his ability to make poor defensive players excel in his system. But offensively, the same can't be said. Mike Dunleavy is a crack shooter who struggled to find open looks. Jimmy Butler should be cutting off-ball and playing more like Kawhi Leonard and instead was asked to operate with the ball and settled for jumpshots (Butler shot 39 percent in the playoffs). Carlos Boozer was his best offensive weapon but instead of leaning on him, Thibodeau consistently went away from him. 
Part of this is the cost of having Joakim Noah as your best offensive player. When Noah was leading the Bulls in assists, it was an amazing example of how much Noah gave the team. When the playoffs came, and adjustments were easier to target, it became an example of how desperate the Bulls are for production. 
Not all of the Bulls' postseason failings are on Thibs or fall back on the Rose injury. Kirk Hinrich simply missed shots and often made poor decisions. D.J. Augustin is short and was forced to drive into traffic, a bad combination. 
But the Bulls fell in part because they believed in the message built around them, that all that matters is your heart and that defense wins championships. Defense might win championships, but offense wins you games. And the Bulls had none to fall back on. Will Rose's return solve everything? Is a retooling of the team in order? Can Melo save the day? 
Beyond all that is the reality that Thibodeau is a fantastic coach that needs to use some of his genius on the other side of the ball. 
Westbrook's late layup gave the Thunder a 109-108 victory

LeBron became the seventh player in league history to reach the milestone

There were a few things that stood out from Tuesday's All-Star selections
Here are three players from each conference who had legitimate claims to make the game

LeBron achieved the milestone in the first quarter Tuesday

Here are the full lineups for the 2018 NBA All-Star Game