One more notch in Spurs' belt: Big Three supremacy
In an overwhelming testament to consistency, the Spurs' Big Three of Tim Duncan, Tony Parker and Manu Ginobili look to pass the Showtime Lakers' threesome of Magic Johnson, Kareem Abdul-Jabbar and Michael Cooper for longevity and success on Friday night.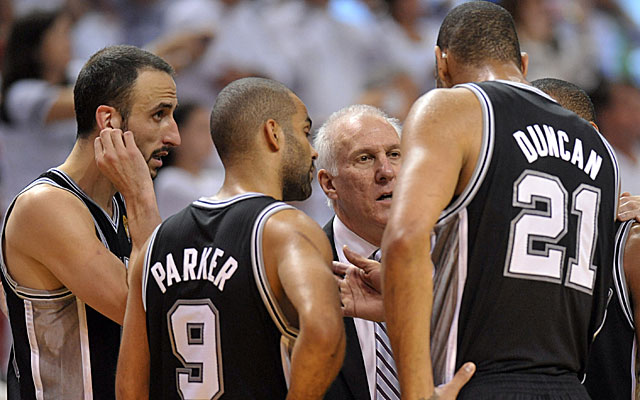 Big Threes have been all the rage in the NBA since LeBron James, Dwyane Wade and Chris Bosh teamed up in the summer of 2010. Despite attempts to replicate Miami's model, no one has been able to stop the juggernaut of three straight Finals appearances and two championships that the Heat have collected so far.
In truth, the modern Big Three model can be traced to the 2007-08 Celtics, who teamed three Hall of Famers -- Kevin Garnett, Ray Allen and Paul Pierce -- and delivered a championship in their first season together. But it would be their only title, and the Boston Big Three's legacy wound up being about inspiring Miami to assemble their own, more successful version.
After the failure of a Finals loss to Dallas in their first year together, the Heat have validated Pat Riley's vision of a modern-day Super Team with a run that could culminate in a fourth straight Finals trip this June. Impressive indeed, until you consider what the San Antonio Spurs are on the verge of accomplishing.
Thus, I bring to your attention this remarkable story from Jeff McDonald of the San Antonio Express-News, who informs us that the Spurs' Big Three of Tim Duncan, Tony Parker and Manu Ginobili are poised to pass the Showtime era Lakers threesome of Magic Johnson, Kareem Abdul-Jabbar and Michael Cooper for the third-longest run of regular season games together -- behind only the Celtics' Larry Bird, Kevin McHale and Robert Parish (729) and the Pistons' core of Isiah Thomas, Bill Laimbeer and Vinnie Johnson (711).
Duncan, Parker and Ginobili came together in 2002 when a crafty Argentine rookie named Manu was added to the mix. On Wednesday night, they played their 663rd regular season game together, tying the Lakers' illustrious trio.
Amazingly, they arrived at that milestone with the same number of wins, 490, tied for second all-time behind the Bird-McHale-Parish trio, who won 540 regular season games together. San Antonio will look to pass Magic-Kareem-Cooper in both categories at home on Friday night against, of all teams, the Lakers.
The Lakers' Big Three -- though we didn't call it that back then -- won five championships between 1979-89. (The Celtics' trio won three, and the Pistons' group won two.) This Spurs group has accounted for three of San Antonio's four titles. (Only Duncan was part of the Spurs' 1999 title team. Parker joined the fray as a 19-year-old rookie in 2001.)
The Spurs have had more Celtics in them than Showtime Lakers, and it's not even close. Even all these years after his playing days ended, Magic makes more headlines and has more to say than Duncan. The Big Fundamental will go down as the best player in NBA history about whom we know the least.
In an era of perpetual coaching and front office changes, and a relentless dose of what league officials call "player sharing" fueled by ever-more restrictive collective bargaining agreements, the Spurs have lived on an island of consistency. Gregg Popovich has been their coach since the 1996-97 season, a 17-win aberration that brought them Duncan as the No. 1 pick in the '97 draft. They haven't missed the playoffs or had a losing season since.
"Being a human, one takes it for granted," Popovich told the Express-News. "You don't stop and think about exactly what those guys have done and how long they've been together and what they've gone through listening to me all these years."
They don't, but we should. As Duncan quietly, unassumingly strides toward the end of a brilliant, immortal career with one year left on his contract, we should take a moment to reflect on the rarity and basketball beauty of what the Spurs have given us. There is speculation that this could be the last run for Duncan, who will turn 38 by the time the Spurs vanquish their first-round opponent. Ginobili, 36, also has one year left on his contract. Parker, the baby at 31, has a year left with only $3.5 million guaranteed.
"Hopefully it's not any time soon that I'm going to have to start a Spurs season without Timmy and Manu," Parker said. "It's definitely going to feel weird."
The Spurs have never changed course for the sake of change, have never bought into the quick fix or the rebuild or the free-agent spending spree. They've kept their core and organizational structure intact and tweaked around the edges.
But it won't last forever. The only entity with a longer, more successful run than the Spurs in the modern era of pro basketball is Father Time himself, who as they say, is undefeated.
As of today, though, the Spurs are still standing -- and not simply from their sheer stubbornness. As we venture into the final month of the 12th regular season for Duncan, Parker and Ginobili, look who has the best record in the NBA at 48-16.
The Spurs, of course. Don't forget to stop and admire what they've done, even if they won't.
The then-Heat teammates squared off during the 2011 ECF, but Erik Spoelstra put a stop to the...

Stephen Oh has his finger on the pulse of the Rockets and just made a pick for Wednesday night's...

Gasol doesn't seem opposed to the idea of a midseason trade
The Ball brothers better put their heads down and focus on basketball, according to Billy...

Paul George returns to Indiana for the first time since his trade to the Thunder

Also, LeBron James' historic season continues, while Kevin Durant reminds us who he is