One-of-a-kind Russell Westbrook makes it two straight All-Star MVPs
Thunder guard Russell Westbrook went back-to-back in Toronto.
• 3 min read
TORONTO — Behind the massive stage at the Air Canada Centre on Sunday, Russell Westbrook looked up at a television screen and watched his fellow All-Stars' introductions. One by one, the Oklahoma City Thunder star saw them walk out, acknowledge the crowd, hug Drake -- the league announced on Friday that the rapper would introduce each player, but instead he mostly just stood there smiling -- and exit. When it was his turn, before the All-Star Game audience could see him prance and dance and smile wider than anybody else in the arena, he twirled. 
Westbrook then ran out, received an ovation, ignored the Raptors' global ambassador and left the stage. Drake laughed it off and then watched Westbrook win his second straight All-Star Game MVP, going for 31 points on 12-for-23 shooting, plus eight rebounds, five assists and five steals in the Western Conference's 196-173 win. It was the first time a player had won the award back-to-back since Bob Pettit in 1958 and 1959. No one in the building had more fun than him.
"I just wanted to go out there and enjoy my time, dance a little bit, smile," Westbrook said. "I know a lot of people don't see me smile a lot during the season, so I like to smile a little bit during the All-Star weekend."
Westbrook did indeed show more levity than usual, though that wasn't the case when he had the ball in his hands. He started the game off with a driving dunk, the first of five on the night, and he celebrated after each of his seven 3-pointers. There were the usual screams when he finished with power, and there was the normal lack of hesitation when he saw an opportunity to score. He even tried to steal an inbounds pass and take a rebound from a teammate.
"That's the only way I know how to go," Westbrook said. 
This weekend has in large part been about Kobe Bryant, as the Los Angeles Lakers superstar is two months from retirement. Many times over the past few days, Westbrook, an L.A. native, has called it a blessing and an honor to share the spotlight with a competitor like Bryant. While their styles couldn't be more different, there is perhaps no one in the league whose mentality mirrors Bryant's more. 
In 2013, Bryant tweeted that Westbrook has "mamba blood" running through his veins. In 2014, Bryant said Westbrook was closest to him in terms of intensity. In 2015, he said, "He plays mean like I did." 
Westbrook did not score the most points -- that was Paul George, who had 41. Westbrook is not the biggest star -- that is Bryant, in this setting, followed by Stephen Curry and LeBron James. Westbrook is not even necessarily the main attraction on his own team — most would agree that is Kevin Durant. It felt fitting, though, that the MVP of Bryant's last All-Star Game went to the guy who played with the most rage.
Not even Bryant, though, attacked the rim with as much ferocity as Westbrook. He has the sort of relentlessness that makes other superstars marvel. Despite having three surgeries on his knee in 2013, he continues to be the league's most aggressive player. For the second year in a row, James was asked to lend some perspective to Westbrook's excellence.  
"I don't believe he had surgery, personally," James joked. "It was just like, you know what, I'm just going to take a little bit of time off. 
"No, but it's been incredible, man," he continued. "He's actually gained a step or two or three. He's one of the most athletic guys that our league has seen and obviously in today's game as well. He's a phenomenal talent. You don't come across these guys that often in our sport."
In the interview room, one person continually applauded everyone who went to the podium, leaving other media members -- and players -- befuddled. Westbrook, though, was unfazed. 
"Thanks, buddy," Westbrook said as he sat down. "Appreciate it, man." After he'd answered his last question, the applause returned. Westbrook pointed at him, saying, "My man!"
And with that he left, carrying his trophy with him. Westbrook did it again, and, of course, he did it his way.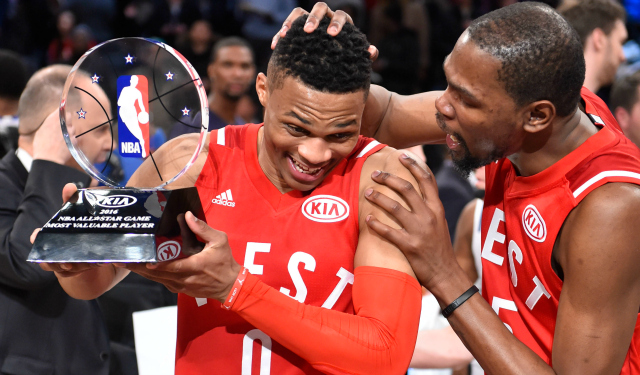 Westbrook's late layup gave the Thunder a 109-108 victory

LeBron became the seventh player in league history to reach the milestone

There were a few things that stood out from Tuesday's All-Star selections
Here are three players from each conference who had legitimate claims to make the game

LeBron achieved the milestone in the first quarter Tuesday

Here are the full lineups for the 2018 NBA All-Star Game