Orlando Magic are looking to bring youthful chaos to their opponents
The Orlando Magic's draft of Aaron Gordon and Elfrid Payton show their plan is to be disruptive at all times.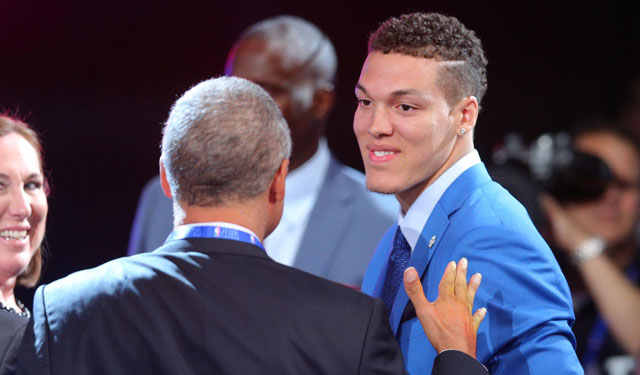 When the Orlando Magic selected Aaron Gordon with the fourth pick and then swung a trade to get the 10th pick Elfrid Payton, the message was pretty clear for where they wanted their team to go in the future. They want to be athletic and they want to cause some chaos on the court. They also want to get to the basket more often and get buckets there.
That's what Gordon and Payton represent on the court. Toss in Nikola Vucevic, who has grabbed the 12th most offensive rebounds over the last two seasons despite missing 30 games, and Victor Oladipo, who has the ability to create havoc on defense and turn it into a bucket in transition, and you've got a team that can control the boards, create turnovers, and get out in transition. This would be a welcome improvement from the team they put on the court last season.
The 2013-14 Magic team was full of holes, but it was by design. With the trade of Dwight Howard in the summer of 2012, the Magic had to reset as a franchise and become bad so they could build back up to being good. They've gone about it by doing the slow, proper rebuild. They've been acquiring assets left and right, trying to make sure they can grab as many versatile players as possible. Tobias Harris, Maurice Harkless, and Andrew Nicholson are forwards who sport wingspans of 6'11", 7'0", and 7'4", respectively. This is a team that can potentially be disruptive on the defensive end of the floor.
Considering the Magic were in Year 2 of a rebuild, finishing 18th in the NBA in defensive rating last season wasn't too bad. Their two best defensive lineups (out of their 10 most used lineups) involved units of Jameer Nelson-Arron Afflalo-Oladipo-Glen Davis-Nicholson (91.7 defensive rating) and Nelson-Afflalo-Oladipo-Davis-Vucevic (98.8 defensive rating). The Magic waived Nelson this offseason, traded Afflalo back to Denver, and Davis was waived back in February of last season. They'll go much younger with defensive-minded players and can possibly bring some chaos in the process.
Throwing out a lineup of Payton-Oladipo-Gordon-Channing Frye-Vucevic could be a troublesome lineup for opponents. The trio of Payton, Oladipo, and Gordon is young, but their athleticism, quickness, wingspans, and defensive outlook could cause incredible disruption on the perimeter. The Magic were just 21st in forcing turnovers last season and were 16th in pace. With a younger, athletic team that is flying around the perimeter and getting deflections, they can create turnovers, push the ball the other way, and get quick scores.
In turn, this could boost the league's second worst offense last season. The Magic were one of four teams that failed to score at least 100 points per 100 possessions. They were also a team that didn't get themselves a lot of shots around the rim. They were 22nd in the NBA in field goal attempts per game in the restricted area and just 24th in the league in field goal percentage in the restricted area. Grabbing a penetrating point guard like Payton and a high-flyer like Gordon who will do his damage around the hoop can help this greatly.
The concern for the Magic will be outside shooting. In order to truly take advantage of the new speed and leaping ability they'll have on the perimeter, they'll need to have guys who can stretch the floor in the half court. They'll also need guys who can trail on the break and make a scrambling transition defense pay for not finding every man on the floor. They finished just 21st in 3-point accuracy last season, but picked up Channing Frye (career 38.5 percent from downtown) and Ben Gordon (career 40.5 percent) to be those veteran floor-stretchers. Ben Gordon will have to prove he still has something left and the desire to want to be out there, but Frye improved the Suns' offense by nearly eight points per 100 possessions when he was on the floor last season.
If Oladipo can show more of the 44.1 percent stroke from downtown he showed his junior year in college as opposed to the 32.7 percent he showed as a rookie, the Magic might be able to consistently put enough shooters on the floor to find the necessary balance. If the defense can't just sink in and clog the paint, then the athletes can rule the rim, Vucevic can dominate the boards, and the Magic can look like the pesky team they look like they want to build.
It was a risk to go with Gordon over guys like Dante Exum, Julius Randle, and Noah Vonleh. It was a risk to make the deal to acquire Payton when shooters like Doug McDermott, Adreian Payne, Zach LaVine, and Gary Harris were available. However, Rob Hennigan had a vision to put an incredibly disruptive athletic team on the floor in an attempt to overwhelm their opposition. They're still building toward the final product, but they're executing their plan.
The result should bring a lot of chaos and frustration to their opponents in the coming years.
Mirotic and Portis combined for 49 points as the Bulls won their fifth straight game, beating...

Gobert, who missed 11 games earlier this season with a knee injury, will have an MRI

Get all the latest scores, news and highlights from Friday's NBA games
Porzingis is questionable for Carmelo Anthony's return to MSG on Saturday

The Spurs and Rockets will renew their in-state rivalry on Friday night

Anthony will play at Madison Square Garden on Saturday for the first time since being trad...