Orlando Magic end up winners by default in Dwight Howard ordeal
Less than a year after a four-team trade that moved Dwight Howard to the Los Angeles Lakers, the Orlando Magic have won that trade by default.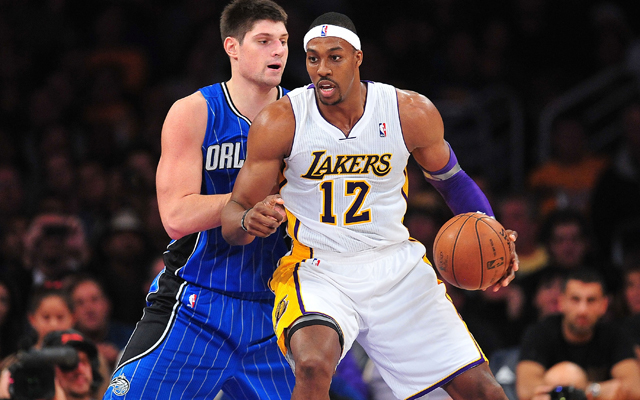 What's that old saying? 
Never judge a book by its cover?
It's hard not to instantly want to react to trades and give each team involved a grade when we find out which players/picks are moving to which teams. It's the nature of this business and the nature of fandom to determine winners and losers in each trade because this is a business comprised of winning and losing.
Back in August of 2012, Dwight Howard was traded from the Orlando Magic to the Los Angeles Lakers in a four-team trade that included 12 players and four draft picks. At the time, it looked like the Orlando Magic had lost a game of musical chairs in terms of acquiring assets.
The Denver Nuggets were receiving Andre Iguodala to add to an up-and-coming Nuggets team fresh off showing incredible promise even after trading away their superstar, Carmelo Anthony . The Philadelphia 76ers had seemingly sold high on Andre Iguodala by flipping him and young role players for a shot at a real franchise center in the highly coveted Andrew Bynum . And the Los Angeles Lakers were acquiring one of the top players in the NBA in Howard. There were other moving parts but that was essentially the crux of the trade situation.
The Orlando Magic? They were getting spare parts and draft picks that weren't going to help them any time soon, in theory. The first-round picks they received (2014 from Denver, 2017 from the Lakers, pick from Philadelphia is conveyed two years after they convey pick to Miami) are all heavily protected or complicated, meaning they probably won't net the Magic a Top-5 pick at any point.
They also ended up receiving  Arron Afflalo (roughly $23 million and four years left), Al Harrington (roughly $21 million over three years but only $7.3 million guaranteed the next two years),  Maurice Harkless (rookie deal), Nikola Vucevic (rookie deal), Christian Eyenga, and Josh McRoberts . They did get to shed Jason Richardson 's contract in the process, but they walked away from it at first glance looking like enormous losers in this trade that brought a new star to each of the parts that weren't Orlando.
In less than a year, the Magic have gone from getting the short end of the trade stick while giving up their franchise guy to being able to sit back and giggle to themselves about the fallout of this four-team deal. Look at the carnage that has been left for the three teams that aren't Orlando.
Philadelphia 76ers
The Sixers went from a promising young team that finally had a potential franchise guy to build around in Andrew Bynum to a blank slate of rebuilding bliss. Bynum never saw a second of action on the Sixers, and when the team shipped out Jrue Holiday for the draft rights to Nerlens Noel and a 2014 first-round pick, they pretty much ruled out any attempt to re-sign Bynum in favor of tanking or rebuilding -- however you want to phrase it. They went from an intriguing 1-2 combination of Holiday and Bynum to waiting for Noel's knee to heal and scouting Andrew Wiggins at Kansas games.
Denver Nuggets
The Nuggets might be in worse shape than the Sixers. Yes, they have a much better team currently than the Sixers, but they also went from one of the most dangerous teams in the Western Conference to a team treading water in the wake of a disastrous end of the best regular season in franchise history. Denver won 57 games (franchise best since joining the NBA), had the Coach of the Year in George Karl, and the Executive of the Year in Masai Ujiri. But they ran into a buzz saw shooting performance by the Golden State Warriors in the first round of the playoffs.
After losing to the Warriors in six games, Ujiri was allowed to walk away and rebuild the  Toronto Raptors . Then Karl was fired so he wouldn't be upset during the final year of his contract over the confusion surrounding the team's direction and his own lack of a contract extension. The latest shoe dropped with the team on Friday when it was reported that Iguodala agreed to a contract to play for the same Warriors who blew up the Nuggets' playoff hopes. As of right now, they look like a middling team in the West that isn't good enough to contend and isn't bad enough to capitalize on a loaded incoming draft class in 2014.
Los Angeles Lakers
The Lakers were supposed to have their new franchise guy. Even though he was coming off back surgery and needed time to heal, Howard was going to eventually take the torch from  Kobe Bryant and lead the Lakers into their next era of greatness. The lineup including  Steve Nash , Kobe Bryant, Pau Gasol , and Howard was supposed to be unstoppable if they were all healthy. The problem with that is they were never healthy and it accentuated issues with the lack of depth on the roster.
Nash broke his fibula and never regained his first step during the season. Gasol battled knee and foot injuries all season long and looked like a shell of his former self. Bryant carried the Lakers to the point of exhaustion and eventually tore his Achilles' tendon after a year of incredible efforts on offense and a seemingly desperate desire to get Howard to be more of a superstar than he was showing for the Lakers.
Howard battled recovery from back surgery and tore the labrum in his shoulder during the season. He was still a very good center, but his talents and impact were not even close to what was advertised. He struggled with finding his own identity within the Lakers, battled the coach (Mike D'Antoni replacing Mike Brown five games into the season now seems like a minor footnote), and still never got to show what he was capable of helping the Lakers do. They barely snuck into the playoffs as a seventh seed before getting swept in the first round.
The future for the Lakers looks bleak and cloudy with Gasol and Nash making $28.5 million next season and Bryant commanding $30 million in salary-cap space in a year in which he'll try to come back from a torn Achilles. They have $77 million committed to only seven players and have nothing but cheap parts to add as they look to maintain future flexibility without adding to the heavy luxury tax payment they could end up incurring. Beyond that, we have no idea how they'll look two years from now.
With the news that Howard is reportedly going to sign with the Houston Rockets and leave the storied franchise of the Los Angeles Lakers after a devastatingly disappointing season in Hollywood, the Orlando Magic are left as the champions of this four-team trade.
Are the Magic good? Not at all. They won just 20 games, their worst season since their inaugural campaign in 1988-89 that netted them 18 wins, and don't have any young superstars to build around. They drafted Victor Oladipo out of Indiana with the second pick in the draft and will put him next to promising young role players like Vucevic, Harkless, Tobias Harris  and Andrew Nicholson . They're still hoping to get their third No. 1 pick in franchise history next year and get a shot at drafting the best young player in a loaded 2014 draft class.
The parts they have right now are solid. Vucevic is a double-double machine who averaged 13.1 points and 11.9 rebounds in just his second season in the NBA. Harris averaged 17.3 points and 8.5 rebounds in 27 games after being traded from the Milwaukee Bucks at the trade deadline. Harkless and Nicholson both showed they will probably end up being key components of a rotation within the next couple of years, if they don't develop into definite starters.
The Sixers and Magic are in the two most promising positions of these four teams heading into the next offseason, but Orlando is ahead of Philadelphia in terms of pure assets available to shape their franchise's history. The Magic have won this trade by default because of an unreal sequence of events that have left three franchises from last August scratching their heads and wondering where their hopes of contention have wandered off to.
I get the need to judge trades as soon as they happen because it gives us a way to take stock in where all parties involved currently sit. But those situations can change in the blink of an eye or the signature on a contract to a free agent. It's important to keep looking at deals down the line and reevaluating the winners and losers of such events.
The cover of the book may look great, but it doesn't tell you the story that unfolds. 
Markieff Morris was already in line to miss the start of camp due to a pending assault cas...

The 76ers should hopefully get a lot of play out of their young guys this season

Okafor's been on and off the trade block for over a year and doesn't seem to be in Philly's...
Fisher is the fourth NBA player to compete for the Mirror Ball trophy on the show

Barkley commends the NBA, sarcastically, for extending the season and reducing back-to-back...

Enes Kanter isn't seeing much comedy in the Kevin Durant social media situation