Orlando Magic GM Rob Hennigan cleans house, hires new assistant GM
The Orlando Magic have reportedly fired assistant GM Dave Twardzik and a number of scouts.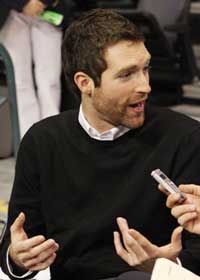 New Magic GM Rob Hennigan is cleaning house.
(DailyThunder.com)
The front office transformation continues in Orlando. 
Just days after the Magic hired Oklahoma City Thunder assistant GM Rob Hennigan as their new GM, the team has continued to clean house from the previous regime.
Back in May, the Magic parted ways with GM Otis Smith and fired coach Stan Van Gundy. On Sunday, the team fired assistant GM Dave Twardzik and a number of scouts, according to the Orlando Sentinel.
On Sunday, Hennigan fired Assistant General Manager Dave Twardzik and six scouts. In addition to Twardzik, regional scout Tom Conrad, international scout Rudy D'Amico, international scouting coordinator Sam Foggin, pro scout Bob Staak, regional scout Greg Stratton and NBA advance scout Al Walker were let go, team spokesman Joel Glass confirmed.
The paper reported on Monday that director of player development Adonal Foyle had also been sacked.
Later Monday, ESPN.com reported that Hennigan has hired Detroit Pistons executive Scott Perry as his new assistant GM.
What can you say? Hennigan didn't waste any time. With the 2012 NBA Draft coming on Thursday, though, there really wasn't any time to waste and there was no sense in dragging out the inevitable if Hennigan planned to go an entirely different direction. It's a clean, swift break and the sides go their separate way.
Pretty brutal, but regime change usually is in the NBA.
The Suns firing Earl Watson three games into season is second-quickest firing in NBA histo...

Bledsoe tweeted, "I Dont wanna be here"

Giannis had his hand on McCollum's hip when he poked the ball away
Teodosic had to leave the Clippers' game Saturday night against the Suns

Irving said recently that he does not regret the profane outburst

Wade is having a rough start to his first season playing in Cleveland