Pacers' Andrew Bynum out indefinitely with sore knee
Andrew Bynum is out indefinitely with swelling and soreness in his right knee.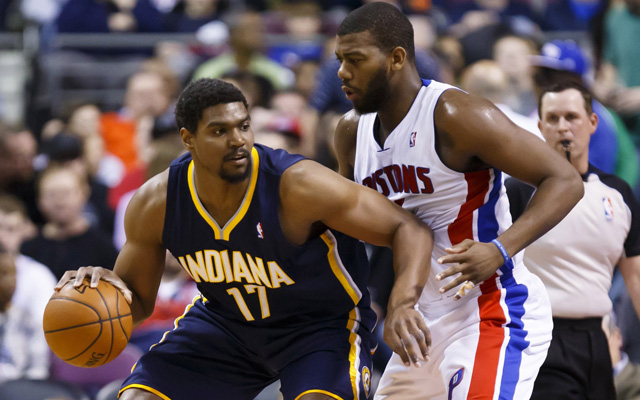 New team, same story.
The Pacers announced Friday center Andrew Bynum will be out indefinitely because of swelling and soreness in his right knee. 
Bynum, who joined the Pacers after being traded to the Bulls who then cut him, has appeared in only two games, but performed well in both scoring 15 with nine rebounds on March 15 against the Pistons. 
Coach Frank Vogel said this recent flare up was an actual setback that happened in the game against the Pistons. 
"He played in the Detroit game (20 minutes), aggravated a previous condition and had some swelling in there," Vogel said, according to PBT. "He's going to be out for a little while."
The addition of Bynum was always somewhat of a risk with his injury history, but one the Pacers were able to make. With Roy Hibbert and Ian Mahinmi already in place, adding Bynum was about trying to solidify their depth, as well as keep him away from another Eastern contender, like say, the Heat. 
With the team saying he's out indefinitely, that doesn't mean Bynum is done for the season, but it's not a good sign. His knees have been problematic the last two years, causing him to miss all of 2012-13 with the 76ers because of them. So it might be a bit of a longshot that he finds the floor against this season.
Trump rescinded Curry's invitation to the White House after Curry said he wasn't interested...

Silver said he was hoping Warriors would get chance to share their views directly with the...

Along with the Thunder, those were the three teams most involved in the Anthony trade talk...
LeBron said he was frustrated by the President's recent actions

A look at the various actors and elements in the latest sensational blockbuster trade in the...

Blockbuster deal doesn't change the Thunder's projected finish in the West