Pacers come up short again, face offseason full of questions
Indiana at times looked elite this season, but other teams looked unhinged. What happens to the Pacers now that it's over?
• 4 min read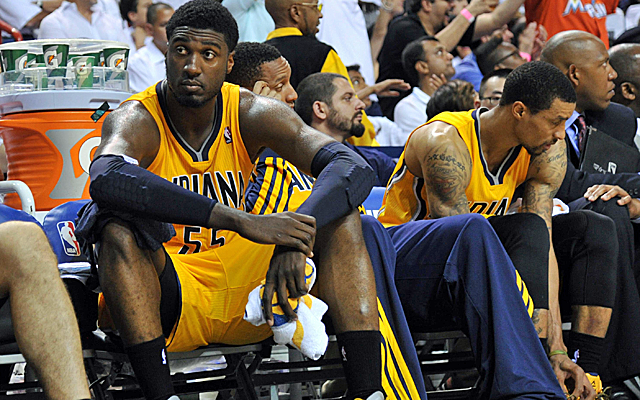 More postseason coverage: Playoff schedule, results | Latest news, notes
Three weeks into the season, ESPN aired a sit-down interview with the Indiana Pacers. Stephen A. Smith sat across from their entire starting five and head coach Frank Vogel, and they talked about the pain of losing in Game 7 of the Eastern Conference finals to the Miami Heat the year before. At the time, the Pacers were 10-1,  and they would win their next six games after that. The last question Smith asked was simple: "Championship or bust this season?"
"Yeah," David West said. "I think so. For us, the one thing that I don't think anybody recognizes about us is all of us has a chip on our shoulder. We talk about, every game we talk about where we drafted, how we felt like at some point somebody in this league said, 'F you' to [every] to one of us. And that drives us. And that's the one thing that connects all of us, connects our locker room, is the fact that we have guys who are driven to prove our worth. In terms of where we feel like we can go with this group, we're fighting to be the top dog, the last man standing."
Paul George said last year's Game 7 haunted him, and it motivated him over the summer. After losing 117-89 in Friday's Game 6, going out similarly to the way they did last year in the same arena, he and his teammates will have to face failure again. This time, though, it doesn't feel like just another step in their journey to the top. 
Indiana's stated regular-season mission was simple. It wanted home-court advantage against Miami. The players talked about that as soon as they lost last year, over the summer and in training camp, but achieving that goal didn't help. This Pacers season will be remembered more for the collapse in March and April than for the incredible start. Indiana managed to make it back to the conference finals, but brought with it elements of combustibility and unpredictability that mean there are several big questions surrounding the team. 
First, how bad is the chemistry? This was an unimaginable question back when the Pacers were conducting their ESPN interview, but it's more than warranted now. Tough times exposed some unrest in the locker room, where Roy Hibbert told reporters there were "some selfish dudes" in late March. ESPN recently reported he was talking about Lance Stephenson, who was vocal about his belief that he should be named an All-Star and "started a bit of a vendetta against East coaches" when he was not. Indiana president Larry Bird is going to have to figure out if any relationships need repairing, and where or not a shakeup is necessary.
The biggest part of that is Stephenson himself. The 23-year-old former-second-round pick will be an unrestricted free agent, and that almost never happens at this stage for a player of his caliber. In these playoffs, the best and worst parts of Stephenson's game were on full display. He carried his team on some nights, and battled the best player in the world without fear. There was also flopping, trash talking and other weirdness. 
Regardless of what happens with Stephenson, the Pacers will have to figure out how to score more easily. They ranked 23rd in the league in offensive rating during the regular season, and that number doesn't even tell the full story. For a team that's supposed to contend for a title, their offense could get downright nauseating. There was no way to know whether Hibbert would score 20 points or zero. Spacing and screening were poor, possessions would end after one or two passes and perimeter players would launch bad, contested jumpers. Internal improvement would help, but Bird will likely need to add some new pieces.
Finding depth has proven difficult for Bird. He was delighted to bring in Luis Scola, C.J. Watson and Chris Copeland last summer, but only Watson was reliable in his role. The midseason moves weren't any better; Andrew Bynum had no impact at all, and Evan Turner never looked comfortable. The bench was supposed to improve, but Indiana's starters played more than any other lineup combination in the league. 
After being knocked out by Miami for the third straight time, George sounded as despondent as you'd expect. He said the Pacers were young and could improve, but acknowledged that things didn't go as planned this year.
"We hit a wall, for one," George said. "And then it was pressure for us to play at the level that we were supposed to be playing at. And I think we were just getting pulled from multiple directions, from dealing with success early, at some point in the season we felt we could turn on a switch and play what we needed to play. It's hard to do that when teams are coming after you. We weren't the team coming after teams anymore, we were being the hunted. And it's hard to try to carry that mindset that we can just turn the switch on and play like we needed to play. I think that took a lot out of this team, as well as just hitting the wall."
Falling short in this fashion will sting for everyone involved, and none of the big questions will be answered right away. Indiana is an elite team, but is it a fatally flawed one? That's up to the organization to figure out.
Check in throughout the night for the latest news and highlights from NBA games

The Lakers legend details why the NBA popularity will continue to rise

SportsLine's Mike McClure, a DFS pro with more than $1M in winnings, gives optimal lineup...
If the Thunder forward doesn't know the reason, he has a very short memory

The 76ers star doesn't see a bright future for Jon Snow

Valanciunas played professionally in Lithuania before joining the Toronto Raptors