Pacers' Danny Granger practicing again, nearing return?
The Pacers are one of the league's dominant teams, but they've been doing it without a guy that used to be their franchise player.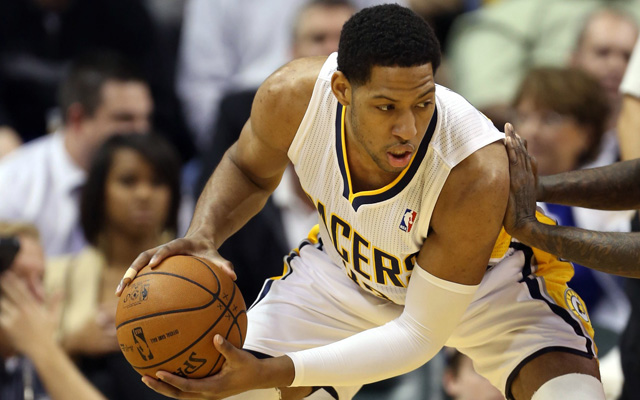 The Pacers have established themselves firmly as one of the league three or four best teams, coming off a season in which they were a game away from the Finals. And they've done it without a guy that used to be their franchise player. 
But Danny Granger could be close to returning.
Via the Indy Star, Granger has returned to practice and could be very near a return to the court.
"I feel good," Granger said Friday. "I was running, sprinting, playing live for about an hour, so I felt really good."
Granger has been out since Oct. 28 with a strained left calf, with an original timetable of three weeks. We're well past that now as Granger's missed all 19 of the team's games. 
Though Granger practiced, he may not be all that close, as coach Fran Vogel warned.
"It was his first action back," Vogel said. "He's a ways away, though."
Granger on the other hand, feels like he could be back sooner than later, saying he probably could be playing right now.
"(The Pacers' trainers are) kind of holding me back and I think they know best. If it was up to me, I'd be playing, but like I said, they know best," Granger said, via the Star. "That's just me talking from my competitive side. I practiced today, so obviously I'm not far away."
It could be easy to read into Granger's comments there, especially with the concerns of how he'll fit alongside Paul George, who has fully assumed control of the team as the go-to star. Granger seems like an obvious trade piece, though he is on an expiring deal. 
But if the Pacers can work him in, whether it's off the bench or in moving Lance Stephenson to a sixth man role, it's just a quality player added that makes them deeper and better. If Granger can fit, the Pacers may make the biggest addition of any team during the season, and they won't have to give up anything to do it.
A season-ending injury kept the Celtics guard's time at Duke very brief before he jumped to...

Here's a look at what has brought fans the most joy so far this season

Kevin Mackey says he gave Manute Bol a birthday because they didn't know how old he was
Hosts Bill Reiter and Reid Forgrave are joined by America's Lakers Podcast co-host Aaron L...

Meanwhile, we learned the hard way just how many supporters Lonzo Ball still has out there

The fifth-year forward has continued his growth on both sides of the floor