Pacers' Danny Granger to return to full practice Saturday
Pacers forward will return to full practice, but have more off days in training camp as he recovers from a knee injury.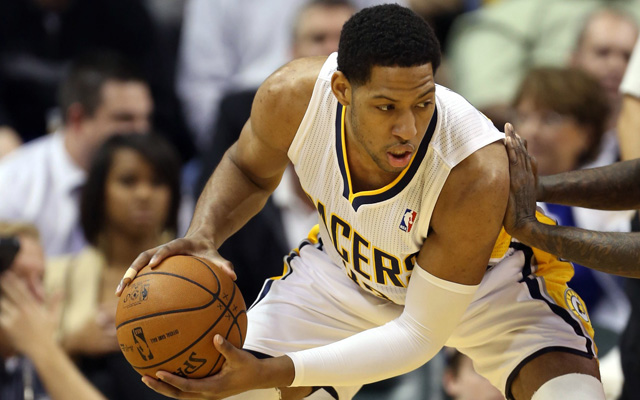 Last week, Danny Granger said that his tentative return date to full activities would be October 5th, the extent of his sixth-month recovery prognosis from his knee injury. At Media Day Friday, Indiana Pacers coach Frank Vogel said that Granger will be back earlier than that, though. As in, immediately.
Granger will be full participant in practice tomorrow. Has some scheduled off days to make sure not pushing too far. #pacers

— Michael Pointer (@michaelpointer) September 27, 2013
The other big question at Media Day for Indiana was about Granger and his minutes in relation to fellow forward Lance Stephenson (with Paul George at the two, presumably). Vogel told reporters both would play starters minutes. That's going to mean a lot of staggering lineups, and it means that rookie Solomon Hill, despite some impressive Summer League play, could have an even harder time finding minutes. 
Granger is the Pacers' biggest question mark this year. If he's healthy and productive, it makes their weapons that much more dangerous. If it creates a logjam, though, and he doesn't fit, the Pacers could put him back on the trade block. Something to keep an eye on going forward. 
The 30-year-old Granger played in just five games last year, immediately suffering more damage to his right knee upon his return and missing the rest of the year.
A look at the context of the schedule and who plays who when, and how far they travel during...

Durant took on rapper Lil Dicky and actually might have lost

A report that James would once again be leaving Cleveland made the rounds on Wednesday
Known for his 'take that for data' rant, the Grizzlies coach touched on a number of important...

Wade's days with the Chicago Bulls appear to be numbered

Misty Suri will reportedly keep his job with the New Orleans Pelicans