Pacers forward Danny Granger could miss three months with 'jumper's knee'
Danny Granger received an injection in his leg and the Pacers say their All-Star forward could be looking at a three-month recovery period.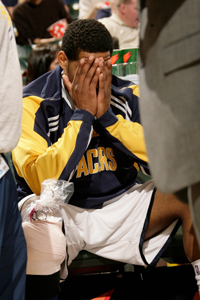 Danny Granger could miss a big chunk of the season.
(Getty Images)
The news for Danny Granger is not so good.
Remember a couple of weeks ago, when Mike Wells of the Indianapolis Star doubted that Granger would play an entire season because of his injured left knee? Well, we now should start wondering if Granger will get to join his teammates much at all this season.
The Indiana Pacers stated in a press release:
The Indiana Pacers announced that Danny Granger received an injection Tuesday to treat left patellar tendinosis. The procedure was performed by Dr. James Andrews in Gulf Breeze, Fla.

Team medical personnel are looking at a recovery time of approximately three months. Further updates will be provided when appropriate.
Three months? That really sucks.
If Granger ends up being out for three months, that puts his return around All-Star Weekend in February. If he doesn't come back until after the All-Star break, he'd miss roughly 53 games to start this season.
Patellar tendinosis is commonly referred to as "jumper's knee." It's a fairly common injury in the NBA, and players such as Dwyane Wade and Kenyon Martin have suffered from it in varying degrees. Jumper's knee is an inflammation in the patellar tendon and can end up being a complete tear of the tendon. Players who suffer from the injury often have problems straightening their leg.
The main form of rehab is to just take time away from activity and rest. Three months sounds like a lot of rest. In the meantime, Indiana can keep riding the play of Paul George and David West. West has been the primary scoring option for Indiana through the first four games of the season, averaging a team-high 16.8 points per game on 45.5 percent. George has struggled shooting (40.7 percent from the field and 33.3 percent from the 3-point line), but he is averaging a team-high 10.5 rebounds per game.
The Pacers are off to a 2-2 start and play in Atlanta on Wednesday night. 
We've got all the scores, highlights and news from all of Sunday's games

The Rockets beat the Warriors 116-108 on Saturday night

The Cavaliers gave up 148 points in their loss Saturday afternoon to the Thunder
Blatt made the comment before coaching in the All-Star Game in Turkey

Is this rock bottom for the Cavaliers because it sure feels like it is

Wade, as he's done so many times in his career, threw it up to LeBron for the thunderous f...