Pacers' Frank Vogel will use zone next year to prepare for playoffs
Indiana Pacers coach Frank Vogel would like to work on a zone defense next season in order to have it ready for their next playoff run.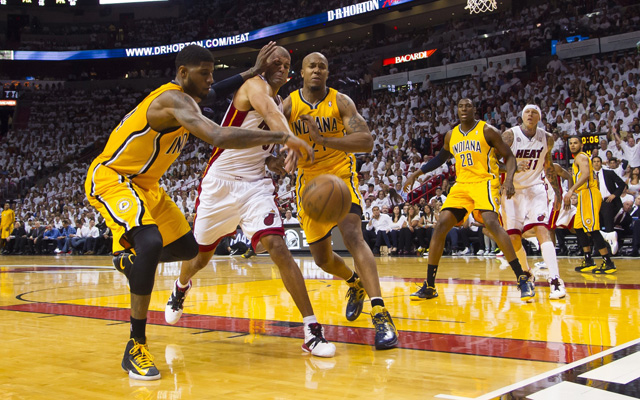 MIAMI -- Why didn't the Indiana Pacers play a zone defense on the final play of Game 1 against the Miami Heat when LeBron James made a game-winning layup?
That was one of the questions posed immediately after the Pacers' loss in which they had a chance to take control of the Eastern Conference Finals with a Game 1 victory. Instead, Paul George over-committed against James, which led to a defensive breakdown that helped the Heat keep their home-court advantage for at least another game. It was an incredible play by James that led to a lot of second-guessing immediately following the game and spilled over into Thursday.
There's a pretty big reason the Pacers didn't have a zone in place: They don't play zone. 
They don't really play it at all. 
Pacers' coach Frank Vogel would like to change that starting next preseason and utilize it "at least two times each game" in order to gain the necessary confidence to implement it. The Pacers already possess the top defensive team in the NBA, so adding a zone could make it even more stifling for opponents. The reason they don't do it now is because the team hasn't really practiced it much and the trust for using it isn't there for the playoffs.
Indiana typically stops teams from scoring at the basket and around the 3-point line. The Pacers dare you to take bad midrange shots and force turnovers. That didn't work so much in Game 1 with a lot of defensive breakdowns. Their film session after Game 1 was almost exclusively about helping the helper on defense, which they struggled to do en route to giving up 60 points in the paint. Being able to throw the zone into the mix when they do have those rare breakdowns could help curtail that kind of action against their defense.
Zone defense is such a tricky thing for NBA defenses to do. If you were to treat the NBA like a college basketball game and play a heavy amount of zone throughout the contest, you'd likely see the skill of offensive players consistently get the ball to the middle of the zone before finding cutters from the weak side or shooters in the dead spots of the zone. It's not something you can consistently play against NBA talent. But you can often go to it as a surprise weapon in your defensive quiver at key spots in games just to turn the opposition a little on their head.
The zone takes a lot of practice to create the necessary rhythm and trust between teammates to react to where the ball goes. If you haven't practiced it a lot, then you can't really just throw it into the end of an Eastern Conference Finals game in an attempt to throw off the other team; you'd probably just end up throwing off your own team.
But the Pacers know they want to eventually have a zone defense option with center Roy Hibbert manning the middle of it. Next year when they start marching through the Eastern Conference playoffs, it will be just another way for them to stop you from scoring.
We've got all the scores, highlights and news for Thursday night

The Sixers big man got his first All-Star selection -- and maybe some revenge -- on Thursd...

It appears some players are not entirely taking the All-Star voting process seriously
There were some weird discrepancies between the fan, media and player votes

LeBron and Steph will be the captains for the 2018 NBA All-Star Game

Arron Afflalo was involved in an altercation with Timberwolves big man Nemanja Bjelica on...