Pacers' George plans to sign extension before the season
Paul George says he will have a contract extension signed with the Pacers before the season starts.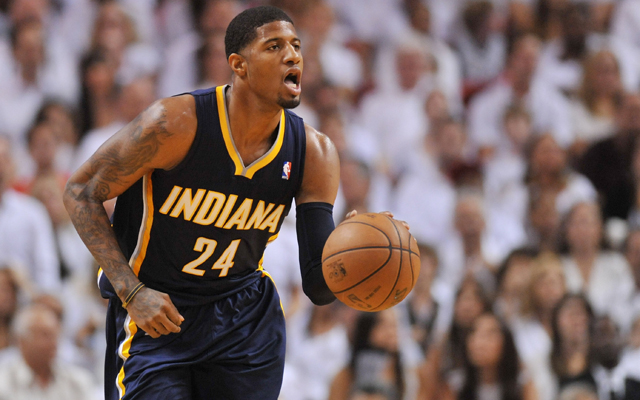 The clock is ticking for the Pacers to prevent Paul George from restricted free agency. But he says not to worry.
Via the Indianapolis Star, George says he will sign an extension with the Pacers before the 2013-14 season starts.
"[A long-term contract] is going to get done," George told the Indianapolis Star. "There will be a deal signed and sealed on the table before the season. We're [George and Pacers management] on the same page."
That's a lot of confidence in a deal getting done, but it's hard to imagine George, a blossoming superstar, not being locked up. He's likely not signing for anything less than a max, considering he would assuredly get that in restricted free agency, though. He's emerged as one of the most promising young players in the league, a defensive stopper on the wing with slashing, shooting and finishing ability. 
Financially, the Pacers are in a decent spot with about $52 million committed for 2014-15, which would be when an extension for George kicks in. Roy Hibbert signed a max level deal in restricted free agency last summer which starts this season, but after that only have big deals in David West and George Hill to worry about. 
An extension for George means Danny Granger's days in Indiana are almost guaranteed to be numbered, as he's set to make $14 million this season on an expiring deal. 
Asked recently about George's future, Pacers president Larry Bird said it's a priority.
"We are working on it now," Bird said, via the Star. "We've got a way set up where we definitely think we can get something done, but it's going to have to work for both parties."
George, 23, averaged 17.4 points, 7.6 rebounds and 4.1 assists last season in 79 games. 
Fergie: 'I'm a risk taker artistically, but clearly this rendition didn't strike the intended...

Victor Oladipo had a successful R&B album over the offseason and Jamie Foxx is a fan

Klay Thompson makes sure he stands out during All-Star Weekend
There's no shortage of moments to choose from

The Trail Blazers almost traded for Charles Barkley, but when they didn't, it put them in debt...

The self-proclaimed ASG snub Williams may be bitter about Butler requesting to sit out Sun...