Pacers handle prosperity poorly yet again in Game 3
If the Pacers want to advance to the NBA Finals, they cannot continue to surrender big leads or get satisfied with themselves.
• 2 min read
Game 3: Berger: Pacers lose their way | Struggle with lead | Allen inflicts pain
The Indiana Pacers need to learn how to handle prosperity. This season a major collapse followed a storybook start, and all the hype in the world almost turned into surrendering the No. 1 seed it had fought so hard for, then almost losing in the first round to a mediocre Atlanta Hawks team. None of that matters now, down 2-1 to the Miami Heat in the Eastern Conference finals series after a 99-87 loss Saturday. They'd been working to reach the conference Finals all year, but they need to change their habit of getting too pleased with themselves. On Saturday, Indiana jumped out to a 17-4 lead to start Game 3, lost its edge and allowed the Heat to come all the way back.
Miami started the comeback in the second quarter, and the Pacers were outscored 61-45 after halftime. Indiana eventually trailed by 17 points with a minute and a half remaining. It wasn't just a little bit of slippage; it was the Heat running circles around a Pacers team that found itself unable to punch back.
"You can't play around with this team," Indiana forward Paul George said afterward. "I thought we got comfortable at one point in this game, just being up early. This game is all about runs and ultimately the team that takes the biggest run or the last run is the team that's gonna win. It's not about the first run."
The Pacers made the first run in Tuesday's Game 2, as well, jumping out to an 18-10 lead in the opening quarter. They held a lead late in the third, too, and then Miami's LeBron James and Dwyane Wade dominated down the stretch. It's been clear since this time last year that Indiana is a tough matchup for these Heat, and it is more than capable of pushing them to their limits. Miami has proven, though, that it won't get let a little bit of Pacers success get in its collective head. It's on Indiana now to prove the same thing.
"We don't want to keep digging holes," James said. "We hate the way we played to start the game. We can't play that type of basketball. We gotta come out and play like we're down 15 to start the game, because it can bite us in the butt if we don't prepare that way. But we're a confident group. We don't panic. We just work the game."
These are the same Pacers that lost 102-79 in a close-out game against the Washington Wizards less than two weeks ago. That embarrassing defeat came after winning three games in a row. Like every other low point this year, Indiana was able to recover from it. Against the Heat, there is still time to do so, but there is little margin for error.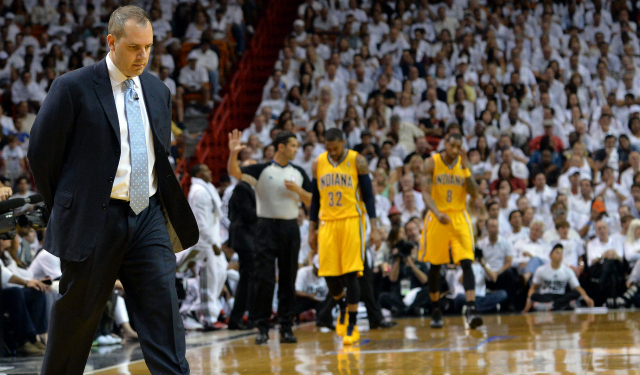 Giannis skipped EuroBasket last summer, and has missed four games this season with knee so...

Some of the best and worst from the league as we head into the home stretch of the season

Cuban acknowledged that tanking is 'brutal' and that he will no longer do that after this...
Cho has been the GM in Charlotte since 2011

Fergie: 'I'm a risk taker artistically, but clearly this rendition didn't strike the intended...

Victor Oladipo had a successful R&B album over the offseason and Jamie Foxx is a fan