Pacers-Hawks Game 5: The waving momentum
Previewing Game 5 of the Pacers-Hawks first-round series.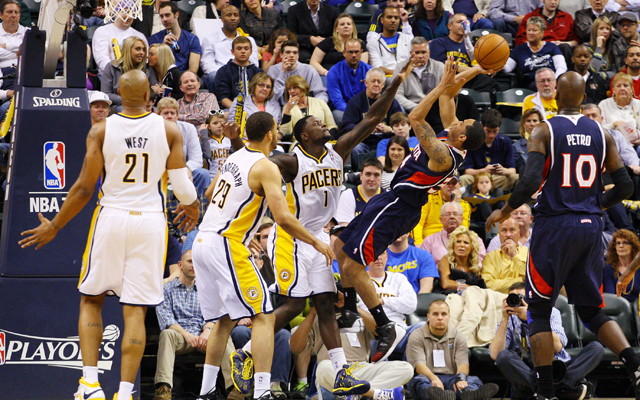 Previewing Game 5 of the Pacers-Hawks first-round series.
1. Where We Are: The Hawks have regrouped, adjusted, and put the Pacers into a sleeper hold. The series is tied 2-2 going back to Indiana, and suddenly Atlanta has all the momentum.
The Pacers' offense has just melted into a puddle and badly needs to get back to the dominance it showed in the first two games. Atlanta just needs to keep producing like it has. Game 5 has become pivotal, and a loss by Indiana would set the stage for an upset.
2. The Big Number: 14.8. That's the number of points per 100 possessions that the Hawks' offense has improved with Josh Smith on the floor. That's a pretty shocking number considering Smith's shot selection and general play. He's been very locked in the past two games and has a great chance to build on a promising playoff series if he can maintain.
Of course, that means continuing to hit shots from range which is not exactly likely.
3. Key Adjustment: Indiana needs to move Paul George off-ball. He's a terrific catch-and-shoot player and can operate in the pick and roll. But he's not good trying to create in isolation off his perimeter penetration. His handle's just not there.
The Pacers need to focus on getting George high quality looks and not just letting him operate. He's not there yet. Run the system, run your stuff.
4. The Big Story: New York's on the verge of knocking off the Celtics and getting time to rest. The Pacers are once again struggling with a first-round opponent. The Pacers need to put the boots to Atlanta to assert themselves and not give New York a full week of rest in the event this series goes seven.
The Hawks on the other hand have a legitimate chance of pulling a major upset which would be a coup. They just need to settle in and run their stuff. Then again, it's the Hawks, so don't count on that.
5. The Facts: 8 p.m. ET start time. Ratings are doubtful with a sprained starpower and a sore left narrative.
Want the swagger of LaVar Ball? "NBA 2K18" lets you copy his absurd run from his WWE appea...

Durant apologized for a few tweets in which he criticized OKC and his former coach Billy D...

Lue does not expect the Cavs' big trade to affect the team's starting frontcourt ... at least...
Dwight Howard wants to be a farmer in his future and retire with his donkeys

K.D. is still battling online critics, while the new Celtics guard is openly disregarding LeBron...

Collins has been working as a broadcaster, and previously coached the Bulls from 1986-89