Pacers-Heat Game 5 Preview: The sustainability of heroism
Previewing Game 5 between the Miami Heat and the Indiana Pacers.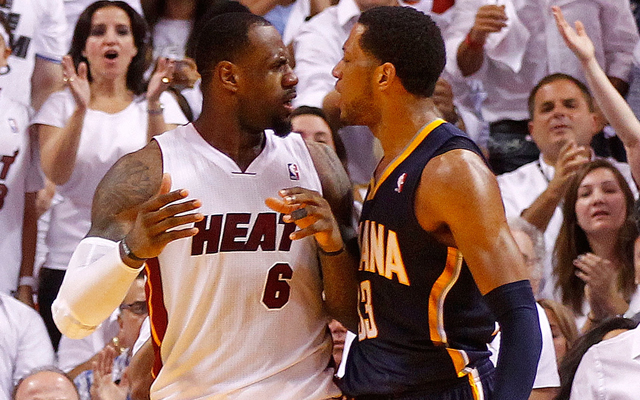 There's been no love lost between Danny Granger and LeBron James.
(Getty Images)
Previewing Game 5 between the Miami Heat and the Indiana Pacers. 


1. Where We're At:
All knotted at 2-2 headed back to South Beach. The Heat looked dead in the water, even as late as the 2nd quarter of Game 4. But the Heat responded in a big way, and now the Pacers have to be both confident that it took a Herculean effort to beat them in Game 4 and frustrated that this team is capable of doing that. The Heat have to feel good about getting out of the hole but concerned it took that kind of production to save their season. Game 5 is just as big as Game 4, only now both teams have pressure on them.
2. The Big Number:
29.2 percent. That's both teams' offensive rebound percentage (percentage of available offensive rebounds snagged) through five games of this series. They're tied at 29.2 percent. That can't hold if the Pacers are going to win. They need to control the glass in a big way and get more possessions for their offense which isn't as explosive as Miami's. The Pacers have to get back to their size advantage on the boards.
3. Key Adjustment:
Definitely time to stick
Paul George
on
Dwyane Wade
. The Pacers can survive LeBron going nuclear if they can keep Dwyane Wade struggling as he has for most of this series outside of Game 4. They can't live with both of them going off. It's unlikely they'll have the energy consistently but you don't want to take that risk.
George Hill
can't contain Wade on the perimeter or body him in the post. It's time for Paul George to make it his life's mission to slow down Wade with his length.
4. The Big Story:
LeBron going nuclear. Everyone had the same two reactions after James' 40-18-9-2-2 performance in Game 4. 1. That was amazing, and 2. how can he possibly keep this up? There are a lot of questions about exhaustion when it comes to James and his ability to product that much on offense, rebound like that, and defend to his usual ability. If he can't put in at least 70 percent of that performance with the Heat shooters struggling as they are, it's going to be trouble.
5. The Facts:
8 p.m. EST tipoff.
Mike Miller
is expected to play despite an injured everything. There has been no official diagnosis on Dwyane Wade's knees despite reports they were drained prior to Game 4.
Bryant will have both No. 8 and No. 24 raised to the Staples Center rafters on Monday

The Lakers will be retiring Kobe Bryant's No. 8 and No. 24 jerseys at halftime

The Nuggets will look for their second-straight win with Nikola Jokic back in the lineup
This composition is absolutely amazing

Stephen Curry, who grew up in North Carolina, wants to be part of the next Panthers ownership...

Vince Carter is destined for a Raptors reunion; he doesn't know when it'll happen