Pacers hold meeting after blowout loss to Rockets
After a third straight loss, the latest being a 26-point beatdown by the Rockets, the Pacers held a players only meeting to talk about... stuff.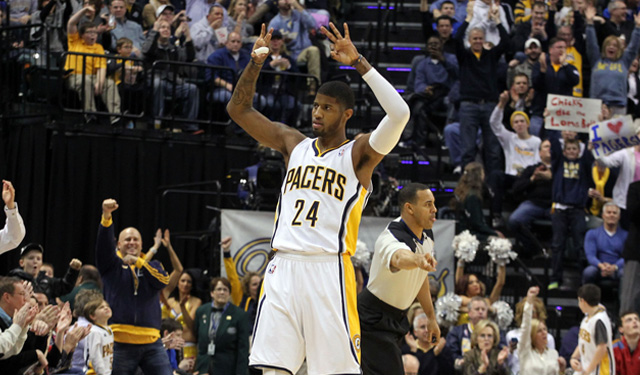 More NBA: Power Rankings | Expert Picks | Latest news, notes
After a third straight loss, the latest being a 26-point beatdown by the Rockets, the Pacers held an impromptu meeting to talk about... stuff.
It started with Paul George and David West, two of the Indiana Pacers' veteran leaders, crowding inside the small visiting coach's locker room.

With their ankles still taped and their uniforms still on, there was an impromptu meeting taking place with hushed tones and grim faces. Sitting with his shoulder in ice at his locker, George Hill noticed and went over and slipped into the room. Then Roy Hibbert got up from his seat and stuck his head in.

Ten minutes passed, then 15. The team with the NBA's best record is in its first legitimate funk of the year and it's shaking the players up.
The Pacers are still 46-16, tied with the Thunder for the league's best record. But they've lost three straight, the last two by 22 and 26 points. 
And with a difficult game ahead against the Mavericks, there's  real possibility for a fourth consecutive defeat. 
What the Pacers are adjusting to currently is being a hunted team. They walk into almost every game as the favorite, and opposing teams are keyed up for them. Something coach Frank Vogel said they're trying to figure out.
"Every team we play is playing above themselves," Vogel told reporters last night. "Our guys can talk about being the hunted but it's a different thing to feel it. These teams are coming at us with great force and we're going to have to rise to the challenge."
What the Pacers are also experiencing is the expectation of being a contender. When you're one of the league's best teams, even losing once feels like a big deal. What the Pacers are going through is most like a little pre-postseason funk, a March malaise as they try and get ready for the playoffs. Remember: The Thunder just lost three straight a couple weeks ago and no one wrote them off for it.
Difference is for Indiana, the manner in which they've been beat. Their defense has been tops in the league all season, except the Bobcats -- one of the worst offensive teams in the NBA -- lit them for 109 points, as Houston torched them for 112. 
They've just got to get sorted out a bit. It shouldn't take much. Paul George is better than he's played lately, and same goes for Roy Hibbert. For instance, George has scored 15 points total in the last two games. He's better than that. 
But if this goes on much longer, the Pacers might be doing more than just holding meetings. The Pacers have placed a premium on winning the top seed in the East, and maybe that pressure is catching up to them a bit.  There could be genuine panic, and you don't want to be worrying about yourselves heading into the postseason. 
Stephen Curry, who grew up in North Carolina, wants to be part of the next Panthers ownership...

Vince Carter is destined for a Raptors reunion; he doesn't know when it'll happen

Thomas has a target date for his return, and with the Cavaliers scorching, this could be h...
LeBron James once again is using his platform to be socially active

Not many games, but still plenty of action and intrigue Sunday in the Association

Kobe Bryant had a solid piece of advice for back in 2016 when he left OKC for Golden State