Pacers looking to deal Danny Granger?
Danny Granger is closing in on returning to the Indiana Pacers from a knee injury that has kept him out all season, but ESPN.com is reporting the Pacers might be looking to trade him.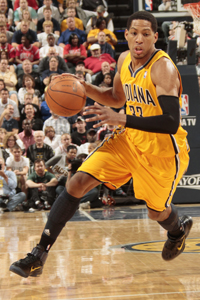 Danny Granger. (Getty Images)
Danny Granger has been hurt all season for the Pacers, but it might have been a blessing in disguise as it opened the door for Paul George to emerge as a likely All-Star.
Granger is closing in on returning from a knee injury, but it's possible he might not be returning to the Pacers. According to ESPN.com, the Pacers might be looking to deal Granger at the deadline.
If they can get him back into the swing of things quickly — and get his trade value up — expect them to try to flip him fast now that Paul George has replaced Granger as the alpha dog of the team.
Granger is obviously a valuable asset and a player the Pacers would likely expect to get big return on. The problem is, he's coming off a knee injury and hasn't played yet this season.
Why would the Pacers even consider moving him, though? They're 25-16, first in the Central and third in the East but have gotten to that point almost exclusively on the back of their defense. They're first in points allowed per 100 possessions but 29th in the same metric on offense.
So adding Granger would naturally seem to help, right? Yes, but it seems this Pacers team is finding an identity in what it is. George is the go-to guy (he went for 31 on Friday night in beating Houston), Roy Hibbert is the inside man, David West is consistent and, after that, it's about getting stops and just out-toughing teams.
George actually had interesting comments recently, saying the team "had an ego to them" but now they're "putting the team first." I doubt that was a dig at Granger, but, like I said, they know who they are right now. And Granger's return could upset a bit of that, specifically George's role as the featured player.
But it'll be tough to move a piece as big as Granger in the next 20 days or so. The Pacers have been rumored to have shopped Granger for a while now, but more than ever they have a reason to trade him now. It's about getting proper return for an asset like him, though, which could be the problem for Indiana.
We've got you covered for all the scores and highlights from Sunday's NBA games

The Cavs superstar compared Kaepernick to Martin Luther King Jr. and Muhammad Ali

The Warriors coach isn't surprised that the president and LaVar Ball are in a war of words
Kyle Kuzma is tired of how his teammate Lonzo Ball is being treated

The Warriors used a huge third quarter to come back from a 23-point deficit to get the win

Three takeaways from Golden State's 24-point rally past the Sixers