Pacers lose by 19 to the Hawks, compounding their problems
The Pacers didn't just lose to the Hawks on Sunday, they got obliterated. Which means we get to play another round of 'What's wrong with the Pacers?'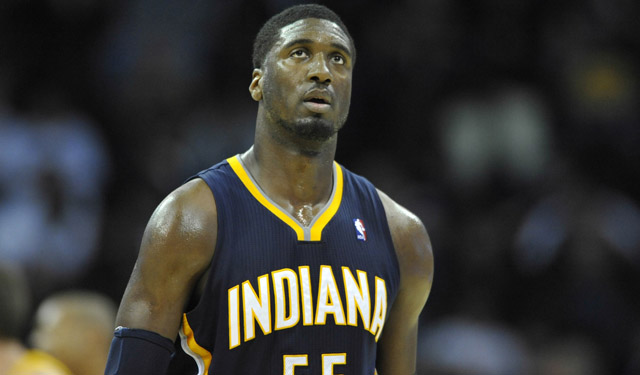 More NBA: Power Rankings | Expert Picks | Latest news, notes
Another day, another game worthy of a "What's wrong with the Pacers?" post.
We've all been trying to solve this strange twist where the Pacers mysteriously went from Eastern Conference titan, to scoring 23 points in the first half en route to a 117-88 loss to the Hawks... at home.
In truth, there's really no deep explanation. Nothing inside the numbers, no lineup data, no efficiency on/off court stuff. It's pretty simple: The Pacers are playing terrible basketball. They're playing selfishly on offense at times, and their best players -- Paul George and Roy Hibbert, namely -- aren't playing very well.
The way the Pacers have played, with a listless manner and a strange indifference to losing, tends to suggest that maybe there's a combination of exhaustion and wandering minds.
The Pacers played a priority on the top seed in the East, and through 60 games, were cruising toward that goal in style. They had a swagger, a confidence, a belief that they were not just a contender, but a favorite. They played defense with a certain ferocity and attacked their opponents with an attractive abandon.
But now, they just look worn and uninterested. When you're a contender, particularly one in the East, it's easy to check out and start thinking about May and June. The Pacers have been playing without much pressure for almost four months, basically competing solely against the Heat. The idea for top teams in March and April is to battle for better playoff seeding while also establishing an acceptable standard of performance. The Pacers are doing neither. They're giving away their seed, and they're getting seemingly worse by the game. 
It's all correctable, no doubt. An opening round series against the Hawks or Bobcats could be far more dangerous than it was thought to previously be, but win a game, start feeling good again and all this "What's wrong with them?" talk can quickly be forgotten.
The question the Pacers have to deal with is if this recent swoon is going to create enough of a chemistry malfunction and infect the team with enough issues to linger well in to the postseason. Because outside of giving away home court to the Heat, these losses really don't matter much.
So, what's the fix? Frank Vogel told reporters after Sunday's game, "Our whole starting five looks worn down to me." Matt Moore of CBSSports.com smartly suggested resting their starters a couple games to force a reboot of sorts. Against the Hawks, Vogel benched his entire starting five six minutes into the game after a horrific, lethargic start. Going a step further and just sitting them down might be worth a shot.
Otherwise, the Pacers run the risk of hating themselves heading into the postseason. They're a good team and they're absolutely still a contender. They're just playing terrible basketball at the worst time of the season. But there's still time to fix it.
With 2K18 out everybody wants to know who has the 10 highest ratings in the game. Here's the...

Durant noted in an interview that all of the criticism in the immediate aftermath hit him...

Want the swagger of LaVar Ball? "NBA 2K18" lets you copy his absurd run from his WWE appea...
Durant apologized for a few tweets in which he criticized OKC and his former coach Billy D...

Lue does not expect the Cavs' big trade to affect the team's starting frontcourt ... at least...

Dwight Howard wants to be a farmer in his future and retire with his donkeys