Pacers lose their way, and another chance to put pressure on Heat
Faced with another opportunity to gain the advantage in a tied playoff series with the Heat, the Pacers came up short again.
Miami Heat 99, Indiana Pacers 87 (Heat lead 2-1) | Vintage Wade | Playoff schedule
MIAMI -- Everything the Indiana Pacers had talked about at practice over the past few days and at shootaround on Saturday was happening. Stick to what you do, Pacers coach Frank Vogel had told his team. Get the ball inside. Punish the Miami Heat where they're most vulnerable -- at the rim, in the paint, where they have nobody either capable or willing to collide for 48 minutes with Roy Hibbert and David West.
Earlier on Saturday, Chris Bosh -- the tallest able-bodied member of the two-time defending champs -- admitted that he has no interest in doing the dirty work around the basket. "I don't bang with anybody anymore," Bosh said. It takes too much energy; it's easier to lurk on the perimeter and shoot jumpers.
The Pacers should've read those quotes and shown up at the arena by lunchtime, ready to feast.
And for a while, they were -- and they did. West and Hibbert outscored the Heat by themselves in the first quarter, 17-14, making 7 of 9 from the field. Bosh picked up two quick fouls. The Pacers were on their way to doing something they'd been able to do only once in their previous five chances against Miami in the playoffs -- take a lead when the series has been tied.
Then, it stopped. West and Hibbert made only five more baskets the rest of the game -- one each in the fourth quarter. Instead of making Miami pay for its small-ball lineups, it was the Heat dishing out the punishment in a 99-87 victory that gave them a 2-1 lead in the Eastern Conference Finals.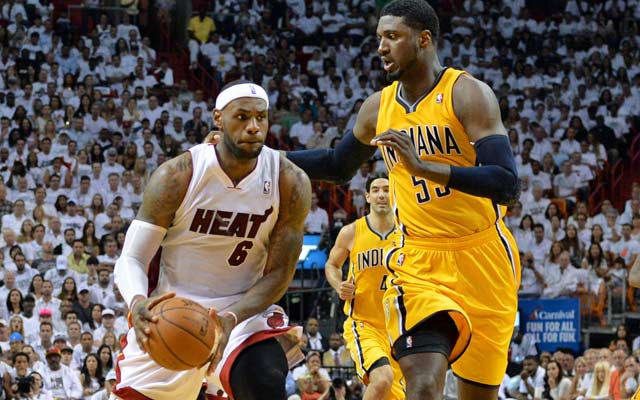 "We've got to stick to what we do," West said. "I thought we got away from ourselves, just trying to make some stuff up on the fly tonight, which is not us."
The Pacers had no answer for Miami's pressure defense, no viable plan to counter the Heat's pick-and-roll traps, which should've presented a lengthy menu of options -- swing the ball to the other side of the floor and get the ball to Hibbert, sealing off a smaller defender who'd be at his mercy.
Instead, the Pacers had 19 turnovers, eight in the second quarter alone. Instead of exploiting the Heat's biggest vulnerability, it was Ray Allen (4-for-4 on 3-pointers, all in the fourth quarter) turning the series in Miami's favor.
"They were the aggressor for the majority of the night," said West, who spent more time chasing Allen around screens in the fourth quarter than doing damage at the other end.
Then, there is the curious case of Paul George, who was limited not by the after-effects of a concussion in Game 2 but by foul trouble and his own ineffectiveness.
"I spent most of my night on the bench," George said, when asked if fatigue was a factor after not being able to practice fully while he was adhering to the NBA's post-concussion protocol.
But when George has been on the floor in this series, he hasn't been very good. He was 5-for-13 in Game 3 and is 16-for-42 (38 percent) in the series -- including 6-for-17 from 3-point range.
"I'm proud of him," Hibbert said. "He took it upon himself to get us back in the game, but we've got to help him out some more, too."
It was during Game 2 of last year's conference finals, here in Miami, when LeBron James welcomed George to the big time -- recognizing some sensational back-and-forth between the two with a fist-bump that seemed to signal George's arrival. It was a year ago Saturday, to be exact. 
The gap between James and George since then has grown impossibly wide.
And if the Pacers don't figure out how to play to their strengths -- and play together -- the gap between these rivals will continue to expand, too.
Last year's conference finals were tied three times, and each time, the Heat won the next game -- denying the Pacers every time they had a chance to gain an advantage against the defending champs. 
On Saturday night, it was the same story.
"Very frustrating," West said. "We've had chances."
Soon, unless they figure out who they are and how they should be attacking the Heat, they will run out of them. 
Nerlens Noel is now being represented by Rich Paul of Klutch Sports

Steve Kerr opens up about his back issues and more

OJ Mayo, banned from the NBA for positive drug test, is considering playing overseas
The King? 'LeBron, it turns out, is Aquaman,' or so the account via Dwyane Wade's wife goe...

From Penny to Thunder Dan to Pistol Pete to Agent Zero, guys who would be better in 2017

Griffin said recently he thinks it's more likely that LeBron James goes to New York than L...