Pacers' Paul George eyeing max deal, future MVP award
Indiana's Paul George established himself as a real budding NBA star in the postseason. Is he worthy of a max contract?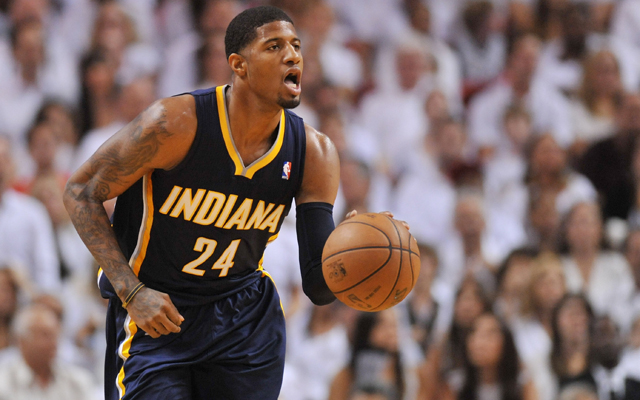 A lot of people think Paul George broke out in the 2013 postseason. But, really, he did his breaking out in the regular season, seeing as, you know, he won Most Improved Player and all. 
What George got was more of an introduction as more eyes got to see what a terrific two-way player that he is -- a dynamite defender who has a blossoming, explosive offensive game. He went toe-to-toe with LeBron James in the Eastern Conference finals and showed everyone what a spectacular player that he already is, but also, how much room for improvement there is as well.
George is the future of the Pacers and a franchise building block. But he also needs to be locked up. George is eligible for an extension off his rookie contract this offseason. With his stellar regular season and impressive postseason, George could be headed for max-level money. 
"I would hope," George said of a max deal, via Fox Sports Florida. "I would hope. Max guys get the job done at this time [the playoffs].''
George, the 10th overall draft pick in 2010, is making $2.6 million this season and $3.3 next season. If he signed a max deal -- that would kick in for the 2014-15 season -- it would start just under $14 million a year. 
"I haven't really put my mind to that right now,'' George said. "I really want to focus on what's at the plate now."
The Pacers' future is obviously bright but could get complicated under the new collective bargaining agreement. Danny Granger is on the books through next season making $14 million. Which, you know, kind of works out perfectly because he'd be coming off the books right as George's new extension would kick in. 
Roy Hibbert just signed a four-year, $58 million max last offseason and, of course, there's the David West's free agency situation. All of that will factor into George's potential offer this offseason and whether the Pacers play it out and see what the market might yield with him as a restricted free agent, which is what they did with Hibbert. 
Max contracts get handed out in the NBA quite frequently, and it's sort of a moniker that people place on players to illustrate their position in the league's tiers. Being a "max player" means you're considered a cornerstone piece and someone who has the weight of expectation on them. 
But it also means the market has determined your worth. There's no question that if the Pacers don't pay George, a 23-year-old flying up the charts, someone else will. 
George is obviously on the rise to NBA superstardom, something that Hibbert noted after the Pacers were eliminated in Game 7 by the Heat on Monday night. Hibbert dropped George's name in next season's MVP conversation, but George feels that could be a bit premature. 
"Maybe not so quick as next year," said George, via Fox Sports Florida. "But in my career, I wouldn't be satisfied if I don't win the award."
We've got all the scores, highlights and news from all of Sunday's games

The Rockets beat the Warriors 116-108 on Saturday night

The Cavaliers gave up 148 points in their loss Saturday afternoon to the Thunder
Blatt made the comment before coaching in the All-Star Game in Turkey

Is this rock bottom for the Cavaliers because it sure feels like it is

Wade, as he's done so many times in his career, threw it up to LeBron for the thunderous f...