Pacers' Paul George would love to play for Team USA basketball
Indiana Pacers' star Paul George has shot up the ranks over the last two years. It could help land him on Team USA, which is a goal of his.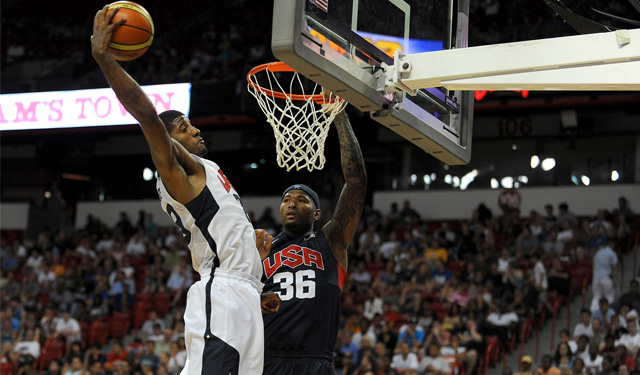 Team USA basketball has been taking itself very seriously ever since they failed to win the gold medal at the 2004 Olympics games in Athens, Greece. Since then, they've become run more like an organization that is looking ahead with the upcoming NBA talent and trying to prepare the top young players to join the program, rather than just randomly picking 12 stars expected to win. With so much top young talent in the NBA right now, Team USA has a big pool of players to choose from for the upcoming 2014 World Championships and the 2016 Olympics.
If you were to ask Indiana Pacers' forward Paul George whether or not he wants to be a part of the next wave of players joining the team to represent their country, his answer would be an emphatic yes. He participated in the mini-camp for Team USA this past summer and playing for Team USA in the future is definitely a goal he'd like to check off his to-do list. From FIBA.com:
FIBA: What was it like to participate in in the USA's men national team mini-camp in Las Vegas last summer?
George: It was a great experience for me. I learned a lot during those few days that my teammates and myself spent training with coach Mike Krzyzewski, Jim Boeheim, Tom Thibodeau and Monty Williams. It was very interesting to play under the FIBA rules and it is an exciting experience to be with the national team. It will be an honour for me to take part on the next training camps with Team USA.

FIBA: The USA will defend their world title in Spain this summer. Is the possibility of being part of the Team USA a goal in your career?
George: Yes, definitely. Playing for Team USA is one of the goals in my career. I would like to be part of the team for sure. It is always special to represent your country and it would be an honour for me to help Team USA win titles. I would like to win NBA titles, but I would also like to win gold medals.
George has dramatically improved his game over the past two seasons, becoming the de facto star for the Pacers as they've had a meteoric rise to the NBA's elite teams. With Danny Granger (former Team USA player in the World Championships) out, they called on George to become the new go-to scorer for the team and he exceeded their expectations in the process. George is now one of the top players in the NBA on both ends of the court.
At just 23 years old, he still has so much improvement he can add to his game. Joining Team USA for a few rounds of international tournaments could give him even more focus and drive toward taking his game to another level, like we've seen with so many young stars in the past. 
The 2014 World Championships will be held in Spain and the 2016 Summer Olympics will be held in Rio de Janeiro, Brazil.
The Raptors will try to continue their run of dominance.

The Rockets are still the NBA's hottest team, but don't sleep on the Spurs now that Leonard...

Kevin Garnett has no interest in working with Glen Taylor, but he'd gladly buy the Timberwolves...
LaVar Ball formed a pop up shop in New York to sell Big Baller Brand merchandise. The results...

The Cavaliers players took a stand against bullying on social media

The Rockets are gunning for their 10th consecutive win