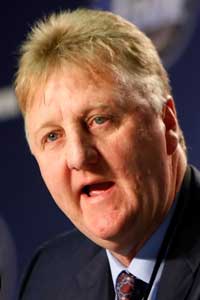 Bird added yet another award to his Hall-of-Fame resume.
(Getty Images)
The Legend's trophy shelf was already full. Make room for another.
The
NBA
announced on Wednesday that Indiana Pacers president Larry Bird has been named 2011-2012 Executive of the Year. Bird, a Hall of Fame forward for the Boston Celtics, becomes the first person in league history to complete the MVP, Coach of the Year and Executive of the Year hat trick.
Bird beat out San Antonio Spurs executive R.C. Buford, Los Angeles Clippers executive Neil Olshey, Chicago Bulls executive Gar Forman and Utah Jazz executive Kevin O'Connor for the honor.
Bird, 55, spent 13 seasons with the Celtics, winning three NBA championships, earning 12 All-Star selections and being named MVP in 1984, 1985 and 1986. He coached the Pacers for three seasons, from 1997-2000, posting a career record of 147-67. He was named Coach of the Year in 1997-1998 when the Pacers went 58-24.
Bird has served as an executive for the Pacers since 2003. Indiana went 42-24 this season, posting the NBA's fifth best record and finishing third in the Eastern Conference. Indiana beat the Orlando Magic in five games in their first round playoff series to advance out of the first round for the first time since 2004-2005. The Pacers are currently tied at one game apiece in their Eastern Conference semifinals series with the Miami Heat.
Indiana's recent rise has been highlighted by the drafting of forward Danny Granger, forward Paul George, center Roy Hibbert and the offseason signing of forward David West.
Ken Berger of CBSSports.com reported
in April that Bird plans to leave the Pacers after this season.
In addition to the names listed above, Glen Grunwald (New York Knicks), Paty Riley (Miami Heat), Sam Presti (Oklahoma City Thunder), Chris Wallace (Memphis Grizzlies), David Kahn (Minnesota Timberwolves), Rod Thorn (Philadelphia 76ers), Dell Demps (New Orleans Hornets), Rick Sund (Atlanta Hawks), Danny Ainge (Boston Celtics), John Hammond (Milwaukee Bucks), Lon Babby (Phoenix Suns), Mitch Kupchak (Los Angeles Lakers), Otis Smith (Orlando Magic) and Masai Ujiri (Denver Nuggets) all received at least one vote.