Pacers' Roy Hibbert recalls NBA's skilled, true centers
Roy Hibbert's dominant play for the Pacers against the Heat in the Eastern Conference finals has reminded everyone how enjoyable it is to watch a true center go to work.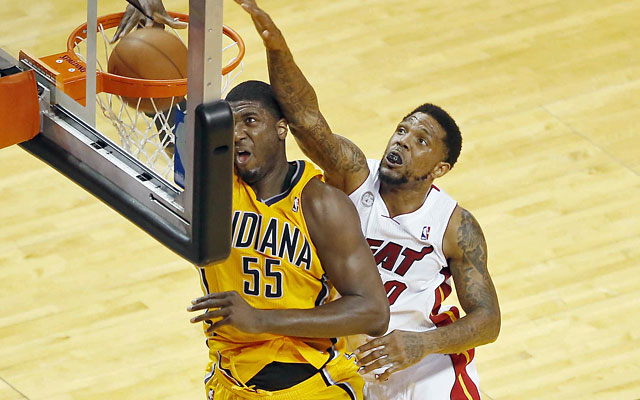 So Roy Hibbert apologized, and he was rightfully fined $75,000 on Sunday for using a homophobic slur and a four-syllable curse word that the NBA deemed "inappropriate and vulgar."
This was in the postgame news conference carried on live TV after the Pacers stunned the Heat on Saturday night and forced a Game 7 in the Eastern Conference finals.
Hibbert's apology was articulate and sincere, but a hefty fine was inevitable. He'll learn from this. 
But one thing Hibbert does not have to apologize for is his play during this series against Miami. He has been spectacular, dominant at times. More interesting to me is that he's reminded all of us how enjoyable it is to watch a skilled center go to work down on the low block, where he belongs.
Basketball has changed, and true centers are dinosaurs. As he was closing in on retirement in 2010, Shaquille O'Neal called himself the last true center. This was during an interview scrum before a game against the Knicks at Madison Square Garden, when Shaq was collecting paychecks from the Celtics.
"I think I killed off all the centers and now all the centers want to play the European-style basketball," O'Neal said back then. "There's only one-and-a-half or two real centers left, Dwight Howard and Yao Ming. Every now and then Yao Ming steps outside and wants to shoot jumpers, but it's gone more toward the European style. The days of Patrick Ewing and Rik Smits and Kevin Duckworth and Robert Parish, those days are over, thanks to me."
Well, thanks to Hibbert, those days may be back. Let's hope so.
The emphasis on wing play, spacing, 3-point shooting and increased pace have combined to create an aesthetically pleasing game -- but a game that's lacking its traditional meat and potatoes of low-post play. When done right -- with countless hours spent perfecting post moves and footwork and conditioning to put it all together -- it's an art. A lost one. Let's hope Hibbert's rise can help bring it back.
"I've never lost a series to a guy shooting jumpers -- besides Pau [Gasol], but Pau has a couple of extra weapons with him," O'Neal said. "There hasn't been a center that has won shooting jumpers. Pau is 60-40 -- 60 inside and 40 shooting jumpers. So I think the centers are getting a little more Pau Gasolish."
As usual, Shaq had a way of making up words to describe a condition we all knew to be true. 
In a series involving LeBron James, it is almost inconceivable that a player not named LeBron James could be considered the strategic focal point, and perhaps tipping point. So it has been with Hibbert. The Pacers, the best defensive team in the NBA this season, have loaded up their defensive scheme to slow James' path to the paint and force him to give up the ball. It's the classic Doc Rivers-Tom Thibodeau approach, and it's worked partly because those James has relied on in the past to decimate that strategy haven't delivered -- namely, Dwyane Wade and Chris Bosh.
But with Hibbert, the Heat are finding it to difficult to defend size without size regardless of what schematic tweaks Erik Spoelstra makes. The Heat briefly slowed Hibbert in Game 3 by throwing more double teams at him, but he's been mostly unguardable. When Hibbert is forced to post up farther from the block and gets trapped, he's coughed up the ball a few times. But that's hard work moving that big body out of the paint every trip down the floor. It wears you out, especially if you lack the big bodies to do it.
To Shaq's point, it's not as if Hibbert is out there going against Hakeem Olajuwon. And to that extent, Hibbert has proved a point about the modern NBA.
True centers who know how to go to work in the paint are so rare that if you have one, you have a distinct advantage. Let's just hope Hibbert somehow leads to a big-man renaissance and doesn't simply go the way of the dinosaurs. 
Fredette's shoe is with the Chinese brand 361

There's been some weird things happening with Durant's social media accounts

Minnesota's first practice is set for this weekend
Dragic and Doncic lead Slovenia to their first EuroBasket title on Sunday

Curry was in London for the big Chelsea-Arsenal match on Sunday

The league also appears to be moving in a more technology-driven approach