Pacers say 'nothing to celebrate' after Game 1
Indiana knows Miami will respond in Game 2 and that their Game 1 win doesn't mean anything.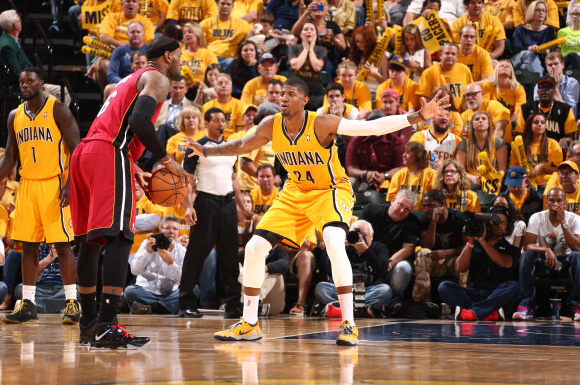 Game 1: Doyel: Pacers match up | LeBron, Bosh out of sync | Indy's containment 
The Pacers looked "back" in Game 1 of the Eastern Conference Finals (107-96) for the first time in months. In reality, it was a bit of an outlier performance. Their defense wasn't punishing (104 points per 100 possessions for Miami, well above the 97 they allowed in the regular season) and their usually subpar offense exploded. But they played hard, and fast, and looked a step above Miami, so it was a strong performance. 
But the Pacers aren't looking at it that way. 
"There's nothing to celebrate," George Hill said. "It's not like we won a championship. It's one game. Yes, it's good but if we come out and lay an egg on Tuesday, this game doesn't mean anything."

"We haven't done anything," West said.
via Pacers Take It In Stride | THE OFFICIAL SITE OF THE INDIANA PACERS.
That's the right attitude to take ... but saying it is one thing. Not letting your guard down after you breezed through Game 1 is where it gets tough. You have to keep yourself primed, because the Heat are going to be angry in Game 2. It's not a desperation game, but it is one that the Heat will want after playing so poorly in Game 1. 
The Pacers have to match that intensity and with a 1-0 lead at home, that's the hard part. 
Trevor Ariza and Gerald Green are reportedly both suspended two games

We've got all the scores, highlights and news from the night's games

Jonah Keri talks with NFL and NBA broadcaster Ian Eagle
SportsLine simulated Wednesday's Nuggets-Clippers game 10,000 times

Galin Dragiev has his finger on the pulse of the Lakers and just locked in a play for Wedn...

No more McNuggets allowed in the Barnes household