Pacers sign Frank Vogel to extension
Pacers sign Frank Vogel to an extension Monday.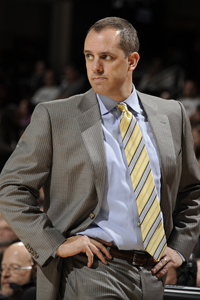 Indianapolis Pacers coach Frank Vogel was extended Monday.
(Getty Images)
With the Pacers back at the top of the Central Division after a rough start and very much looking like they're going to be another pesky out in the playoffs, the Pacers on Monday signed coach Frank Vogel to an extension. Terms were not announced. From the press release: 
"This is a good deal for Frank and the franchise," said Pacers President of Basketball Operations Donnie Walsh. "Frank has done a great job turning our team around since he became coach and deserves the chance to continue the work he and his staff have started."

Said Vogel, "I'm honored that Donnie, Kevin (General Manager Pritchard) and Mr. Simon (owner Herb Simon) have such belief and faith in me to be their coach in the foreseeable future. We've established a great connection with our community the last two years, both on and off the court and I look forward to continuing that."
(via Pacers Sign Vogel to Extension | THE OFFICIAL SITE OF THE INDIANA PACERS)
Vogel is 82-56 in the regular season, 7-9 in the playoffs and very nearly orchestrated a massive upset over the Heat last season. While the offense has struggled, Vogel's defensive schemes are some of the best in the league. He's overseen the development of Paul George, Roy Hibbert (this season notwithstanding), and helped turn Lance Stephenson into a legit NBA player. 
Vogel's a good example of a young interim coach making strides with a young team after taking over for a veteran (Jim O'Brien) who had lost the roster. It's good to see the team investing in stability long-term, especially given the uncertainty of their roster construction under the upcoming CBA impacts and all their offseason front office change. 
Jordan Bell had himself a night against Portland

The younger Ball brothers are heading to BC Prienai, but that could spell trouble

Not many games, but still plenty of action and intrigue Monday in the Association
SportsLine's advanced computer model simulated Tuesday night's Lakers-Knicks game 10,000 t...

The Reno Aces are concerned about the new WNBA franchise stealing their thunder

Hinkie parted ways with the 76ers in 2016 after drastically changing the direction of the...