Pacers' struggles contrast with simple fact: They're still here
No one believes in the Pacers because of their struggles. But then how do you explain that they have made the Conference Finals, the goal all along?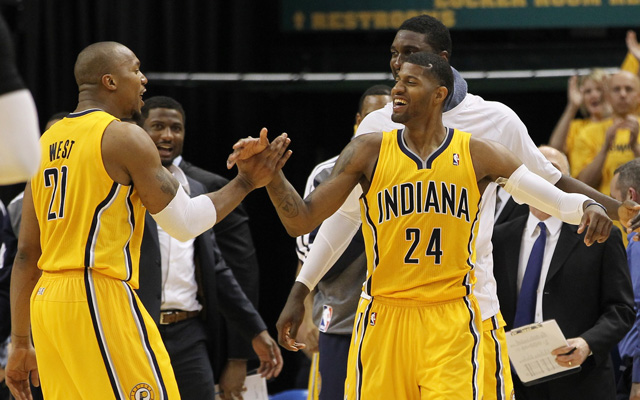 More postseason coverage: Playoff schedule, results | Latest news, notes
They have struggled; man, have they struggled. Blown leads, been blown out, failed to close out teams. Taken to seven by the eighth seed, losing their first game at home in the second round. Their scheme seems broken, their confidence looks shaken and their chemistry has resembled more of a chemical fire a lot of times. 
And yet, despite everything, here they are. The Indiana Pacers host Game 1 of the Eastern Conference Finals vs. the Miami Heat on Sunday. 
Doubting the Pacers and piling on their struggles became somewhat of a sport for the past three months. Some were brave enough to pick against them in the first round vs. the eighth-seeded Atlanta Hawks. Some kicked themselves for not doing so, despite Indiana escaping with their playoff lives, and picked the Wizards to topple them in the second round. Much of this is that when they win, they win how you would expect. Ugly, low-scoring, defensive games where it looks more like ineptitude on the other team's part than Pacers success. And when they lose ...
The Pacers don't just lose, anymore. They fall apart into a million pieces of debris. It's like that scene in "Gravity" when the debris from the satellite hits the space station. There's just tiny pieces of Pacer everywhere. Game 5 was a closeout opportunity at home for the Pacers vs. the Wizards. They looked like a bunch of office workers who hadn't played ball in 15 years trying to remember how to dribble. When the Pacers suck, they really suck. 
But here's the thing. They're still here. They still beat Atlanta in Game 7, a team that was honestly perfectly designed to give them issues even when they weren't a flaming chemical disaster. And they calmly responded from a Game 5 loss to the Wizards at home to close out Washington on the road. Outside of a noble third quarter run, Washington never really threatened. 
And still, the Heat are heavy favorites (-440 at Sportsbook.com for the series, substantially more than the Spurs' -215 over the Thunder without Serge Ibaka). The thought process is pretty simple. The Heat aren't the Hawks or Wizards. This team is well above what the Pacers have faced and the Pacers can't play as they have and survive against Miami. 
But then, the Pacers know that. 
It's insane to suggest that the Pacers have been rope-a-dope-ing, that they've been fading until they get to Miami. What's not insane to theorize is that even with their struggles, they're still perfectly built to face Miami. After all, one of the Pacers' few wins since February 1 came against Miami in the throes of their despair, at home in late March. The Heat turned around and smoked them two weeks later in Miami, but the Pacers still know how to battle Miami. 
It's whether they can do it. 
This presents one of the more compelling storylines of the conference finals, maybe the most compelling storyline now that Serge Ibaka is out for Oklahoma City. Are the Pacers going to fold up and keel over like they have so many times this year? Or will they find a way, somehow to make this into a series? After all, all they have to do is find a way to take three games against a team they are 10-11 against since last May. They worked so hard, maybe too hard early on, to get home court for a reason. 
The problem is that even if they find themselves in that Game 7 vs. the foe they have been preparing for all year, they've been terrible at home in the playoffs. Indiana is 3-4 at home, 5-1 on the road in these playoffs. The Heat have not lost a game at home in the playoffs yet. 
So much has to go right for Indiana in this series, so much has to happen you can't have faith in. The Pacers have to play with energy. Roy Hibbert has to get going. Paul George has to make shots. Anyone on the Pacers has to make shots. Their defense has to find their way back to November form and they have to play together, with passion. 
But you wonder, they've responded every time they've had to in these playoffs, and like it or not, that's the mark of a strong team. The 2009 Lakers found themselves in trouble vs. the Rockets and Nuggets... they survived. The 2012 Heat were down 3-2 heading into Boston having lost all momentum. They responded.
None of those teams had to take down the two-time defending champs with the best player on the planet on the other side, in the midst of what can still be described as an overall swoon. But it's not how you get it done in the playoffs, it's just that you do. 
Maybe the Heat will sweep Indiana, or provide the five-game "Gentleman's Sweep" (you give them one, you know, to be polite). But before you bury the Pacers for how bad they've looked in their losses, remember something. They have the same number of wins as Miami as Game 1 gets set to tip. 
If they were ever going to figure things out, now would be the time. There is no "figure it out later," anymore. 
We've got all the scores, top plays and news from a busy NBA Friday

Butler didn't put any pressure on his right leg as he was helped to the locker room on Fri...

Our advanced computer model simulated Saturday's Magic vs. 76ers game 10,000 times
Several playoff contenders could use the services of Ilyasova, who's nearing a buyout agre...

Durant says he probably wouldn't have gone to college because he 'needed the money'

Ball, who has missed the last 15 games with a sprained MCL, will be on a minutes restricti...