Pacers survive, but did George leave bench during altercation?
The Pacers saved their season on Thursday night, but an identity crisis isn't all they have to worry about in Game 7 against the Hawks. Did Paul George leave the vicinity of the bench during an altercation, which would result in a suspension?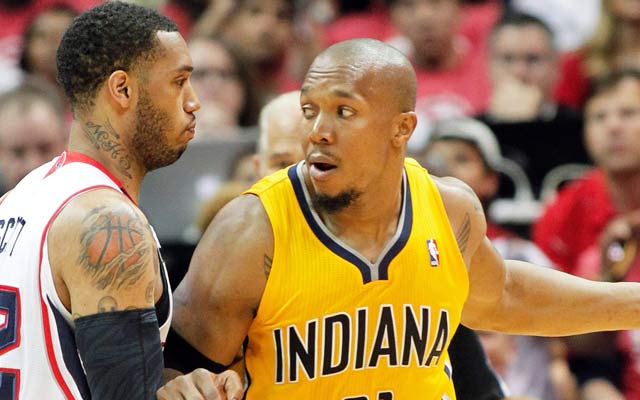 More postseason coverage: Playoff schedule, results | Latest news, notes
ATLANTA -- The Pacers, or whoever these guys are, saved their season on Thursday night -- at least for one more game. But that wasn't what stood out about Indiana's 95-88 victory in Game 6 against the Hawks. What stood out was how they did it.
And how they'll have to do it in Game 7 at home on Saturday if they hope to avoid becoming the first No. 1 seed since the 2011-12 Chicago Bulls to lose in the first round.
Essentially, these aren't the Pacers anymore -- not in this series, not with so many mismatches and with Roy Hibbert unable to stay on the floor and being awful even when he does. And they have to find a way to win a closeout game at home on Saturday with an approach, with a personality and with an identity that is the opposite of how they've played all season.
"I told the guys before the game, worst comes to worst we just have to play park basketball," David West said. "Everybody's got to guard somebody, keep your man in front of you, if they score on you, we come back and go right back at them. We've got enough IQ on this team to get through those moments."
Hibbert, who has 10 baskets and 10 defensive rebounds in 122 minutes in the series, no longer exists. He was scoreless in 12:21 in Game 6 and had two rebounds. The Pacers were outscored by 12 points when he was on the floor -- including a 15-5 run by Atlanta that opened the game.
Frank Vogel, coaching for his sanity if not his job, didn't put Hibbert back in until the final 53 seconds of the third quarter -- and the Pacers were promptly outscored 4-0 and trailed 67-64.
The Pacers' path to a second-round matchup with Washington has never been clearer -- and now, it is as obvious to those inside the locker room as it has been to everyone else. They have to match the Hawks' shooters and penetrators with smaller, more nimble lineups; in other words, the opposite of what got them the No. 1 seed and a Game 7 at home in the first place.
"Coach made the right call," West said. "At this point in the season, it's about the group. It's obviously tough for some guys who didn't play tonight, but we need to keep them encouraged. We're going to stay encouraged as a group and hopefully put up our best game of the series in Game 7."
Rest assured that West will show up for Game 7, as he did Thursday night with several key plays down the stretch -- including a driving layup on which he took Paul Millsap off the dribble from above the free-throw line. 
"I told Paul George down the stretch, me and him," West said. "... Paul and I have to be the creators and the finishers in those moments."
As for George's potential involvement in Game 7, that is somewhat in question. 
During a scuffle between George Hill and Mike Scott late in the second quarter, video replays showed that George and Rasual Butler stepped onto the court. Under NBA rules, any player not in the game "must remain in the immediate vicinity of their bench." The punishment is a minimum one-game suspension, which would put George -- the Pacers' best player -- in a suit for Game 7.
The replay showed that George took two steps onto the floor before he was immediately walled off by an assistant coach -- the MVP of Game 6 if the league concludes, as I believe it will, that George was stopped before he left "the immediate vicinity" of the bench. Under the rule, the player's intent isn't taken into consideration. It also doesn't matter if he is stopped or stops himself. Since the rule was instituted, that is what all assistant coaches are trained to do, and in this case, the Pacers' staff did what it was supposed to.
"I haven't seen it; somebody told me about it," Vogel said. "I'm not concerned about any suspensions until we hear something. I don't imagine there would be."
Hawks coach Mike Budenholzer said he was watching his own bench, at the other end of the floor from the altercation, to make sure none of his players ventured toward the shoving match, which resulted in double-technicals.
"I can't speak for what happened in front of their bench or on their side," Budenholzer said.
Assuming George is suiting up for Game 7, the Pacers have to find a way to coax one more win out of this new, small-ball personality -- an awkward transformation they are trying to make at the worst possible time.
"It's not something that philosophically I'm really against as a coach," Vogel said. "It's just how our team is built and we've had success with it. You can have success with small lineups but there's a risk because you have to change some things in how you play -- particularly on the defensive end. There are more rotations, and that takes work. It's difficult to just do on the fly, but that's something we're trying to do."
The Pacers got themselves into this mess, and the Hawks -- with no field goals over the final 3:16 -- helped them stay in it on Thursday night. Now, "park basketball" comes to the Fieldhouse in Indianapolis in Game 7 on Saturday, and the Pacers have to find their way out of it.
Davis left the Pelicans' game against the Nuggets in the third quarter

Popovich was upset about an out of bounds call

Wall went 3-for-12 from the field, and had just eight points in the Wizards' loss
Noah was reinstated from his 20-game suspension on Monday, but is yet to play for the Knic...

In his first season with the Cavs, Rose has not played since Nov. 7

Keep it right here for all your Friday NBA scores, updates and highlights