Pacers will agree to terms with Roy Hibbert on same four-year deal Portland offered
Pacers will come to terms with Roy Hibbert on the same four-year deal the Blazers came to terms with for the All-Star center without matching his offer, allowing the Blazers to retain their cap space.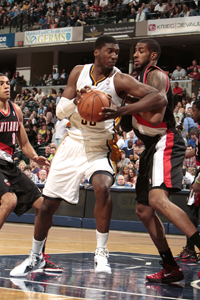 Roy Hibbert will remain with the Pacers.
(Getty Images)
Sometimes, teams, players, and agents don't act like children. They act professional and get their business done. This is one of those times. 
Ken Berger reports that the Indiana Pacers will sign restricted free agent center Roy Hibbert to a four-year, $58 million deal which mirrors the offer sheet from the Portland Trail Blazers Hibbert came to terms with during the moratorium. It is not, in fact, a situation where Indiana matches the offer sheet Portland offered. 
Instead, Indiana will sign Hibbert to the same deal, not have to overpay to retain their franchise center, get market value for him, Hibbert gets his money, and Portland won't be held to the cap hold for the offer sheet they gave Hibbert while trying to either retain Nicolas Batum or sign other free agents. Everybody wins. 
So the Pacers keep Hibbert, which is crucial for their future. One of their strengths in the playoffs was having a seven-footer they can go to war with.
Hibbert provides post scoring and rebounding the Pacers need with all their wings and does play at an All-Star level, despite being a fringe All-Star many fans aren't sold on. In truth, he's likely the third best center in the league and a player worth the offer. Plus, the Pacers get a break on him with avoiding the fifth year of the contract. 
Isn't it nice when we can all work things out?
Popovich added that Trump is 'unfit intellectually, emotionally, and psychologically' to be...

Larry Hartstein turned in a massive profit to close last season and locked in a pick for R...

Too many stars and not enough spots on the upcoming season's All-NBA teams
It appears Philadelphia will continue to be extremely cautious with its potential franchise...

Everything you need to know about the extensions that have been agreed to ahead of the Oct....

Aldridge and the Spurs have turned things around and reached an agreement on a contract ex...