Pacers-Wizards Game 6 Preview: And here we are once again
Previewing Game 6 of the second round series between the Indiana Pacers and the Washington Wizards. Can the Pacers close it out?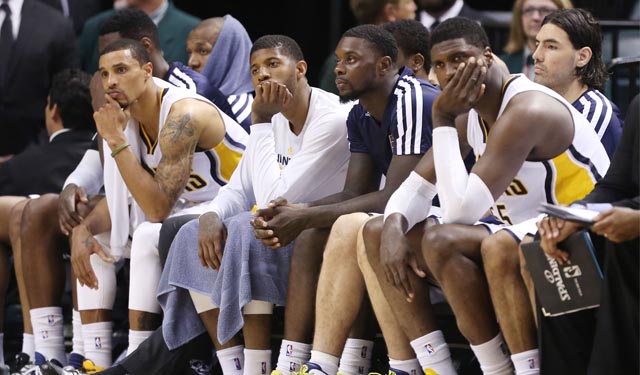 More postseason coverage: Playoff schedule, results | Latest news, notes
Previewing Game 6 of the Pacers-Wizards Eastern Conference semifinal series.
1. The Facts: 8 p.m. ET (ESPN). Follow the action here. Both teams are healthy and good to go.
2. Where We Are: Remember when the Indiana Pacers had finally figured it out, took a 3-1 series lead against the Washington Wizards, and looked like they were headed back to the Eastern Conference finals? Maybe we got a little ahead of ourselves. After a dominant defensive performance in Game 3 and a huge second half in Game 4, the Pacers looked like they were rounding back into title contending form. All of the drama and struggles looked to be behind them and they just needed to win one of the next three games in order to advance. With Game 5 headed back to Indianapolis, it seemed like the perfect opportunity to close it out, enjoy some rest, and get ready for the Miami Heat.
Unfortunately for the Pacers, they managed to get in their own way again. The Wizards blitzed them from the start, the interior was dominated by Marcin Gortat, and John Wall had by far his best game of the postseason. This game was over before the Pacers knew what hit them and they were beaten so badly that the concerns about just how good they are came right back up. Now they have to prove once again they're the team we figured they'd be when the season started, which means they're nothing like that team at all.
3. The Big Number: 88.1. This series simply comes down to defense for the Pacers. They're giving up 88.1 points per 100 possessions in their victories in this series and it's jumping up about 20 points when they lose. This team has always won with defense and they're going to have to continue doing so. If they can control the paint with David West and Roy Hibbert, then they can be aggressive in deterring 3-point shooting. The Wizards have shot 17.2 percent higher from downtown in their victories and can't buy a 3-pointer in their losses. That all starts and begins with how this Pacers team defends.
4. Key Adjustment: Control the paint. What Marcin Gortat did to the Pacers in Game 5 was embarrassing. It's not that Gortat is bad by any means. He's a solid starting center in this league and can have big games. But he destroyed the Pacers' interior and out rebounded them through three quarters all by himself. The boards, the restricted area, and the paint all have to belong to Indiana in Game 6. Pack the paint with Hibbert and West then unleash the perimeter defenders. It's tougher to do in the pick-and-roll, but this Pacers team didn't get the best defensive rating in the NBA by luck.
5. The Big Story: Once again, how serious are these Pacers? And how many more times will we end up asking this question in the postseason? It's been months of wondering when this team will get it back together and every moment of competency is followed by a moment that brings nearly absolute doubt in considering them as elite. Not to take away from the Wizards, but this is all about what Indiana chooses to do. If they choose to play with effort and confidence, they'll take Game 6. If they play in a lackluster manner, they may find themselves losing the next two games.
LeBron had 29 points, 11 rebounds, and 10 assists in the Cavs' 109-100 win over the Jazz

The montage showed Carmelo's best Knicks moments before playing the Thunder game

KCP can't leave California for 25 days due to the terms of his pleading guilty to a misdemeanor...
Keep it right here for all of the news, notes, scores and highlights from around the leagu...

LeBron tried to keep what he said a secret, but one mic on the court picked it up

SportsLine's Mike McClure, a DFS pro with more than $1M in winnings, gives optimal lineup...