Parker's hamstring puts Popovich's gamble, Spurs chances in doubt
Tony Parker says his hamstring could tear. Gregg Doyel says that admission shows the gamble the Spurs took in Game 4, a risk that may end in disaster.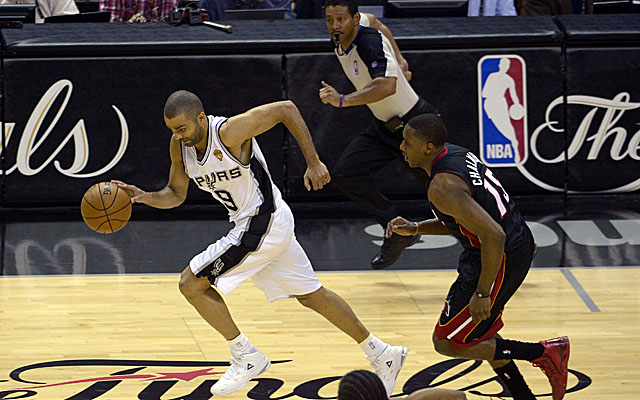 SAN ANTONIO -- "My hamstring can tear any time now," Tony Parker said, and with that the storyline of the 2013 NBA Finals veered, finally, away from LeBron James.
Parker's hamstring has become the story of this series, because without Tony Parker -- without him at anything close to full strength -- the Spurs can't win. They damn sure can't win two out of three games against a team as good as the Miami Heat, not if the Tony Parker we saw in Game 4 is the Tony Parker we'll see the next three games. I'll go one step further and say this:
If the Parker we saw in Game 4 is the Parker we see the rest of the way, we won't be seeing him for three more games. Because the Heat will win this thing in six.
All of which says Spurs coach Gregg Popovich gambled and lost when he played Parker in Game 4. Hindsight? Not so much. Someone in the media -- OK, it was me -- asked Pop before Game 4 how tempting it was to sit Parker for Game 4 to guarantee he didn't reinjure the hamstring he had strained, slightly, in Game 3.
Popovich didn't like the question so he focused on a poorly worded part of it -- I believe the words I used were "mail in Game 4" -- and he used that verbal misstep to avoid answering it. Which was fine. It's his right to handle it however he wants, and to be honest, he was nicer to me than he is to a lot of media. Take the poor guy who asked Popovich on Saturday about "the larger perspective of where the NBA is now. You obviously had Robinson and Duncan and --"
Popovich pretended to nod off, then woke up and cut him off there.
"You're not serious," he said. "You want me to talk about the state of the NBA?"
Reporter: "No, no. The fact that teams are going small now, and --"
Popovich cut him off there.
"I only care about what's going on right now in this series. I'm not concerned about trends in the NBA."
Popovich was nasty through his entire news conference Saturday, insulting another reporter who asked about coaching adjustments for Game 5 by sneering at him, "I'd hate to be trite and say anything is possible. [But] your question demands my triteness."
Popovich was in a terrible mood, even for him, and you know why. I wrote it in the first sentence:
My hamstring can tear any time now.
Popovich screwed up. He was wrong to play Parker in Game 4, and because of that misstep the Spurs are on the precipice of being run out of this series if Tony Parker is limited ... or worse. If his hamstring tears, as he said it could do.
Any time now.
Popovich gambled in Game 4, and you know what? I get it. He had the Heat down in more ways than one. The Spurs were leading the series 2-1. They had won Game 3, they had momentum, and they had two more games at home. They had the opportunity to close out the NBA Finals without having to return to Miami, and more than that, they had LeBron James lost somewhere deep inside his own head. Everything was right for the Spurs before Game 4, everything but Tony Parker's hamstring, but with five days until Game 5 -- five days for Parker to rest and let that hamstring completely heal -- Popovich had a choice to make:
See what would happen in Game 4 without Tony Parker -- mail it in, in a manner of speaking -- or go for it. Step on the Heat's neck. Stay in LeBron's head with another victory, taking a 3-1 lead with one more game in San Antonio.
Popovich did what he never does: He went for it. He gambled. He got aggressive. This is the same guy who sat players throughout the season, a guy who showed up in Miami for a game on Nov. 29 without Tim Duncan and Tony Parker. And Manu Ginobili. And Danny Green.
Popovich mailed in that game, and he mailed it in with a first-class stamp that cost the franchise a $250,000 fine, payable to the NBA.
But that's Pop. He does what's best for his team, and he tries to see the big picture. The Spurs didn't need to beat the Heat on Nov. 29 in Miami, not in the sixth game of a six-game, nine-day road trip, so he did the prudent thing, public opinion be damned, and sent his best and/or oldest players home. Know what happened next? The Spurs won their next five. A seven-game winning streak came a few weeks later. What Popovich did on Nov. 29? It worked.
What he did for Game 4?
It failed. It failed miserably, and he knows it. His mood Saturday was one indicator. Parker's behavior was another. The Spurs opened practice to the media for 30 minutes, and for 30 minutes Parker looked like a guy whose hamstring could tear any time now. He shot poorly, which doesn't matter as much as why he shot poorly. Why did he shoot poorly? Because he wasn't pushing off with his legs. Set shots, only set shots.
The players moved in groups from spot to spot, and there was a lot of jogging around the floor of the AT&T Center. Only, none by Tony Parker. He walked everywhere he went, even when the shooting drills switched from 3-pointers to one-dribble explosions. Parker was in a group with Manu Ginobili and Nando De Colo, and they were catching passes from an assistant coach, taking one aggressive dribble and exploding into a midrange jumper.
Parker was catching passes, making one small dribble, and walking into a 15-foot set shot.
My hamstring can tear any time now.
I asked Parker on Saturday if he regretted playing Game 4. Remember, Parker had 15 points and six assists in the first half but then something happened, something that limited him to no points and three assists in the second half and caused him to go to the locker room for a few minutes.
Parker said no, but said it in a way that didn't jibe with his comments after Game 4. Here's what he said Saturday:
"No [regrets], because the doctor says it will not change anything if I rest two more days. My hamstring can tear any time now. So if it was the regular season, I would be resting like 10 days. But now it's the NBA Finals. If it tears, it's life."
The doctor says playing in Game 4 would not change anything, Parker said Saturday. But here's what he said Thursday night, after Game 4:
"That was the goal, to not try to get hurt, because Pop was not really happy, meaning I wanted to play and took a little risk."
So which one is it? Did Parker take "a little risk" to his hamstring -- and the 2013 NBA Finals -- by playing in Game 4?
Or not?
I think we all know the answer. Popovich knows it, too. Be careful Sunday night, Doris Burke. Pop's in a terrible mood, and it's his own fault.
The Cavs would reportedly entertain the deal, but there's really no point

Westbrook claims he doesn't remember calling Jackson's celebration 'bull----' back in 2016

Rose is reportedly sick of being injured, and it's 'taking a toll on him mentally'
SportsLine's proven computer model simulated Friday's Cavs-Hornets game 10,000 times

SportsLine's Mike McClure, a DFS pro with more than $1M in winnings, gives optimal lineup...

SportsLine's advanced computer model simulated Friday's Bulls-Warriors game 10,000 times