Pat Riley says the Heat won't use the amnesty provision
Pat Riley says there are no plans for the Heat to use the amnesty provision this summer on any players like James Jones, Mike Miller or Joel Anthony.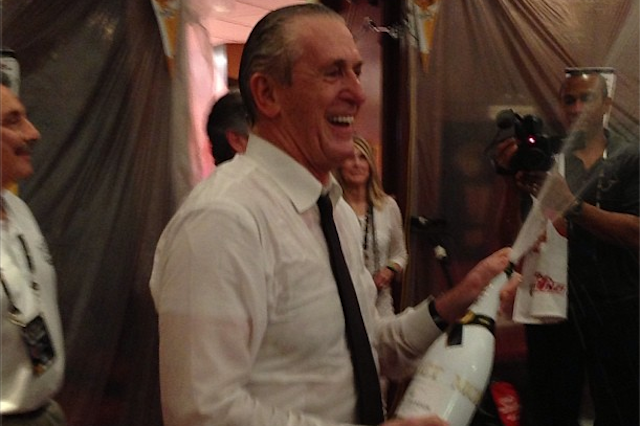 It was widely assumed going into this summer that the Miami Heat would use their remaining amnesty provision to get a little payroll relief agaist a blooming tax bill. Joel Anthony, Mike Miller and James Jones were among the candidates. But team president Pat Riley told the AP that it's not in the cards: 
Heat President Pat Riley said Friday that the team does not currently plan to use its one-time amnesty option as a way of lightening its looming tax load, with the team's focus instead being on simply finding ways to get better.

"Right now, we're not using amnesty, no," Riley said.

Amnesty would allow the Heat to essentially cut one player and pay whatever is left on his contract, but without that salary counting against the team's cap space or add to future luxury-tax bills. Miami is currently in line to pay more than $30 million in tax for the coming season, though could shave off at least one-quarter of that by parting with someone like Joel Anthony or Mike Miller.

In a conference call Friday, Riley made clear that the team's plan is to add and not subtract, especially coming off two straight NBA championships.

"We want to win and we want to win again next year and we're going to try to do everything we can to do that," Riley said. "What I said at the end of the season is what I meant. I want to try to keep this team intact as long as we can because we have a championship basketball team here and continuity being, I think the most important thing to when it comes to winning championships ... I would hate to break it up."
via Heat not planning to use amnesty option | NBA.com.
Now, it would not be the first or last time that an NBA executive has lied when it comes to his intentions about using the amnesty or making cost-cutting moves. But the Heat have been consistent in their message that the luxury tax and new CBA financial penalties won't deter or intimidate them.
Now, next summer, when LeBron James, Dwyane Wade and Chris Bosh have opt-outs, it could be a different tune. The Heat could be looking to clear the decks to either re-sign them or to start fresh if the ride is over. But, for now, maybe they're being genuine and the band will come back intact next year for another ride. After all, it's not like they failed any tests this season. 
Warriors' forward doesn't understand the reasoning behind the all-too-common double technical...

Hardaway Jr. gave a 'safe' call like he was an umpire in baseball

Barnes hits the trey with less than a second left to lift Mavericks to dramatic 95-94 vict...
Kevin Durant was once again back in Oklahoma City

Gregg Popovich has never seen an injury lead to the issues that Kawhi Leonard has been fac...

Kobe Bryant, of course, had his 81-point game against Rose and the Raptors back in 2006