Pau Gasol is 'open' to a return to Memphis to play with brother Marc
Former Grizzlies franchise center open to returning to Memphis in free agency or trade... but do they want or need him?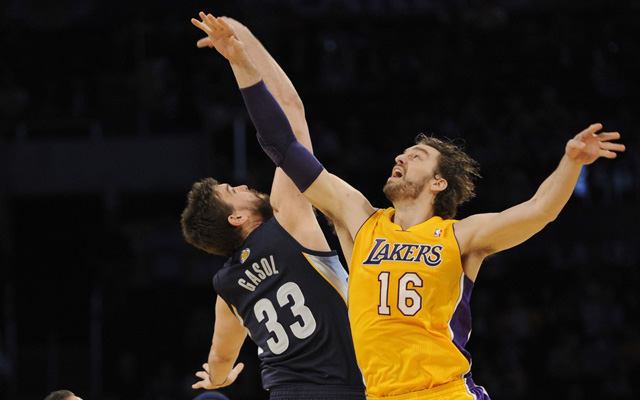 As the relationship between Pau Gasol and Mike D'Antoni continues to sour, Gasol said this week that as a free agent this summer, he's open to a return to the team that drafted him, Memphis, to play with his brother Marc Gasol.
"If there's possibilities of being in a place that has those type of chances, it's something I will think about," he said. "But, again, I'm not in that position yet. I'm here. We're just kind of guessing here. We'll see. We'll cross the bridge when I get there. No rush."

The only thing Gasol can say with certainty is that he will not consider a return to Europe. Maybe some day, as a full-circle finish to a career that started in his native Spain, but not in the foresseable future.

The other return? Memphis has not been ruled out.

"It's appealing," Pau Gasol told NBA.com. "One of the best centers in the NBA, one of the best interior players, is my brother. There's a lot of attractive factors there. But who knows if that's even a possibility or if that will ever happen. Right now, I'm just trying to focus on (the Lakers' opponents) and staying healthy and playing a very successful year so this team and others will have the certainty and the confidence that I am a difference maker, that I am an elite player and I have a lot of years in me."
via Pau Gasol — Not Just The Lakers — Will Have Contract Options « Hang Time Blog with Sekou Smith | NBA.com.
This is just my impression of the Memphis fanbase, but my impression is that most fans' feelings about this would be: 
"NOPE."
Gasol disengaged in Memphis when the team struggled and went into a rebuilding mode. Upon arriving in LA, he praised the city's culture as refreshing. Meanwhile, the Grizzlies took off in the Grit-Grind era, something that doesn't exactly scream Gasol. Losing Lionel Hollins as coach was one thing. A trade for Zach Randolph being discussd is another. Bringing back a player who never connected with the fans after being put on the pedastal as the team's franchise player? It would get awfully hot for the new ownership group and front office if this happened. 
There is neither grit nor grind in Gasol's finesse game, and if there ever was, it's certainly gone now that age and injury have robbed him of his mobility. 
Additionally, why would a franchise working towards financial flexibility compromise that by paying Gasol? Why would they prefer to pay Gasol significant money and not beloved franchise icon ZBo?
Moving on may be an unavoidable part of the Grizzlies' future. It's hard to see how heading back to the past would help them get where they want to go. 
(Oh, and by the way, Marc Gasol really hates talking about being Pau Gasol's little brother and is the better player by far. That would get awfully old for him after a while.)
The Pacers believe the Lakers tampered with Paul George before they traded him

Among the questionable decisions by Jackson was signing Noah to a long-term, lucrative dea...

This Akron store doesn't want their hometown hero to leave again
Milwaukee's star did not get cleared to play for his national team due to a painful knee i...

Ball, the second overall pick in the NBA Draft, is receiving even more hype

Rap mogul supports the vision the outspoken father has for his brand and sons