Pau Gasol says he won't request trade, will accept bench role for now
Pau Gasol isn't OK with coming off the bench for the Lakers, and doesn't see himself embracing that role for the long term. But the four-time All-Star told CBSSports.com Monday he won't request a trade and will accept his demotion for the rest of this season.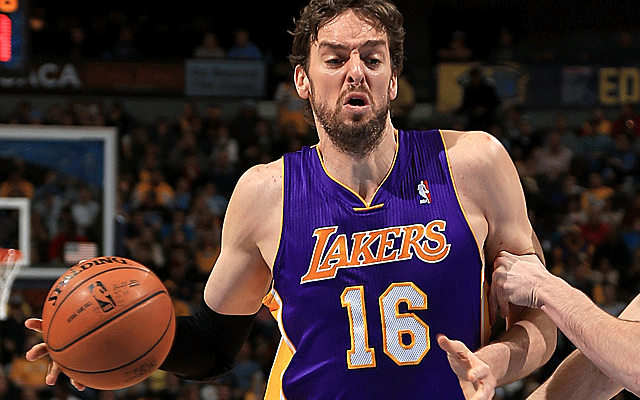 A four-time All-Star, Pau Gasol is in his sixth season with the Lakers.
(Getty Images)
EL SEGUNDO, Calif. --
Pau Gasol
isn't OK with coming off the bench, and doesn't see himself embracing it for the long term. But the
Lakers
' forward told CBSSports.com Monday he will not request a trade before the Feb. 21 deadline and is committed to the Lakers for the rest of this season. "Not right now," Gasol said when asked if he or anyone on his behalf would lodge a trade request before the deadline. "I don't think now is the time for that step to happen. Right now I'm very focused and committed to our team."
More on the Lakers
Related Stories
Gasol, a four-time All-Star and one of the most gifted 7-footers in the world, has struggled with his demotion to the second unit -- calling it "not ideal" and adding, "Whether I like it or not or whether I agree with it or not, I still try to go out there and do my job. "It's hard for anybody who considers himself one of the top players in the world to say, 'OK, I'm OK with coming off the bench,'" Gasol said. "It's a difficult situation that we've been dealing with here. The last few games have been great, and we're staying positive and we look forward to that to continue. But at the same time, we don't need any other distractions, any more negativity. We need positive embracing, we need focus, we need to support each other. That's where we're at and that's where I'm at, too." After the post-practice interview, Gasol told CBSSports.com he was willing to embrace the bench role for the rest of the season, but couldn't see himself accepting it for longer than that. "I've been on this team, in this city, for six years," Gasol said. "It's very hard to stick around on this team, and I take pride in that. I think I'm a valuable asset and I want my role to be as big as it can be, within the well being of the team. But I don't know if being a player that comes off the bench will be something that I'll be able to accept long term. "Right now I want this team to work. I feel we have a very privileged team with great athletes. It's been a crazy year for everyone, and I understand that. And the last thing I'll be here is selfish right now. So I'm willing to work with what we have right now for the rest of the year and have no problems, because I want it to work. And I'm not a guy that just quits on himself or on his team." Despite his undeniable talent, Gasol is a challenging trade piece because he has $19.3 million left on his deal next season. Already facing uncertainty over whether
Dwight Howard
will re-sign as a free agent this summer -- Howard lately has taken the approach of not discussing his future plans -- the Lakers are in a bind. Do they move Gasol now for complementary pieces that fit the current personnel better? And even if they wanted to, could they find a team willing to take on that much future salary in a trade that would bring back value for Gasol? Plus, what would they be left with if they traded Gasol and Howard left as a free agent? "With the team that we have, with the personnel that we have, it takes a lot of self compromising and self sacrificing and understanding that there has to be a certain level of balance," Gasol said. "And with all the great talent that we have, players that have been the main guys on their team in their careers, you're going to have to compromise. You're going to have to change your role for the better of the team. And that's something that each and every one of us has to do in order for the team to function."
Kobe Bryant
, who has given Gasol encouragement and tough love since they were paired after the 2008 trade with Memphis, said the Spaniard has handled his new role like a "professional." "He's not happy about that [expletive]," Bryant said. "He's not ever going to be happy with it. But it's just the attitude of this team to do whatever it takes to win. It's OK to say that you're not happy about a situation. That's fine; that's normal. The most important thing is that he continues to play well in that position and be a consummate professional in that position and help us." For now -- through the Feb. 21 deadline and the rest of this season -- Gasol is all in. "Nothing's really ideal, for pretty much anyone here," Gasol said. "But it's a learning experience. Even though things are not working greatly so far, I think it's a great experience for any individual to go through. And at the end of your life, that's what you have. I want to be a part of this team and I want it to work."
Thomas took to Twitter to let the Celtics know he doesn't want to ruin Pierce's night

The Hall of Famer's jersey was retired by the Celtics in 1982

It's rare to see a legit punch in an NBA fight, but this was definitely one of them
We've got all the scores, highlights and news from an NBA Tuesday

The former Slam Dunk Contest champion will take his talents to Tri-State

Do NBA players have look-a-likes from famous paintings? We found out on the new Arts & Culture...