Pau Gasol says it's the system, not Howard he's having trouble with
The assumption is that Pau Gasol is having trouble meshing with Dwight Howard. But that's not the case, Gasol says. He's having trouble adapting to Mike D'Antoni's system.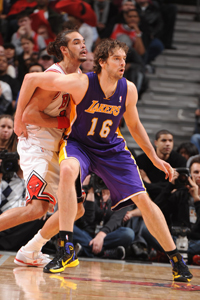 Gasol is having system issues. (Getty Images)
It's not you, it's the system.
Besides struggling with tendinitis in both knees, Pau Gasol has had a very challenging start to this season. Career-low numbers basically across the board, and he's found himself benched in crunch-time multiple times.
The assumption there is that he's having trouble meshing with Dwight Howard. But that's not the case, Gasol says. He's having trouble adapting to Mike D'Antoni's system. Via USA Today:
"I don't find (playing with Howard) tough," Gasol said as he stood at the loading dock. "It's more the system right now that makes it tough at times, because (D'Antoni) wants four guys to be spread and one interior guy and it's a guard-oriented system, so that makes it tough.

"I think there's enough looks for both of us. But again, it's not a system that you post up a lot, so we'll see. We've just got to figure it out, but if you've got two great post-up players, you've got to utilize it."
Excellent point from Pro Basketball Talk on that: It's really three post players, because Kobe Bryant posts as much as anyone.
But the problem for Gasol mostly is that he gets ignored. He's a wonderfully gifted player with an incredible skillset. Except he gets marginalized in a lot of offensive sets as basically a high-low setup man. It was often that way under Mike Brown and he's feeling that too with D'Antoni. Phil Jackson's triangle brought out the best in Gasol because it often isolated him in two-man games where he could be effective.
As is the case with any discussion surrounding the Lakers, Steve Nash could change a lot of this. He understands better than anyone how to involve players, and he's not going to ignore a player like Gasol. He's going to work him in pick-and-rolls and likely try to isolate Gasol in workable positions.
D'Antoni is tinkering right now though, working on some small-ball lineups that play Kobe at small forward and Metta World Peace at power forward. So maybe there are opportunities to let Gasol play some center and have him be the lone big. Or if D'Antoni wanted to get really daring, he could make Gasol his backup center. But that seems a little bit too wild at this point.
Fact is, the Lakers are wasting one of the most gifted offensive players in the league and if it's genuinely a system problem, something's got to give. Either D'Antoni's got to flex, or the Lakers need to send Gasol somewhere else. Because for all parties involved, the way it is now isn't the best situation.
Two of the league's young, up-and-coming squads will square off on Tuesday in Minneapolis

Kawhi Leonard is set to make his season debut for the Spurs

Lonzo Ball will make his Madison Square Garden debut
Leonard, who hasn't played this season due to a quad injury, may return with more skills than...

James, who adjusted his shooting mechanics, is on par with Steph Curry's all-time great 2015-16...

Jordan Bell had himself a night against Portland