Pau Gasol would return to Lakers for Kobe, maybe not D'Antoni
Pau Gasol would consider coming back to the Los Angeles Lakers if Kobe Bryant wanted him to, but he wants changes. We think he means Mike D'Antoni.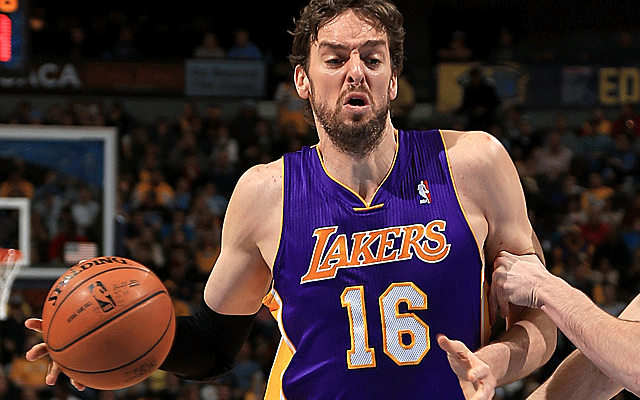 More Playoffs: Schedule | Threat Matrix | Previews: East | West | Picks
It's not secret that Pau Gasol and Mike D'Antoni didn't mesh all that well once the coach took over the Los Angeles Lakers' sideline in 2012. The style of play D'Antoni implemented focused much more on Dwight Howard and perimeter players than it did highlighting Gasol's skill set, which didn't go over well when the Lakers struggled to be successful. Gasol is a free agent this summer and wouldn't mind coming back to the Lakers.
In fact, he'd do it if Kobe Bryant wanted him to. However, Gasol wrote on his personal blog that there would have to be "significant changes" for him to come back, and it's hard not to try to read between the lines to see he may be indirectly commenting on D'Antoni as the Lakers' coach here. From LakersNation.com: 
Re-signing for the Lakers is a possibility, but I'm not sure whether to say it's a remote one. If there's anything or anyone who could make me stay it's Kobe Bryant. I'd stay for him, but there'd have to be significant changes.

I've never concealed the fact that D'Antoni's style doesn't suit my game. Everybody knows this. I don't know if my decision will be swayed by whether Mike stays or leaves. Obviously, the coach is a very important factor for any team.
There would obviously need to be big changes to a roster that was pretty bad. Even without the injuries the Lakers faced this season, they wouldn't be able to compete in the Western Conference as currently constructed. Gasol coming back would have to be a lucrative one-year deal or a much smaller two-year deal than the $19 million he earned this season. 
Gasol will be 34 years old next season and is unlikely to stick around with a non-contending team just because Kobe wants him there. But if they get rid of D'Antoni and bring in a coach that is more suited to Gasol's style of play, it wouldn't be crazy for him to stay with the franchise he won two rings for.
Cavs star chose to be very secretive when talking to Lakers rookie after Thursday's game

New York announced Porzingis would not return shortly after star forward left game

Teletovic missed the final three months of 2014-15 season with Nets recovering from same i...
Keep it right here for all of the news, notes, scores and highlights from around the leagu...

The NBA's City edition Nike jerseys are bold and very different

The Wolves may be smoke and mirrors, but the Pacers have the look of a team that can hang in...