Paul George buys No. 24 jerseys, gives them to his high school
Indiana Pacers forward Paul George is changing his number, so he decided to take the opportunity to give back.
• 1 min read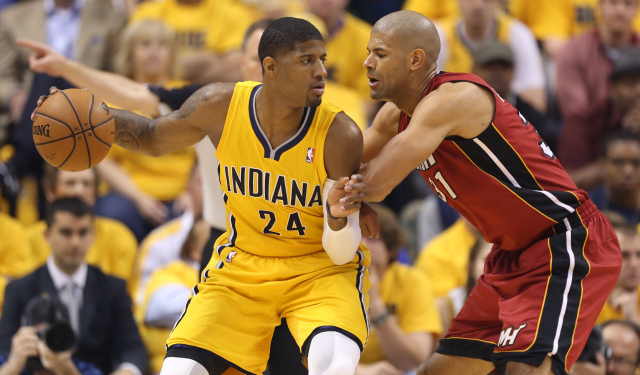 Offseason: Free Agency | Latest from Ken Berger | Rumors
Indiana Pacers forward Paul George didn't have to buy all the remaining No. 24 jerseys after he changed to No. 13, but he did so anyway, per ESPN's Darren Rovell. What did he do with all of those jerseys, you ask? Put them on eBay? No, of course not -- he sent them to his old high school, Knight High in Palmdale, Calif.
The students and staff were grateful for their free merchandise, naturally, and George retweeted loads of photos they sent him. Here's a sampling:
Hey @Paul_George24 Thanks for the Jerseys. KHS loves you. Heal up quick #PG13 pic.twitter.com/pTWHfMSCE6

— Raymond ?? ?? (@CounselorRay) August 13, 2014
@Paul_George24 Thank-you For Everything You've given To KHS,We Really hope You Get Better Soon? -LoveTheClassof2015 pic.twitter.com/qCo9bwWzYj

— Mrs.O'brien (@arlene_chaidez) August 13, 2014
@Paul_George24 is the GOAT. Once a Knight Hawk, always a Knight Hawk ?????? pic.twitter.com/8n8P6QJrpJ

— Empress Wong (@DanielaWong_) August 13, 2014
Awesome! RT @Liz_vibes_: ??4? @Paul_George24 #KHS pic.twitter.com/HCHEpAxm5h

— Paul George (@Paul_George24) August 13, 2014
SQUAD thank you @Paul_George24 pic.twitter.com/egXToz7vAG

— YOUNG TRECE (@_Brentastic_) August 13, 2014
@Paul_George24 AYYYY THANK YOU MAN pic.twitter.com/7yE621mNGn

— Natalie?? (@Natlovesit) August 13, 2014
Looks fun, right? When George comes back from injury, it's going to take a bit of time to get used to him going by PG-13. In the meantime it's nice that he was able to give back to where he came from. 
Wiggins is in the final season of his rookie deal and will be a restricted free agent in 2...

Brandon Jennings will not start off next season in the NBA

A look at the effects you might not immediately think about when you look at stars changing...
20 teams have reportedly inquired about Irving's availability, with six already making off...

A year after his own high-profile franchise switch, Kevin Durant chimes in on Kyrie Irving

Miami is on Irving's list, but this package still wouldn't be enough to get a deal done