Paul George did what the Pacers have been begging him to do -- lead
The Pacers have been a world of problems and issues the last two months. And while winning Game 4 doesn't guarantee them anything, it could be the kind of game that puts them back on track.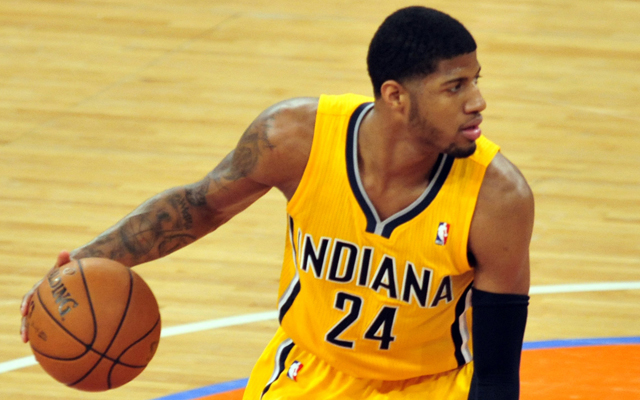 More postseason coverage: Playoff schedule, results | Latest news, notes
We've all seen the curious crumbling of the Indiana Pacers over the last couple weeks, leaving players, fans, coaches, reporters and basically everyone in between dumbfounded at what has gone wrong. 
The assumption was, when the postseason started, they'd be ready to flip the switch, particularly because they got the No. 1 seed as they desired, which meant they drew a 38-win Hawks team. 
Then came a disastrous Game 1 beatdown in Indiana that just escalated the implosion. Game 2 was a seeming righting of the ship, but the Hawks then mostly dominated Game 3. 
So when the ball went up for Game 4, the Pacers' season was effectively on the line. With 7:31 left, after back-to-back 3s, they were down six. Some good offense, some big shots and with 2:11, they were down two. Paul George teed up a 3, and splash. Pacers on top, and seemingly back in business. 
That 3 capped a 24-point night for George, but 18 came in the second half when his team had to have him. That's been one of the more frustrating issues in this Pacer slump, that George went from an MVP candidate to possibly completely off being mentioned on the ballot. His stardom has been established, but these are the moments would you cement yourself in the league. And with his team backed into a corner, desperately needing a spark, George provided. 
The biggest thorn in the side of the Pacers have been Jeff Teague. Who took the assignment in the second half, forcing Teague into a difficult 5 of 15 shooting night with four turnovers? You know who. 
Depending on where they go from here, this could be the defining, landmark moment for these Pacers. They clearly came together in Game 4, putting whatever nonsense and dysfunction that's been plaguing them the last two months behind them. Frank Vogel made the difficult call to essentially bench Roy Hibbert in favor of matching up with the Hawks, and not only did the tandem of Luis Scola and David West produce, but there was Hibbert on the bench, playing the world's largest cheerleader. 
Maybe this is where it turns for the Pacers. They return home for Game 5, and are feeling better about themselves than they probably have in weeks. George looked like the star that we all know he is, and really, maybe that's all the Pacers ever needed.
The Kings' big man says he was wrongfully arrested in August for possessing marijuana with...

George appeared to show some frustration with the Pacers following the trade to OKC

It's worth wondering whether or not Wade will be in the Cavs' starting lineup
Nurkic is confident Portland will be a tough team to beat, and says it must begin on defen...

Wade, recently bought out by the Bulls, could finalize decision as early as Wednesday

James said nothing has changed from 2014 when he said he'd retire a Cav